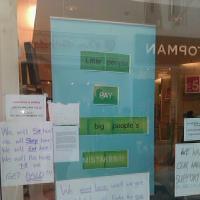 Socialist MPs support La Senza workers' Dublin occupation
Two workplace occupations are currently underway in Ireland, against redundancies and abusive practises by multinational employers, La Senza in Dublin and Vita Cortex, in Cork. For coverage of the La Senza workers' Dublin occupation on the website of the Socialist Party (CWI in Ireland), including an interview with occupiers, click here. Below we publish two videos: one produced by La Senza workers' supporters from inside the occupation, and another of Joe Higgins, Socialist Party TD (Member of the Irish parliament) speaking in parliament in favour of the occupiers and their demands.
socialistworld.net
Women workers occupy La Senza shop in Liffey Valley
Joe Higgins speaks in support of workers
Special financial appeal to all readers of socialistworld.net

Support building alternative socialist media

---

Socialistworld.net provides a unique analysis and perspective of world events. Socialistworld.net also plays a crucial role in building the struggle for socialism across all continents. Capitalism has failed! Assist us to build the fight-back and prepare for the stormy period of class struggles ahead. Please make a donation to help us reach more readers and to widen our socialist campaigning work across the world.

Donate via Paypal

CWI- Please inform us if you are reproducing any material from this site.