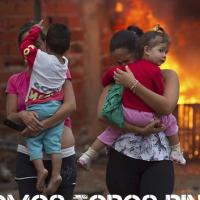 Un niño de tres años falleció el domingo en la comunidad de Pinheirinho
• No a la desocupación! No a la represión!
• En defensa de los habitantes de Pinheirinho!
• Por el derecho a la vivienda para los trabajadores y el pueblo de Brasil!
La amenaza de desalojo del terreno de Pinheirinho en Sao José dos Campos (São Paulo) es un grave ataque a hombres y mujeres trabajadores que luchan por condiciones dignas de vida y vivienda.
Reuniendo militantes socialistas, luchadores de la clase trabajadora, de más de 40 países, incluyendo a los compañeros de la LSR de Brasil, el Comité por una Internacional de Trabajadores (CIT) se coloca totalmente del lado justo y legítimo de este conflicto – de parte de los residentes de Pinheirinho.
Habitantes de Pinheirinho en defensa de su comunidad
No podemos aceptar que los trabajadores y sus familias sean lanzados a la calle para favorecer la especulación y los intereses de un puñado de parásitos sociales y especuladores.
La ocupación de Pinheirinho reúne a mil setecientas familias desde hace varios años y representa una lucha justa y legítima por los derechos a la vivienda en una zona donde los antiguos propietarios deben millones de dólares a las arcas del Estado y sólo quieren la tierra para la especulación. Lo peor de todo es que la amenaza de desalojo se produce en un momento en que el movimiento iba a conseguir regularizar la situación de la tierra para sus habitantes actuales.
No podemos aceptar que las autoridades envien a la policía militar para desalojar a la fuerza a miles de trabajadores en una acción que puede resultar en un baño de sangre terrible ya que los trabajadores legítimamente decidieron resistir y luchar por sus derechos.
Por lo tanto hacemos un llamado a todo el movimiento sindical popular y toda la izquierda consecuente de expresar firmemente su solidaridad con la lucha de los habitantes de Pinheirinho y y exigir de los poderes ejecutivo, legislativo y judicial de Brasil, el reconocimiento judicial de los derechos conquistados por los residentes de Pinheirinho.
Asumimos el compromiso de divulgar en todos los continentes de heroica lucha de los compañeros de Pinheirinho.
CEI del CIT
Nieuwpoort, Bélgica, 20 de enero 2012
Represion fatal
Brasil: Un niño de tres años falleció el domingo en la comunidad de Pinheirinho
Re-producido de teleSUR / sa – DG
Un niño de tres años falleció el domingo en la comunidad de Pinheirinho, al sureste de Brasil, luego que el gobernador de Sao Paulo, Gerardo Alckmin, ordenara el desalojo de nueve mil personas que ocupaban desde 2004 terrenos de una empresa quebrada.
Al menos dos mil funcionarios de la Policía Militar (PM) fueron movilizados por Alckmin por tierra y aire para sacar del lugar con balas de goma y gas lacrimógeno a las cerca de dos mil familias, entre ellas dos mil 600 niños.
"Perdimos a un niño de tres años por una bala de la policía y otro compañero también está muerto" precisó para teleSUR la portavoz del Frente de Resistencia Urbana, Elena Silvestre, quien añadió que hasta el momento no manejan una cifra precisa de los fallecidos.
"Sabemos que hay personas que fallecieron en el interior de sus casas debido a los ataques que la policía realizó desde el aire. También hay personas que están desaparecidas y no sabemos si están vivas o muertas", agregó.
Silvestre aseguró que todas las familias de la comunidad de Pinheirinho fueron desalojadas a la fuerza, "lo que queda en el lugar son nuestras cosas porque no logramos sacar nada, sólo lo básico porque nos estaban buscando con toda violencia". Destacó que cerca de 800 personas se encuentran refugiadas en un iglesia de la zona.
La portavoz resaltó que desde las 05H00 locales del domingo (07H00 GMT) la Policía Militar llegó a Pinheirinho para proceder con la orden de desalojo, dictada por el gobernador Gerardo Alckmin. "Nadie se lo esperaba un domingo, día en que están prohibidos los desalojos en Brasil (…) Llegaron lanzando bombas de gas desde el aire y por tierra una tropa con caballos y perros", acotó Elena Silvestre.
Indicó que desde 2004 cuando llegaron a las tierras intentaron desalojarlos en varias oportunidades, pero debido a la organización que tenían lograron quedarse en el lugar. Añadió que el desalojo del domingo es una decisión de la justicia provincial de Sao Paulo, pese a que existe un acuerdo de la justicia federal que les permitía permanecer en las tierras.
"Cuando iba a empezar la operación, un oficial de la justicia federal intentó hablar con el comandante y explicar la situación pero el propio oficial fue recibido con balas de goma y no fue posible el diálogo en ningún momento", puntualizó Elena Silvestre.
teleSUR / sa – DG
Special financial appeal to all readers of socialistworld.net

Support building alternative socialist media

---

Socialistworld.net provides a unique analysis and perspective of world events. Socialistworld.net also plays a crucial role in building the struggle for socialism across all continents. Capitalism has failed! Assist us to build the fight-back and prepare for the stormy period of class struggles ahead. Please make a donation to help us reach more readers and to widen our socialist campaigning work across the world.

Donate via Paypal

CWI- Please inform us if you are reproducing any material from this site.