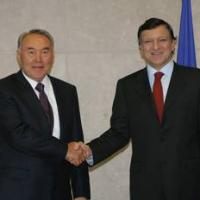 Full inquiries moved by Paul Murphy MEP and agreed
Yesterday at a full meeting of the European Parliament in Strasbourg considering a motion on human rights, Paul Murphy MEP spoke on Sri Lanka and Kazakhstan. A Tory and European People's Party amendment to accept the Rajapakse government's report on the ending of the Civil War was defeated and the resolution calling for a UN Commission of Inquiry was passed. The Parliament also condemned the dictatorship of Nazarbayev (with European Commission President Barroso on the picture) in Kazakhstan and agreed to call for an independent inquiry into the deaths at Zhanaozenon.
Both decisions add tremendous weight to the campaigns supported by the Committee for a Workers' International for basic democratic rights in these countries.
A press release about the vote on the Sri Lanka issue can be read on the Tamil Solidarity website here.
The text of the amendment on Kazakhstan can be read on the Campaign Kazakhstan website here.
A video of Paul's speech can be seen here.
To watch an English language documentary on Zhanaozen events in December (Zhanaozen Kazakhstan's choice – stability or death), click here.