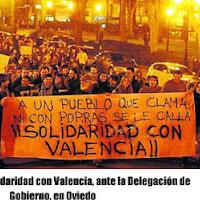 El sistema se arma
Abajo publicamos el texto de una declaración de Socialismo Revolucionario (CIT en el Estado español) que se distribuye como panfleto en las manifestaciones (que forman parte de la llamada "primavera valenciana") a nivel estatal, que están teniendo lugar como respuesta a la represión brutal de la policía contra una manifestación estudiantil en la ciudad de Valencia
mundosocialista.net
El capitalismo en crisis, ha comenzado a quitarse la máscara, demostrando su verdadero rostro represivo. Hace una semana, los estudiantes valencianos se manifestaban en el IES Lluis Vives de Valencia, dado que, debido a las titánicas medidas de recortes en la enseñanza pública, llevadas a cabo por el gobierno neo-cons del PP valenciano, no disponían de calefacción. Como acción reivindicativa, decidieron llevar a cabo un corte de calle. En respuesta, el gobierno valenciano mandó a los cuerpos de "seguridad" a hacer lo que mejor saben, obedecer las órdenes que vienen desde arriba, interrumpiendo la manifestación a golpes, con una brutalidad policial inusitada, que nos recuerda a la empleada tiempo atrás en varias manifestaciones contra el Plan Bolonia por los mossos d'esquadra y otros cuerpos de represión del Estado. En las imágenes disponibles, puede verse como los efectivos policiales arrastran a gente de los pelos, llevándoselos en un furgón, listos para ser interrogados y detenidos, o arremeten con sus porras de goma, contra muchachos de 14 años a golpes.
Después de una segunda represión, y una concentración en el instituto, la policía ha entrado a saco en el instituto valiéndose de gases lacrimógenos y balas de goma. En consecuencia, 500 estudiantes han decidido encerrarse en la Facultad de Historia de la Universidad Blasco Ibáñez, ocupando el edificio y redactando un manifiesto de protesta. Tras decidir quedarse allí, acompañados de un puñado de profesores y varios padres y madres, la policía ha pedido entrar a disolverlos mediante el uso de la fuerza policial, con la subsiguiente negativa de la decana. Durante todo el día y parte de la noche, se han sucedido por las calles enfrentamientos durísimos. Finalmente, tras una nueva represión en el ya mencionado instituto, el jefe de la policía valenciana, acompañado de la delegada de gobierno, en una comparecencia ante la prensa declaró: "Son el enemigo".
A medida que se recrudecen la crisis del desempleo y las políticas antiobreras y de recortes sociales, el actual Estado capitalista recurre a todo tipo de tácticas represivas para disuadir a la población de toda forma de contestación social, por pequeña o tímida que sea. No hay que olvidar qué es lo que defienden las porras. Estas políticas antisociales, están mermando paso a paso los niveles de vida de la clase trabajadora: facilitan al empresario la explotación de la mano de obra, bajando los salarios, aumentando la jornada laboral y precarizando aún más el empleo. Como sabemos, la actual reforma laboral, abarata y facilita el despido, la negociación por debajo del convenio, y la flexibilidad laboral, haciendo más inaccesible la adquisición de un puesto de empleo. Además, los últimos recortes en educación y sanidad merman aún más la calidad de los servicios sociales, y sirven de antesala para su privatización. Esto tiene que generar un inevitable aumento de la contestación social. Frente a esto, el gobierno central y las administraciones locales de gobierno, recurren a medidas represivas, imponiéndonos su estado de excepción. Quieren hacernos creer que la democracia consiste en votar cada 4 años a algún parlamentario de las grandes marcas 'oligopartidistas', dándoles patente de corso para legislar en contra del común de los trabajadores. Bajo una demagógica apariencia de delegación de poderes, pretenden hacer pasar todo tipo de políticas antisociales a petición de los bancos y el FMI, y obtener legitimidad ante la opinión pública para agredir y pisotear al que se rebele.
Nosotros debemos decirles, basta. Es necesario que la población salga a la calle a protestar contra las tácticas represivas de los gobiernos. A protestar contra el carácter profundamente antidemocrático de las instituciones electorales parlamentarias, y denunciar este sistema ante la opinión pública como lo que verdaderamente es: Una dictadura totalitaria de los bancos, que desangra poco a poco a la sociedad a favor de un puñado de ricos.
Desde Socialismo Revolucionario (Comité por una Internacional de Trabajadores), te llamamos a que no quedes de brazos cruzados observando desde tu sillón mientras agreden a tus hijos, a tus vecinos y compañeros, al pueblo, y salgas a la calle a movilizarte. Llamamos a todos los trabajadores a organizarse, con los medios y herramientas que tengan a su disposición, desde sindicatos combativos, redes de asambleas de barrios y pueblos, comités de huelga en centros de trabajo, asociaciones de vecinos, organizaciones y partidos políticos anticapitalistas, movimientos ciudadanos. Quedarse en casa no es una opción, cuando la clase gobernante se cree con legitimidad para justificar la represión contra el pueblo.
Demandamos:
1. Basta de represión policial contra la juventud.
2. Libertad inmediata de los estudiantes detenidos injustamente.
3. No a los recortes.
4. Defendamos la enseñanza pública.
5. Convoquemos una huelga general de los estudiantes en el Estado español.
6. Unidad de los trabajadores y estudiantes.
7. No al despido de profesores.
8. Los recursos públicos para la enseñanza pública.
Special financial appeal to all readers of socialistworld.net

Support building alternative socialist media

---

Socialistworld.net provides a unique analysis and perspective of world events. Socialistworld.net also plays a crucial role in building the struggle for socialism across all continents. Capitalism has failed! Assist us to build the fight-back and prepare for the stormy period of class struggles ahead. Please make a donation to help us reach more readers and to widen our socialist campaigning work across the world.

Donate via Paypal

CWI- Please inform us if you are reproducing any material from this site.