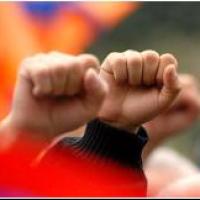 Last weekend Paul Murphy MEP (GUE/NGL, Ireland) visited striking workers from the Eleftherotypia newspaper, which was Greece's largest selling newspaper…
Last weekend Paul Murphy MEP (Socialist Party (CWI in Ireland) visited striking workers from the Eleftherotypia newspaper, which was Greece's largest selling newspaper.
The employees have continued to print the paper despite months of unpaid wages – see latest news below and message of support from the IFJ/EFJ – http://www.ifj.org/en/articles/greece-ifj-backs-striking-journalists-decision-to-print-paper-after-months-of-unpaid-wages
For further comment: Paul Murphy – 00353861688050
Socialistworld.net
Dear friends and comrades from all over the world
I am very happy to announce that we, the striking employees of ELEFTHEROTYPIA, Athens daily nespaper, have managed to print the second issue of "THE WORKERS" newspaper (OI ERGAZOMENOI), as we call the newspaper we write and print on our own.
The ownership tried everything to stop us, they took us to the courts trying to prohibit us from selling it in the kiosks, they used personal threats, blackmail us that we would lose our compensations, they even sent anonymous messages to our representatives in the union, threatening they will "f.. them up", using tactics that resemble the mafia and remind us of military dictatorships of the northern hemisphere and not european democracies. They even locked us out of the newspaper building, after disconnecting the phones, cutting down the internet, and denying us access to our computer systems and everything we have written.
In spite of all these obstacles, we are back with a vengeance. Last Wednesday "The Workers" newspaper sold 31.000 copies, outselling every other newspaper in the country. Now we managed to print 65.000 issues, and expect to do even better.
The contents of this new issue are rich and interesting, with a large feature about the future of Europe and the debt crisis in the Eurozone called "QUO VADIS EUROPA". There are also interviews from artists such as the Taviani brothers, greek and foreign intellectuals and economists, exclusive interview from euro M.P. Daniel Cohn Bendit, lots of reports and news from workers' struggles and social movements from Greece, Europe and the rest of the world.
For our friends in the Occupy Movement, there is an interview with marxist sociologist Eric Olin Wright, who recently visited Greece and talks about class inequalities in the States, Occupy movements in various cities , and the possibilities of national and global co-ordination of such movements.
Our newspaper will soon be online on pdf in our blog: www.erganet.wordpress.gr, and we hope that pretty soon we can translate and post online articles in english and other languages.
Already there have been lots of articles and clips in foreign media outlets (newspapers, radiostations, television, ) and we have received letters of support from journalists unions from all over the world. Find attached the IFJ (International Federation of Journalists) announcement in support of our struggle in issuing our own newspaper, the front pages of our first two issues, and an article in english (also available in french, german, italian, german).
Thank you very much for your inspiration and support
Please, if you want to write, contribute or send anything to us don't hesitate.
Please spread the news to your country too. Social and workers' control, in every form, is very encouraging in these times of crisis.
Yours in Solidarity
Aphrodite Politi
unpaid journalist in Eleftherotypia Newspaper
Athens Greece