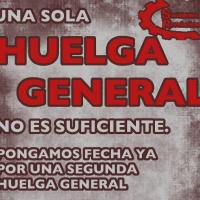 ¡Sigamos la lucha contra la Reforma Laboral y los recortes! ¡Por una nueva Huelga General de 48 horas!
El pasado jueves 29 de marzo, millones de personas secundaron la Huelga General convocada contra la Reforma Laboral del gobierno del PP. Esta fue sin duda una convocatoria que demostró con contundencia el rechazo de la clase trabajadora contra esta llamada "reforma", y contra todas las medidas de un nuevo gobierno al que ya se la ha acabado la luna de miel inicial, debido a sus continuos ataques a los derechos y los niveles de vida de los trabajadores.
Según datos de los sindicatos mayoritarios, la huelga tuvo una participación del 77%, siendo por lo tanto ligeramente más seguida que la del 29-S en 2010. De nuevo, se pudo ver claramente la bajada de la actividad en los niveles de tráfico (similares a un festivo), al igual que en los datos de consumo eléctrico que se han mostrado en los medios de comunicación.
Diferencias con el 29S
Pero el cambio más impresionante, desde la pasada Huelga General a ésta, ha sido el nivel muy elevado de participación y combatividad en todas las manifestaciones convocadas. Se habla incluso de varios millones de personas participando en todas las manifestaciones del estado español, con cifras como un total de un millón de manifestantes en Cataluña, 900.000 en Madrid, 360.000 en toda Andalucía, etc. Además, hay que destacar el carácter muy reivindicativo de estas manifestaciones. En Barcelona, por ejemplo, decenas de miles de personas llenaron las calles en apoyo de la Huelga General durante buena parte del día, en un ambiente reivindicativo, e incluso festivo, entre los manifestantes.
Y es que muchas cosas han cambiado desde septiembre del 2010, aunque la mayoría de ellas a peor. El paro (oficial) ha subido en 750.000 personas desde entonces, la economía española ha vuelto a entrar en recesión técnica tras dos trimestres seguidos de bajada del PIB, los que tienen nómina pagan más impuestos, y se sigue recortando en servicios públicos como educación y sanidad. Los presupuestos anunciados el día siguiente a la huelga, con más de 27.300 millones de euros en recortes, sólo servirán para seguir hundiendo la economía, el empleo y los servicios públicos, y para seguir empobreciendo a la mayoría de la población, mientras se disculpa el fraude fiscal y la evasión de capitales al extranjero, que pagarán un 10% y un 8% respectivamente para "legalizarse".
Igualmente, se ha resquebrajado la ilusión en que un gobierno del PP, aunque tomando algunas medidas antisociales, pudiera apaciguar a los mercados y favorecer una mejora de la economía y la creación de empleo. Muy al contrario, cada vez más trabajadores y jóvenes, como ya hemos señalado en artículos anteriores, están rechazando el discurso de que no hay alternativa a los recortes, y que estos son la única manera de salir de la crisis, y van a luchar por una alternativa.
El varapalo electoral en Andalucía, donde el PP perdió 400.000 votos y se quedó muy lejos de la mayoría absoluta esperada, es muestra de que el PP está muy lejos de poder imponer los recortes de manera tranquila y estable. La crisis económica va a ser un desencadenante de inestabilidad política, al igual que ya lo es de un aumento de la conflictividad social (opuesto a la "paz social" que intentaron los sindicatos mayoritarios) y de una lucha de la clase trabajadora más decidida.
Control democrático de la huelga
A pesar el éxito de la convocatoria, el mismo día 29 Toxo y Méndez estaban ya reclamando una vuelta a la mesa de negociaciones con el gobierno, aunque matizaban que si la respuesta del gobierno no les satisfacía, seguirían realizando nuevas acciones escaladas que culminarían en el 1º de mayo.
Está claro, por ejemplos como el vergonzoso pacto sobre pensiones después del 29S, que no podemos confiar en las medidas y convocatorias de las cúpulas sindicales de CCOO y UGT para acabar con la Reforma Laboral y los recortes. No basta con acciones aisladas en el tiempo, ni con estrategias centradas en trámites parlamentarios, actualmente dominados por la mayoría absoluta del PP, que incluso podría contar con el posible apoyo del resto de partidos capitalista para tomar medidas anti-obreras. 
Los trabajadores debemos decidir cómo va a continuar la lucha a través de órganos democráticos como Asambleas de Trabajadores en los centros de trabajo, que deben incluir a todos los trabajadores con independencia de su sindicato, y también a los que no estén afiliados a ninguno. Se deben también formar Asambleas de Estudiantes en los centros educativos, y Asambleas de Pueblos y Barrios, tomando como base, por ejemplo, las del 15M. En algunos barrios de Barcelona, estas Asambleas del 15M ya actuaron como Comités de Huelga para el 29 de marzo, aunque no pudieran desarrollar este papel en toda la medida que desearon. A partir de esta experiencia, pueden crecer en participación e intensificar sus acciones para asegurar el máximo éxito de próximas convocatorias, incluyendo la próxima Huelga General.
Con estas asambleas se podrá romper la dinámica de las últimas dos Huelgas Generales, en las que el seguimiento en determinados sectores, con más presencia sindical, fue muy elevado (industria, transporte, etc), mientras que en el sector servicios, donde la precariedad es mayor, el seguimiento fue muy desigual e incluso muy bajo. Las asambleas deben aglutinar a todos los trabajadores, estén organizados ya en sindicatos o no, a los becarios y los trabajadores en prácticas, y también, a través de las asambleas fuera de los centros de trabajo, a otros sectores como parados y estudiantes que puedan unirse a la organización y a las acciones en torno a la huelga.
Las asambleas, además, pueden tener un papel vital para presionar desde las bases de los sindicatos a las cúpulas de CCOO y UGT a una nueva convocatoria de Huelga General, esta vez de 48 horas, para intensificar la lucha de la clase trabajadora. Porque es posible también mover a la acción a los líderes de estos sindicatos mayoritarios. De hecho fue la presión de sus bases las que obligaron a una convocatoria de Huelga General en marzo, que remplazó a las declaraciones de "no entrar al primer trapo" poco después de anunciada la Reforma Laboral, o de las primeras pretensiones de CCOO y UGT de convocar la Huelga General en el mes de mayo. Además, las asambleas pueden ser un importante punto de coordinación entre todos los sindicatos, entre los mayoritarios y los más combativos, en un momento tan importante de la lucha y en acciones que, como la Huelga General, deben tener el mayor empuje y participación posible.
Junto con acciones más combativas, y la convocatoria de una nueva jornada de huelga, las bases deben demandar una democratización de sus sindicatos, que debe incluir la revocabilidad de los cargos si no responden a las necesidades de sus bases, y sueldos para todos los representantes sindicales iguales a la media de los trabajadores a los que representa.
Por último, las asambleas y sindicatos deben también armarse políticamente, con un programa alternativo a los recortes en gastos públicos y los ataques a los derechos de los trabajadores. Para Socialismo Revolucionario, esta alternativa pasa por la cancelación completa de una deuda que no hemos creado los trabajadores, y la nacionalización de las empresas claves de la economía, incluido el sector bancario, bajo control de los trabajadores, para poder garantizar que sus recursos se utilicen para la inversión en servicios públicos, y la creación de puestos de trabajo de calidad.
Special financial appeal to all readers of socialistworld.net

Support building alternative socialist media

---

Socialistworld.net provides a unique analysis and perspective of world events. Socialistworld.net also plays a crucial role in building the struggle for socialism across all continents. Capitalism has failed! Assist us to build the fight-back and prepare for the stormy period of class struggles ahead. Please make a donation to help us reach more readers and to widen our socialist campaigning work across the world.

Donate via Paypal

CWI- Please inform us if you are reproducing any material from this site.