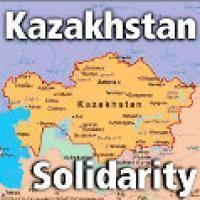 La policía detiene a Arman Ozhaubaev y sostiene que su paradero es "desconocido"
Hoy (9 de abril) a las 22.43 hora local en Almaty, un activista del CIT y miembro de Movimiento Socialista Kazajstán, Arman Ozhaubaev, fue arrestado por la policía. Arman pudo telefonear a sus compañeros para decirles que estaba siendo llevado por a una estación regional de la policía pero que no había sido informado de las razones de su arresto. Cuando activistas de derechos humanos fueron a la estación de policía para tratar de averiguar qué estaba pasando con Arman Ozhaubaev, la policía reaccionó de manera muy grosera y rehusó dar cualquier información.
Ahora parece que la localización de Arman es desconocida. Las dos estaciones de policía niegan tener cualquier información acerca de Arman .
Por favor proteste contra este serio incidente inmediatamente!
Exija a la policía que le informe la situación de Arman Ozhaubaev.
Teléfono: +7 727 5242004 o +7 727 2544612 y envie protestas urgentes a la Embajada de Kazajstán e su país o en el país más cercano.
Special financial appeal to all readers of socialistworld.net

Support building alternative socialist media

---

Socialistworld.net provides a unique analysis and perspective of world events. Socialistworld.net also plays a crucial role in building the struggle for socialism across all continents. Capitalism has failed! Assist us to build the fight-back and prepare for the stormy period of class struggles ahead. Please make a donation to help us reach more readers and to widen our socialist campaigning work across the world.

Donate via Paypal

CWI- Please inform us if you are reproducing any material from this site.