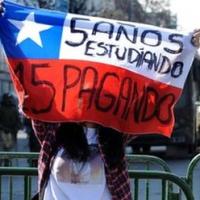 Los jóvenes nuevamente están luchando en las calles
Nadie esperaba que este 25 de abril, en la primera marcha estudiantil del año 2012 llegaran tantos jóvenes y sus familias a marchar por una educación pública gratuita y de calidad, más de 80 mil personas solo en Santiago y mucho más a nivel nacional.
Todos los esfuerzos que realizo el gobierno en los días previos, anunciando el fin del control de los bancos a los prestamos universitarios y la creación de una "agencia" estatal que los tendrá que entregar en el futuro, tenia como principal objetivo hacer fracasar el llamado a movilización que habían hecho los estudiantes, pero esto no impidió la masividad de la manifestación.
La mayoría de los estudiantes han dejado claro que ellos no están dispuestos a aceptar otro maquillaje al sistema educacional y han señalado enfáticamente que mientras siga existiendo el lucro, ellos seguirán movilizados hasta conseguir sus demandas.
El nuevo Ministro de Educación, Harald Beyer, con un cinismo que no conoce limites se mando una frase para el bronce "No podemos tener gratuitad en un país tan desigual como el nuestro", precisamente entendiendo que el principal responsable de la desigualdad es un sistema de educación injusto que promueve precisamente la inequidad, educación para ricos y educación para pobres.
Los jóvenes nuevamente están luchando en las calles.
Los estudiantes una vez más están mostrando cual es el camino que se debe seguir frente a los abusos del gobierno de los empresarios, ellos se están movilizando para poner fin al lucro y sacar a los comerciantes de la educación del sistema, que están metiendo directamente sus manos en los bolsillos de sus familias y enriqueciéndose a costa de las penurias de sus padres.
El gobierno de Piñera y la Concertación siguen defendiendo un sistema educativo aberrante que es funcional al capitalismo. Una educación que condena a la mayoría de los jóvenes a ser futura mano de obra barata, ignorante de sus derechos y fuerza.
Los jóvenes ya están pasando de las reivindicaciones parciales al cuestionamiento del conjunto del sistema educacional y del capitalismo neoliberal que lo sustenta. Los estudiantes correctamente no solo están denunciando al gobierno de la Alianza representado por Piñera, sino que también a la Concertación, dado que ambos conglomerados sólo defienden los intereses de los grandes grupos económicos, que controlan la mayoría de las universidades privadas y que se están llenando los bolsillos con nuestro dinero, entregando además un pésimo nivel de formación académica.
Los estudiantes también han entendido que para triunfar hay que luchar decididamente y unidos; que el accionar de los estudiantes debe basarse en el control democrático desde la base y la revocabilidad de sus dirigentes, para que estos defiendan sus intereses y no de los partidos en los que militan algunos de sus dirigentes. Es necesario recordar que estas son las tradiciones históricas del movimiento obrero y popular y en buena hora están siendo recuperadas por esta nueva generación de luchadores sociales.
Es necesario unificar las luchas.
Las luchas parciales no bastan, se pueden lograr conquistas, pero inevitablemente serán temporales bajo este sistema, se puede lograr la rebaja de intereses de los prestamos del 6 al 2%, pero rápidamente el sistema buscara una nueva forma de atacar nuestros conquistas. Luchar es fundamental para defender nuestros intereses y elevar la conciencia de las organizaciones sociales, sin embargo, las luchas sectoriales no bastan, porque pueden ser aisladas y derrotadas más fácilmente por el gobierno y los sectores dominantes del país.
El movimiento estudiantil debe pasar a una etapa superior de lucha, la unidad en la acción con los trabajadores, profesores y pobladores; unificando nuestras demandas. Crear un movimiento amplio de resistencia contra las políticas neoliberales que el gobierno de los empresarios continua implementando en educación, salud, trabajo, previsión (AFPs). Movilizarnos contra las alzas de los alimentos y los pasajes, junto con exigir un salario mínimo de 350 mil pesos…en fin, ¡¡por el derecho a vivir dignamente!!
Ni la Alianza, ni la Concertación defenderán nuestros derechos, porque si lo hicieran afectarían sus propios intereses económicos…muchos jóvenes ya tienen claro esto. Las mismas familias que son sostenedoras de colegios, son dueños de empresas, de universidades, de clínicas y de los Bancos y sus familiares son los que hoy integran el parlamento, el poder judicial, las fuerzas armadas y el gobierno.
Ha llegado el momento de organizarnos y unificar nuestras luchas, para lograr nuestros derechos, los jóvenes llevan más de un año mostrando cual es el camino.
Special financial appeal to all readers of socialistworld.net

Support building alternative socialist media

---

Socialistworld.net provides a unique analysis and perspective of world events. Socialistworld.net also plays a crucial role in building the struggle for socialism across all continents. Capitalism has failed! Assist us to build the fight-back and prepare for the stormy period of class struggles ahead. Please make a donation to help us reach more readers and to widen our socialist campaigning work across the world.

Donate via Paypal

CWI- Please inform us if you are reproducing any material from this site.