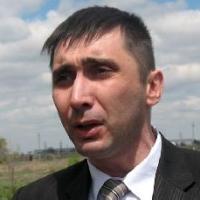 End this farcical trial of the human rights' lawyer and drop all charges!
The trial of Vadim Kuramshin resumed this morning, 28 May 2012 (See previous report). Until now, this was one of a limited number of court cases in Kazakhstan in which a jury was used. However, opening the court proceedings today and without giving any proper reason, the trial judge, Samat Tulesbai, decided to continue the case without a jury. Clearly this is due to the fact that too much of the evidence being heard undermines the prosecution's case and confirms Vadim's innocence.
We demand an end to this farcical court case and the dropping of all charges against Vadim Kuramshin!
Please phone to protest to the Head of the Special Court for Criminal Cases in the Zhambylskaya oblast (+7 7262 451219) or the Head of the Criminal Court, Mr Obydov (+7 7262 452330)
Email protests can be sent to hc-1@h.sud.kz with copies to Kazakhstansolidarity@gmail.com