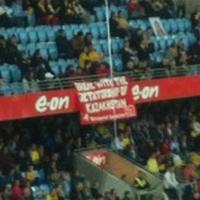 Banner unfurled during Kazakhstan vs Sweden qualifying match
After police harassment outside the match in Malmo last night (12 September), demonstrators against the Kazakhstan dictatorship got into the stadium. They hung a banner in the stands which said, "Break with the dictatorship of Kazakhstan"!
For details see Campaign Kazkahstan web-site here.