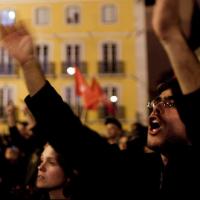 Signs of growing radicalisation and struggle
In the first of the videos published below, Miguel Relvas, Portuguese Minister of parliamentary affairs, was prevented from making a speech in one of the main universities in Lisbon by students shouting slogans against austerity. As he abandons the stage, he is hunted down and chased out of the building.
In the second video, which has had a substantial impact throughout Portugal and beyond, dozens of people interrupt the Prime Minister's address in parliament, singing "Grandola Vila Morena" the emblematic song of the Portuguese 74 Revolution, which was played as a 'signal' for the beginning of the movement to bring down the dictatorship. Similar actions– involving the same strategy of interruptions through singing this song – against members of the government and ruling elite have been taking place throughout the whole week.
This gives an indication of the growing radicalization of Portuguese workers and youth, building up for the mass demonstration called for 2 March, which marks the beginning of an entire month of mass protest all over the country. More news and analysis to follow…
socialistworld.net