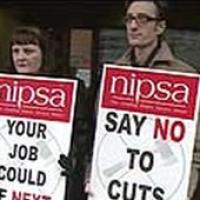 NIPSA union members seeking a new strategy to fight back against cuts
The 2013 NIPSA General Council election is a potential watershed moment in the life NIPSA (Northern Ireland Public Service Alliance), the largest trade union in Northern Ireland.
The left group in the union, NIPSA Broad Left, swept the poll, taking 20 seats on the 25 seat body. Nine of the Broad Left's seats were won by Socialist Party members.
This is a huge turnaround from a decisive victory by the previous leadership majority that was elected last year. In 2012, the leadership was successful on the back of the after effects of the failure of the 30 November 2011 strike to stop cuts and the downturn in the mood of workers that followed. But since taking a large majority in 2012, the last leadership proved incapable of developing a new strategy for the union and NIPSA largely disappeared as an effective force against cuts.
The new swing to the Left seems to indicate that union members are now seeking an active leadership and a new strategy to fight back. The election of the Left can be the first step in getting the union back on course.
NIPSA Broad Left stood for election on the following manifesto:
NIPSA must: Defend of all services, jobs, pensions and wages and fight to end the privatisation of public services
To defeat the cuts, NIPSA must link unions and community anti-cuts campaigns
NIPSA must prepare for sustained industrial action
Use all options to defend NIPSA members, including supporting the election of genuine trade union anti-sectarian, anti-cuts political representatives
NIPSA must act in the interest of members – members must control the union – we must build a democratic union.
More detailed analysis of the NIPSA General Council election results and the prospects for the anti-cuts struggle in Northern Ireland will follow.