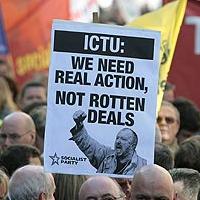 Four unions walk out of talks on public sector pay deal – for a new alliance of fighting unions!
Below we publish two short pieces which give a flavour of the growing class anger developing in Southern Ireland. The first is a statement by Joe Higgins, Socialist Party (CWI in Ireland) MP, in reaction to four trade unions walking out of talks with government and bosses on draconian new attacks on public sector pay and conditions, in a "renegotiation" of the Croke Park agreement signed in 2010. The second is a video of leading Labour Party Minister, Joan Burton, being forced to flee a public appearance in the Eastern town of Dundalk, by a large group of anti-austerity protesters, including those fighting the unjust Property tax.
socialistworld.net
Walkout by four unions from 'Croke Park 2' talks justified and welcome
A new alliance of fighting unions needed to campaign for 'no' vote across the public service
Responding the the walkout by UNITE, the CPSU, INMO and the IMO from the Croke Park II talks Socialist Party (CWI) TD (Member of Irish Parliament) Joe Higgins said:
"The walkout of these four unions combined with those unions and associations that were already outside the process means that there is a significant segment of the public sector workforce is not negotiating terms of surrender with the government. This is a positive development.
"The question remains now as to whether the leaders of those unions and associations who have responded to the sentiment from below by not participating in these talks will permit a situation where like before the leaders of SIPTU, IMPACT, INTO and PSEU will negotiate cuts on pay and conditions for all public servants.
"The task posed now is for a new alliance to be formed of unions who are committed to actively opposing further cuts on pay and conditions of public sector workers. Such an alliance should run a vigorous campaign for a 'no vote' to any deal and directly appeal to members of those unions whose leaderships are prepared to accept cuts to join them in their opposition to an attack that will further the crisis.
"The opposition to Croke Park II should be linked to fighting the property tax which is likewise an attack on income for all workers. The campaign for a 'no' vote can also raise positive demands for where the money can come from to fund public services, that is by among other things properly taxing wealth and unearned income and repudiating the odious debt."
Special financial appeal to all readers of socialistworld.net

Support building alternative socialist media

---

Socialistworld.net provides a unique analysis and perspective of world events. Socialistworld.net also plays a crucial role in building the struggle for socialism across all continents. Capitalism has failed! Assist us to build the fight-back and prepare for the stormy period of class struggles ahead. Please make a donation to help us reach more readers and to widen our socialist campaigning work across the world.

Donate via Paypal

CWI- Please inform us if you are reproducing any material from this site.