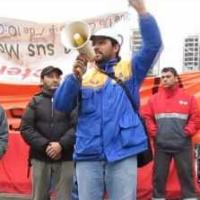 Juan Pablo Jiménez fue hombre cabal, y un ejemplo de lucha
El dirigente sindical de trabajadores subcontratistas, Juan Pablo Jímenez, fue asesinado con un certero disparo en la cabeza, al interior de la empresa en la que laboraba.
El gobierno esperó tres días antes de expresar su "profunda preocupación" por el asesinato que atribuyó a una "bala loca". Una diferencia grosera con su reacción inmediata ante el asesinato del matrimonio Luchsinger.
Los grandes medios de comunicación se tomaron también su tiempo antes de informar, y esperaron la reacción del gobierno. Algo al menos raro, si se piensa que no demoran en informar de las balaceras, entre narcos, por ejemplo, que dejan algún muerto o herido.
Para el movimiento sindical, el asesinato de Juan Pablo Jímenez es un hecho de extremada gravedad, que puede estar anunciando el retorno de los asesinatos selectivos de dirigentes sindicales, que no era común desde la dictadura militar.
Esperamos que los sindicalistas encabecen una respuesta robusta y movilizadora, frente a este acontecimiento doloroso y gravísimo.
¡ Exigimos Justicia y Castigo a los culpables de este crimen brutal !
Special financial appeal to all readers of socialistworld.net

Support building alternative socialist media

---

Socialistworld.net provides a unique analysis and perspective of world events. Socialistworld.net also plays a crucial role in building the struggle for socialism across all continents. Capitalism has failed! Assist us to build the fight-back and prepare for the stormy period of class struggles ahead. Please make a donation to help us reach more readers and to widen our socialist campaigning work across the world.

Donate via Paypal

CWI- Please inform us if you are reproducing any material from this site.