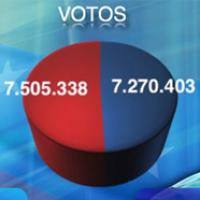 Thanks for installing the Top of every post plugin by Corey Salzano. Contact me if you need custom WordPress plugins or website design.
¿CUALES SON LAS PERSPECTIVAS?
El 5 de marzo cuando se anuncia la muerte de Hugo Chávez, en una marcha que llevo sus resto, salieron millones de personas a las calles que reflejaba en este momento, que el chavismo ganaría cualquier elección popular. Dado también los resultados que obtuvieron en diciembre con la elección de gobernadores, donde ganaron 20 de las 23 gobernaciones.
Cuando se llama a elecciones para el 14 de abril, todo indicaba que la escena estaba servida para el continuismo en el chavismo; ya si el liderazgo de Chávez, se mantuvieran sin mayores dificultades. Incluso cuando desde hace un buen tiempo viene creciendo un descontento en sus bases producto de la ineficiencia y el burocratismo en el manejo del estado.
Nosotros como organización política, realizamos un documento basado en uno anterior para las elecciones de Octubre 2012. Donde fijamos posición sobre "!votar por Maduro no seria suficiente!"(1), planteando una plataforma programáticas de medidas revolucionarias, democráticas, socialista, para profundizar el proceso bolivariano y corregir el rumbo de la misma.
Marcando diferencias con algunas organizaciones de izquierdas que una posición sectaria, sin estimar para nada la polarización y el estado de la conciencia del pueblo y los trabajadores, llamaban a votar nulo; y otras de manera oportunista llamaban a votar por Maduro sin ningún tipo de criticas al proceso.
Fuimos aun mas temerario, lo reproducimos y lo repartimos en estaciones del metro de Caracas; y haciendo una batida el día del cierre de campaña de Maduro efectuada 3 días antes de las elecciones. Recibiendo criticas algunas fuertes y felicitaciones de algunos militante de base del Psuv que sentían que con la muerte del líder se abría un espacio para discutir el destino de la revolución. Pero que en el seno del partido se les explico que no era el momento de criticas sino que se debía remar junto en pro de la candidatura de Maduro.
Ya han existido experiencias de dirigentes del chavismo que realizaron criticas un poco menos fuertes y profundas que las nuestras y fueron amenazados de ser expulsado del partido. En una practica contra revolucionaria de un partido que revindica las bandera del socialismo, cerrando paso a las criticas internas el mejor método del estalinismo.
Hoy un día después del resultados, el tiempo no da la razón, cuando del mismo chavismo se han manifestado campanadas de alertas sobre lo que podía pasar, sino se daba un golpe de timón a la izquierda. (2)
Se han ganado las elecciones con una diferencia mínima y para la militancia dura del chavismo, sabe que es un golpe fuerte. Maduro en solo 7 meses perdió casi 700 mil votos de los 8.191.132 que obtuvo Chávez en Octubre.
Decía un líder del chavismo (Diosdado Cabello) en una entrevista, que como era posible que un obrero votara por su opresor.
El análisis que se puede sacar, es que al no haber una alternativa revolucionara real el obrero, la clase trabajadora, el pueblo pobre y explotado incluso los sectores de clase media, ven en una derecha hipócrita la solución a sus problemas básicos.
Como defender por ejemplo, un gobierno que se niega a discutir con el obrero sus problemas básicos, o un empleado publico ve como sus dirigentes "revolucionarios" no quieren discutir los contratos colectivos que es primordial para poder subsistir.
El trabajador que escucha que el problema de la electricidad pasa en parte por su culpa de no ahorrar energía, con una devaluación de la moneda nacional, que siempre terminamos pagando los mas pobres y una escasez que si bien es cierto es culpa de un empresario parásito, también es culpa de un gobierno cómplice que le da el dinero para que importe los productos pero no activa la industria en manos de los obreros. En este escenario, como se espera que vayan y voten por la revolución.
¿Que puede pasar ahora?
Tenemos una derecha envalentonada por los resultados, han recuperado confianza, conquistado una importante base social que en números electorales están casi igualados con la base social que apoya el chavismo. esto ha sido posible en parte, porque han sabido capitalizar los errores y debilidades del gobierno; y de llenar el vacío de una oposición critica y de izquierda dentro de la revolución bolivariana. Que el mismo gobierno no ha permitido que exista.
Esta oposición de derecha, querrá ser tomada en cuenta para las decisiones de estado. En su tesis, el gobierno tiene un plomo en el ala; y por tanto presionara para hacer sentir sus posiciones. ante esta coyuntura, el gobierno de Madura, tendrá dos alternativas, conciliar con la derecha o profundizar hacia el socialismo.
Solo que con esta ultima opción, la cual es la que esperamos sea la tomada, y lucharemos para que así sea. Tendrá la particularidad, de que tendrá que reconocer a esa gran base social que hoy cree que la opción de la derecha es su alternativa de cambio.
Esto será un gran reto ya que estamos hablando de un proceso de 14 anos con un desgaste importante y con una gran cantidad de errores acumulados sin que hasta ahora se hayan tomados los correctivos que ha demandado el pueblo.
Entonces convencer esa gran base social es ya un reto mas de los otros tantos que enfrentara el gobierno de Maduro. no podemos caer en el error, en la soberbia y creer que de los 7millones que votaron por Capriles son burgueses y oligarcas. Parafraseando a Fidel Castro cuando en un momento le dijo a Chávez. "…Chávez no creas que los 5 millones que son hoy la oposición en Venezuela todos son burgueses…"
Desde Socialismo Revolucionarios seguimos llamando al gobierno, que en esta nueva etapa se revise su política hacia las clases menos pudiente.
Exigimos la profundización de la revolución y de unas vez por todas romper contra el estado Burgués que no nos deja que avancemos en las reformas puntuales que hay que hacer.
Por la construcción de un estado comunal que tanto dijo Chávez en su ultima cadena nacional, para poder profundizar los cambios democráticos que el pueblo demanda.
Que las nacionalizaciones se aplique sobre los grandes medios de producción, la mayoría aun en manos de la burguesía parasita de este país. Pero que no sea bajo el esquema burocrático actual, si no que se le transfiere sin miedos, sin complejos, sin condicionamientos, a los trabajadores y al pueblo.
Que seamos nosotros los trabajadores y el pueblo que organizados democráticamente en diferentes comités, organizar un economía planificada que funcione bajo la lógica de las satisfacciones de las necesidades humanas racionales en armonía y equilibrio con el medio ambiente.
Que la lógica del desarrollo económico no sea el mismo que el del modelo capitalista, rapaz, destructor del medio ambiente, bajo una cortina de humo, fachada llamada socialismo, cuando no lo es.
Si esta y muchas otra medidas, que solo con voluntad política se lograrían. No solo frenaremos el avance de la derecha. No solo reconquistaremos a nuestros hermanos y hermanas de clase que hoy se han visto seducido por la derecha, sino que también, reconquistaremos la solidaridad mundial de los pueblos que lucha por un genuino cambio de sistema y seremos un estimulo mas que estos cambios se hagan realidad.
Hoy la dirección política del chavismo, tiene que entender que no solo se trata de la revolución bolivariana y su permanecía en Venezuela; sino también seguir demostrando en lo concreto que si es posible construir un mundo mejor, mas humano.
The CWI relies on the donations from working class people around the world to fund our campaigns.Please donate towards building the CWI.