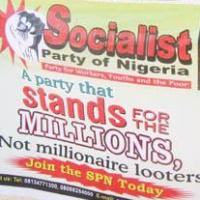 The last set of DSM members still in the detention of the state security service (SSS) in Kaduna, Northwest Nigeria, and Ibadan Oyo state, Southwest Nigeria, as of yesterday, has been released.
They regained their freedom yesterday in the night.
No doubt the local and international pressure mounted by comrades and supporters on the authority forced them to let off the comrades. For instance, the SSS in Kaduna were repeatedly pestering us to urgently send somebody to secure the bail of Dimeji Sadare and Sefiu Amusat and had to lessen the original condition for the bail. They had earlier requested a civil servant or landowner in Kaduna whom we could not provide. Hence, they did not have any choice but to allow a human right activist based in Kaduna to secure the bail but with proviso that he would provide them whenever needed.
However, Abiodun Bamigboye, Daniel Akande and Taiwo Adesokan have been asked to report again at the SSS office in Ibadan by 2.30pm today. Besides, as against 7 comrades we had claimed it was actually the above mentioned trio that were detained yesterday after reporting at the SSS office, though 7 were arrested at the May Day rally in Ibadan.
In Anambra, the State Commissioner of Police, promised, in his response to protest phone calls and text messages, that the charges against Francis Nwapa would be withdrawn at the adjourned date. It should be recalled that Francis was yesterday arraigned before a Magistrate Court in Awka which granted him bail and adjourned the matter. The police chief was so overwhelmed with protest that he had to appeal to a comrade to help talk to us to stop the calls and messages.
It should be recalled that DSM members were arrested at May Day rallies in Abuja, Niger, Oyo, Kaduna and Anambra states for circulating of a leaflet issued by the Socialist Party of Nigeria (SPN) on monumental corruption and pension fraud and selling of the paper of DSM, Socialist Democracy, with bold headline on pension fund scam.
It was indeed atmosphere of siege at all the venues of May Day across the country with more vicious attack on democratic rights than what obtained even under the military rule. Apart from the 5 states where we experienced arrest, comrades were also harassed at gun point and threatened with arrest in Lagos and Osun, and chased out of the venues in Delta and Imo states. The Jonathan government has employed strong arm approach and attacks on democratic rights as its response to the growing criticism of its anti-poor conducts and policies as well as monumental corruption.
We commend comrades and supporters locally and internationally for their prompt intervention with protest letters, calls and text messages as well as collaborators and lawyers who helped secure the bail of some of the comrades. We shall follow closely the situation in Ibadan and keep all posted.
---
[2 May 2013, morning:]
Nigeria: May Day arrest of DSM members – solidarity needed
3 have been released, 9 still being held
Press statement by Segun Sango, general secretary DSM (CWI Nigeria)
See also Militarisation of May Day rallies
Some of the Democratic Socialist Movement (DSM) members arrested yesterday at May Day rallies have been released. As we go to press those in Kaduna and Ibadan are still being held. It should be recalled members of DSM were arrested in Abuja, Oyo, Kaduna, Niger and Anambra states yesterday for circulation of a leaflet issued by the Socialist Party of Nigeria (SPN) on monumental corruption and pension fraud and selling of the paper of DSM, Socialist Democracy, with bold headline on pension fund scam.
Hassan Taiwo Soweto and Odun Eniayekan were released yesterday at the night after spending hours at the cell of the State Security Service (SSS) at the Presidential Villa Abuja. The security operatives however still impounded their materials they were circulating and selling before the arrest. These include 200 copies of Socialist Democracy, the paper of DSM; 200 copies of Manifesto and Constitution of SPN and about 5000 SPN leaflets.
Francis Nwapa arrested and detained at the Anambra State CID has been granted bail after being arraigned by the police before a magistrate court. He was asked to deposit a sum of N20, 000 as bail bond. Though, the state Commissioner of Police, Bala Mogaji Nasarawa, who was bombarded with protest text messages and phone calls by members and supporters of DSM, claimed that the charges against Francis had been withdrawn.
In Kaduna an operative of SSS who introduced himself as Isaac called us with Oladimeji Sadare's mobile number that we should provide somebody who is as a civil servant or landowner in Kaduna to secure the bail of Oladimeji and Sefiu Amusat.
Abiodun Bamgboye and 6 others who reported this morning around 9am to the SSS headquarters in Ibadan as being ordered after their release yesterday are still being held by 5 30pm.
We once again call on trade union, socialist and human rights activists and organisations, as well as the media, to join us to demand the immediate and unconditional release of Oladimeji Sadare ,Sefiu Amusat, Biodun Bamgboye and 6 others. We commend individuals and organizations whose pressure and intervention had helped secure the release some of our members.