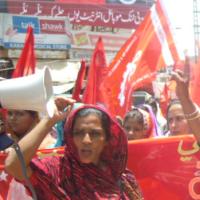 Progressive Workers Federation (PWF), TURCP and SMP organised and intervened in the May Day activities across the country
The Progressive Workers Federation (PWF), Trade Union Rights Campaign Pakistan (TURCP) and Socialist Movement Pakistan (SMP) organised and intervened in the May Day activities in more than 38 cities and towns across the country. More than 5,000 industrial and public-sector workers participated in these activities.
This year's May Day came in the middle of the general elections campaign in the country, and the turnout in the rallies, public meetings and seminars were low compared to previous years. Less than 1,000 workers participated in the main rally in Lahore, which was jointly organised by the six trade union federations. The situation was no different in Karachi, Peshawar, Faisalabad, Hyderabad, Quetta and other large cities. The security situation also played its role in the low level of participation. The Pakistan People's Party failed to organise its traditional May Day rally in Lahore for the first time in 40 years.
Yet, in spite of these difficulties, the SMP, PWF and TURCP organised its May Day activities, distributing special posters and leaflets. A special issue of Socialist was also produced.
Here are a few brief accounts of some of our important activities:
Mir Pur Khas, Sindh
More than 1,000 workers, including 300 women, participated in the largest May Day rally in the history of this city. It was the second biggest rally in the Sindh province, and the biggest in interior Sindh excluding Karachi. All the main trade unions and social movements in the area participated. The rally passed through the main streets and squares of the city and ended outside the press club. This successful rally shows the immense influence and respect won by the SMP through the struggles, receiving widespread coverage in the main newspapers, and with the Sindhi news channels showing the rally in the main bulletins throughout the day.
Lahore, Punjab
PWF organised a public meeting at Radio Pakistan in which more than 350 workers from different sectors participated. This was the first May Day activity at this public-sector radio station since 1977. SMP and TURCP members intervened in the main trade union rally jointly organised by the different trade union federations under the banner of the Pakistan Workers Confederation. SMP members also participated in other activities in different parts of city.
Faisalabad, Punjab
PWF and TURCP organised a labour conference in this important hub of the textiles industry, and more than 430 workers from different workplaces took part. The speakers emphasised the need to reorganise the trade union movement and to form the new trade unions to unite the workers. The conference approved a number of resolutions.
PWF, TURCP and SMP also organised and participated in activities in Islamabad, Rawalpindi, Multan, Bahawalpur, Hafizabad, Pindi, Bhattian, Jhang, Rahim yar Khan Mardan, Peshawar, Dir, Charsada, Qasur, Sheikhupura, Sanghar, Larkana, Mehar, Dadu, Quetta, Karachi, Tando Allah Yar, Tando Jam, Digrri and Sahiwal.