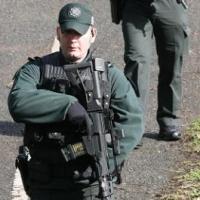 Secret Services bolster police ahead of G8 Summit in N Ireland
For the last couple of months, County Fermanagh, in western Northern Ireland, has steadily resembled more and more an occupied territory, as secret services, armed police and soldiers have descended on the county in the run-up to the G8 Summit in mid-June.
Even before the Summit begins, every day motorcades of eight police motorcycles drive through Enniskillen, the largest town in Fermanagh. Extra CCTV cameras have popped up everywhere and random checkpoints are now part of a 'normal day' for Fermanagh. And it is only going to get worse. There are plans to bring in 3,600 extra police personnel from different parts of Britain. There are already army units patrolling the streets. Police armed with machine guns are routinely stopping traffic and harassing local people.
John told The Socialist: "Members of my family were coming back from church service at Derrygonnelly [a small village] and were stopped by around eight heavily armed police and questioned".
Derek added, "I witnessed a person who was walking on the road which leads to the ['Lough Erne') Hotel be approached by police who questioned him and took him into custody. Maybe because he was wearing a backpack, but that is hardly grounds for arresting somebody".
Sean says that dissident republicans have also disrupted people by planting viable and hoax bombs in the run-up to the G8 summit. "Every shop along the main street was evacuated in Enniskillen. A viable bomb was also discovered which could have killed anyone."
The G8 Summit has forced schools to make special arrangements for pupils to travel to sit exams. Unite, the union, has also protested against the decision to cease all roadworks across the whole of Northern Ireland for 11 days, meaning a loss of two weeks wages for road workers.
Domhnall O'Cobhtagh, a Socialist Party member from Fermanagh and a leading organiser of 'Fermanagh G8 Not Welcome', which is organising a demonstration in Enniskillen, on 17 June, said: "There are roadchecks everywhere – right across the county. Sometimes you can be stopped three times a day at roadchecks. You cannot move without seeing police cars, armoured vehicles and police armed with machine guns. They have taken over the old Grosvenor barracks near Coleshill, a former British Army barracks which is now property of the Northern Ireland Housing Executive, to use as a holding facility. Sniffer dogs are being used to search the back of houses. A massive ring of fence has been erected, sealing off the grounds of the G8 Summit. All this disruption and heavy security is leading to a lot of frustration amongst people and has created a tense atmosphere in the county."
Special financial appeal to all readers of socialistworld.net

Support building alternative socialist media

---

Socialistworld.net provides a unique analysis and perspective of world events. Socialistworld.net also plays a crucial role in building the struggle for socialism across all continents. Capitalism has failed! Assist us to build the fight-back and prepare for the stormy period of class struggles ahead. Please make a donation to help us reach more readers and to widen our socialist campaigning work across the world.

Donate via Paypal

CWI- Please inform us if you are reproducing any material from this site.