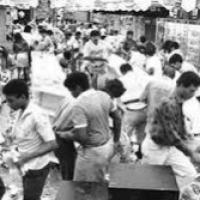 CUAL ES EL PROBLEMA DE LA ESCASEZ DE PRODUCTOS
"La catástrofe esta hoy mas cerca. Hemos llegando al desempleo en masa ¡quien podría pensarlo! En el país no hay mercancía, el país perece por falta de mercancía, todo el mundo lo dice. Todo el mundo lo reconoce. Todo el mundo lo hace contar pero no se toma ninguna medida"
Vladimir Lenin,  "La Catástrofe que nos amenaza y como combatirla"
En la mal llamada cuarta republica en los primeros años la política de los gobiernos populistas, dada los problemas de caja que atravesaba la administración de Jaime Lusinchi 1984-1989, lo cual llevo a la toma de medidas neoliberales por parte del nuevo gobierno de Carlos Andrés Pérez 1989-1993. El ministro de Cordiplan (equivalente a planificación y finanzas de hoy) para ese momento Miguel Rodríguez decía  que se debía despolitizar la economía de Venezuela.
Sin embargo sus medidas económicas, desembocaron en el conocido Caracazo 27F'89 y los 2 golpe de estado del 92, 4F y 27N.
En la campaña del '98 uno de las propuestas de Chávez era politizar la economía, para acabar con las exigencias del fondo monetario internacional y dejar de  imponer la política neoliberal.
En días reciente dada toda la crisis de abastecimiento de alimentos en el país. El ministro de industrias Ricardo Meléndez, decía que no se puede politizar la economía del país, este comentario fue avalado y aplaudido por Lorenzo Mendoza Dueño de las Empresas Polar, que controla 48% del mercado de alimentos y bebidas en este país, siendo uno de los mayores monopolios privados.
Dejando de lado la política  de Chávez durante los últimos 14 años, como parte de una política de Acercamiento con los empresarios y de hay la famosa reunión de Maduro con los dueños de empresas Polar productora en gran parte de la alimentación del país. Por supuesto la derecha hipócrita no dice nada porque esto favorece los intereses de sus financistas.
En días anteriores ya el ministro de finanzas Nelson Merente asomaba la posibilidad de hacer meses técnicas con empresarios de distintas ramas de la economía y les prometía el desembolso se los dólares para importar materia prima para las distintas áreas. De estas reuniones se concertó  también el aumento del 20%  en la carne, el pollo, la leche y el queso.
Pero que significa despolitizar la economía, si no agregamos el elemento político a la economía podríamos sentarnos  a la mesa con cualquier actor de la vida económica del país sin tomar en cuenta sus intereses e ideologías políticas, esto es un gran retroceso en la manera en que se llevaba la gestión del gobierno "Revolucionario".
Muchos pensaran, dada la crisis que atravesamos, que hay que tender puentes con los distintos actores de la economía nacional, pero acuesta de hacer concesiones a las empresas privadas y la entrega de industrias nacionalizadas bajo la excusas de asesoría para aumentar la producción de un determinado bien.
CUAL ES EL PROBLEMA DE LA ESCASEZ DE PRODUCTOS
En principio podríamos decir, que es culpa de la falta de interés de los grandes productores de invertir seriamente en la economía y limitarse a ser solo importadores de producto.
También, se podría  tomar en cuenta que parte de las ganancias que obtienen estos por la venta de un bien no es reinvertido nuevamente sino que es sacado al exterior en los distintos bancos y vuelven a solicitar el 100% de lo necesario para importar producto.
Otro problema es la mala planificación de la políticas de producción en el sector publico y una mala planificación en la distribución del producto no es un secreto que en los años de bonanzas petrolera del año 2008 entraron al país alrededor de 96 mil millones de dólares gran  parte de este dinero se utilizo en importar bienes terminados pudiendo invertir en maquinaria y materia prima y producir en las empresas nacionalizadas.
Con este panorama podemos decir que la economía del país sigue siendo capitalista, con una burguesía que lejos de ser nacionalista es parásita, con una economía mono productora seguimos dependiendo de los precios del petróleo y dado el problema económico ya ni con un barril a 100 dólares podemos reactivar la economía sino solo apalear la crisis importando productos dejando los mismos vicios intacto como la entrega de divisas a empresas de maletín. No criticamos que sea mono productos pero debemos empezar a diversificar la economía.
Estos problemas de liquidez dado el alto desembolso que sea tenido que hacer importando bienes, han llevado al gobierno a tomar medias de emergencia tales como el aumento de los precios de los producto de la cesta básica,  la devaluación de la moneda de 4,3 a 6,3 bolívares por dólar, la evaluación del aumento del pasaje del transporte publico,  pensar en la posibilidad de aumentar las tarifas de servicios como la electricidad asomadas ya por el ministro de Energía Eléctrica, Jesse Chacón e incluso el comienzo del cobro de las vivienda por parte de la misión. Nosotros no podemos oponernos a que se paguen las viviendas el problema es el momento como dice un refrán "éramos muchos y parió la abuela".
QUE HACER ANTE ESTE PANORAMA
En las ultimas alocuciones del presidente Chávez el asomaba ya estos problemas y llamaba a un golpe de timón en el sistema de gobierno que se había llevado en estos 14 años y llamaba palabras más, palabras menos a la destrucción del estado burgués y la construcción del estado comunal todo el poder a las comunas, en una consigna que Lenin decía en 1917 que para poder avanzar con la revolución se debía dar todo el poder de beligerancia   a los Soviet, claro se debe preparar a las comunas ideológicamente para el rol que deben jugar, ¿pero esta burocracia que tanto critico Chávez en los últimos años permitirá que esto pase?
Es por esto que planteamos una serie de medidas que deben llevarse acabo lo antes posible porque de lo contrario se avizora un futuro oscuro para la revolución y el regreso de la derecha que lejos de no imponer una política económica  distinta la profundizaran mas pagando como siempre los menos con poder adquisitivo          
Como en el 2002 es un momento de situación revolucionaria, es el momento de romper con todo el sistema burgués capitalista que aun se sostiene.
Debemos nacionalizar la banca, fusionar los bancos en una banca única bajo el control del estado. 
La nacionalización de todas las grandes empresas sin indemnización, sería imposible avanzar al socialismo sin eliminar los monopolios en mano de los grandes burgueses siempre y cuando pasen al control de los trabajadores y no como se viene haciendo que es entregada a la burocracia que es contraria a los intereses de los trabajadores explotados.
La abolición del secreto comercial es primordial para tener un mayor control de la producción y la distribución de los productos, elaborados en el país así como las importaciones de bienes necesarios para el pueblo.
La participación de los sindicatos, frente de trabajadores y concejos comunales en la supervisión de la producción,  y distribución de los productos.
Crear una máxima autoridad de importación para el control el consumo, para evitar la importación de productor innecesarios y suntuosos pechados de lujo.
Desde socialismo revolucionario abogamos por la unidad de la izquierda en un frente amplio para luchar contra los acaparadores y burócratas que desvían el dinero del pueblo en cosas innecesarias.asi como para luchar por estas y otra medidas que desde el movimiento revolucionaria se planteen para avanzar en la revolución hacia su triunfo definitivo.          
Special financial appeal to all readers of socialistworld.net

Support building alternative socialist media

---

Socialistworld.net provides a unique analysis and perspective of world events. Socialistworld.net also plays a crucial role in building the struggle for socialism across all continents. Capitalism has failed! Assist us to build the fight-back and prepare for the stormy period of class struggles ahead. Please make a donation to help us reach more readers and to widen our socialist campaigning work across the world.

Donate via Paypal

CWI- Please inform us if you are reproducing any material from this site.