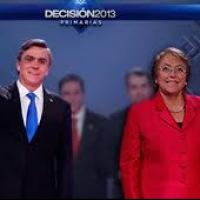 QUIEREN CAMBIAR EL BINOMINAL POR OTRA TRAMPA
Los representantes del actual Parlamento chileno se quieren aferrar a sus cargos, no quieren perder la escasa reputación que les queda y para eso están dispuestos a cambiar la ley electoral, no para democratizar verdaderamente el Parlamento, sino solo para ampliar el edificio y poner más asientos ampliando el numero de cupos. Esta es la solución que plantean para terminar con el binominal, sin embargo es una burda trampa para seguir oponiéndose a los cambios que la mayoría demanda.
Después de las primarias donde se vio el límite electoral que tienen los dos bloques de derecha, Alianza y Concertación, quedo de manifiesto que un gran sector de los viejos votantes de la concertación se han radicalizado. El voto a Bachelet está compuesto no solo por un amplio sector de personas mayores empobrecidas que echan de menos los bonos y que sigue manteniendo una resistencia, más cercana a la resignación, hacia las políticas neoliberales de despojo de derechos y una vida de escasez. Es notable que uno de los sectores más golpeados por la experiencia neoliberal de los últimos 40 años, con pensiones paupérrimas del sistema de AFPs y con un sistema de salud publico que se cae a pedazos, pueda seguir siendo el soporte social de una candidatura presidencial, encarnada en Bachelet, que no ha sido precisamente el remedio para una generación que hoy como ayer está siendo humillada por los que han gobernado desde La Moneda y desde el Parlamento.
Por más que Bachelet intente levitar por sobre los partidos de la Concertación o la "nueva mayoría" como se hacen llamar con el favor del Partido Comunista, y crear la impresión de que su figura es superior a todos ellos, será difícil mantener dicho invento.
Han pasado algunos días desde las primarias y ya las propuestas sobre AFPs, Asamblea Constituyente o educación gratuita están siendo modificadas y aunque nunca quedaron claras, una característica marcada en el discurso de Bachelet (la ambigüedad), se están poniendo el parche antes de la herida. Han dicho que la educación gratuita no puede ser universal porque los ricos tienen que pagar porque ganan más, lo que suena muy sensato pero al final de cuentas es una vulgar excusa para no terminar con el negocio y perpetuar la educación clasista que se imparte en este país. Luego Bachelet plantea que la educación gratuita no será posible en el corto plazo, que será posible según ellos en 6 años, como si la carrera universitaria o técnica durara toda la vida.
Por otro lado la presidenta de la CUT, como si quisiera ser la ministra del trabajo y previsión, viene y se larga diciendo que el fin de las AFPs no se podrá hacer en el próximo gobierno. Todo un golpe bajo para la principal demanda de los trabajadores que han jubilado como para los que todavía están cotizando y tienen que hacerlo en el próximo periodo.
ALIANZA Y CONCERTACIÓN RECHAZAN UNA ASAMBLEA CONTITUYENTE.
Bachelet ha dicho que nunca ha planteado la Asamblea Constituyente, cuestión que es verdad pero si se ha encargado de dejarnos claro que el cambio de las reglas tiene que hacerse por los cauces institucionales actuales, es decir, a través del Parlamento que resulte elegido después de noviembre. Y para saber cómo se viene la mano basta ver los personajes que se están designando para integrar el Parlamento de la "nueva mayoría" y de la Alianza, Escalona y Allamand son marcas registradas del poder en chile y es justamente esta gente la empleada por la clase dominante y el empresariado para defender sus intereses en Valparaiso.
Tal como Bachelet, Escalona y todos los candidatos al Parlamento de la nueva y vieja Concertación, su rol será bloquear cualquier demanda, ninguna confianza en ellos, el propio senador del PS se ha declarado un abierto opositor a una Asamblea Constituyente, según él son fumadores de opio quienes la plantean. Integrar y ganar el próximo Parlamento es para la derecha política un asunto de primera importancia, su tarea será seguir bloqueando cualquier cambio a las leyes que están hechas a la medida de los poderosos, sin embargo el acuerdo con los partidos de la Concertación para cambiar el binominal es una señal de que no saben lo qué puede pasar en las elecciones parlamentarias y presidenciales. Se están blindando contra cualquier amenaza, contra la amenaza de perder pan y pedazo y que el binominal pueda ser derrotado por fuerzas políticas de fuera de los dos bloques o incluso que no sea Bachelet o Longueira quienes ganen las elecciones presidenciales.
No presentan un acuerdo para terminar con el binominal pero este cambio solo significa ampliar el número de escaños y esto solo significara soportar la presencia de parlamentarios "alternativos" e incluso opositores pero que estarán en minoría, solo con el fin de seguir asegurando la representación en el Parlamento. Lo han decidido ellos, no han respondido a nada más que no sea mantener sus privilegios y para seguir defendiendo los intereses económicos de las grandes empresas que controlan la minería, la pesca, la energía, el agua, etc.
TODOS A LA MONEDA Y EL GOBIERNO QUE PODRA HACER LOS CAMBIOS.
Necesitamos un gobierno que como primera medida convoque a un proceso de Asamblea Constituyente para que los trabajadores se articulen, se organicen y movilicen para cambiar las cosas, para terminar de una vez por todas con el miserable sistema previsional que empobrece a la mayoría y llena los bolsillos o las cuentas corrientes de una minoría. La candidatura de Marcel Claude y el desarrollo del movimiento TODOS A LA MONEDA han ganado y tiene muchas posibilidades de seguir ganando el apoyo de grandes sectores de la clase trabajadora y desde ya está sumando a miles de jóvenes como los estudiantes que han apoyado desde el principio la decisión de Marcel Claude para presentarse.
El apoyo de los trabajadores es indispensable para ganar el gobierno, pero más importante aún para luego darle la fuerza y el apoyo político y social que se requiere para llevar adelante un proceso de cambios que comience a terminar con el actual sistema que tanto defienden Longueira y Bachelet. Una victoria de Marcel Claude en las urnas puede comenzar a romper con el capitalismo mientras sea apoyado con movilización y organización, empezando la ola democratizadora que solo los trabajadores y la juventud pueden encabezar.
Las propuestas de terminar con las AFPs, recuperar el cobre, el agua, el mar y todos los recursos que se están robando los grandes empresarios, así como salud y educación gratuita son un oferton electoral en boca de quienes se han coludido con los poderosos durante los últimos 40 años. Pero cuando esto es defendido por la juventud y los trabajadores movilizados en las calles, organizando, defendiendo y dándole un sentido de clase a las demandas mayoritarias, el movimiento todos a la moneda no será un oferton electoral, ni un fenómeno social, sino un serio golpe al capitalismo chileno.
Special financial appeal to all readers of socialistworld.net

Support building alternative socialist media

---

Socialistworld.net provides a unique analysis and perspective of world events. Socialistworld.net also plays a crucial role in building the struggle for socialism across all continents. Capitalism has failed! Assist us to build the fight-back and prepare for the stormy period of class struggles ahead. Please make a donation to help us reach more readers and to widen our socialist campaigning work across the world.

Donate via Paypal

CWI- Please inform us if you are reproducing any material from this site.