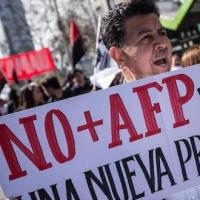 Solo en la Alameda, el eje central de Santiago, hubo una marcha de 200 mil personas en las calles
El domingo 24 de julio se realizaron multitudinarias marchas contra las Administradoras de Fondos de Pensiones, AFP, el sistema privado de pensiones que impera en Chile desde 1981, que fue impuesto a sangre y fuego por la dictadura, no debemos olvidar que Chile fue elegido para ser el laboratorio del neoliberalismo y hoy estamos viendo las consecuencias más duras de este experimento neoliberal.
La Jornada fue magnífica, por cientos de miles familias de trabajadores y sectores medios salieron a las calles, en todas las grandes ciudades y en cientos de pequeñas localidades, respondiendo al llamado a la protesta contra el sistema privatizado de pensiones (NO + AFP), un pilar de la acumulación capitalista en Chile.
Literalmente en todo el país desde Arica en el extreme norte y en Punta Arenas en el extremo sur, las coordinadoras NO + AFP, basadas en sindicatos pero en alianza con otras organizaciones ciudadanas y populares, junto con redes de Ciudadanos Indignados llamaron a las marchas y las organizaron. Incluso en lugares aislados como Isla de Pascua hubo una movilización en las calles, convocada a iniciativa de la Asociación de trabajadores municipales.
Estamos ante un hecho mayor, después de muchos años de movilizaciones en las calles principalmente de estudiantes, la clase trabajadora ha entrado masivamente en escena, con una nueva generación que no vivió las derrotas históricas del pasado, arrastrando a la vieja generación y las clases medias. El Domingo 24 comenzaron a hacerse realidad las últimas palabras del presidente Salvador Allende, "de nuevo se abrirán las grandes Alamedas por donde pase el hombre libre, para construir una sociedad mejor".
La pesadilla de las AFP
En 1981 la dictadura chilena terminó con las Cajas de Previsión, el viejo sistema de seguridad social, que pagaba las pensiones. Se acabó con el aporte empresarial, y se redujo el porcentaje de cotización de los trabajadores, reduciendo así el costo de la fuerza de trabajo.
El sistema de AFP no fue creado para dar pensiones, sino para fortalecer los mercados de capitales y transformar el ahorro forzoso de los trabajadores en capital al servicio de la acumulación y ganancias de los grandes grupos económicos. Oligopolios abusivos que se coluden para esquilmar a los consumidores. Los grupos económicos que disfrutan de esta plata dulce han comprado y corrompido a los políticos.
Chile es el país más desigual de todos los miembros de la OCDE. El 1% de la población concentra el 35% de la riqueza.
En gran medida esto se explica por el sistema de AFP, un pilar de la acumulación capitalista en Chile. Cada mes a los trabajadores asalariados nos descuentan el 10% de nuestras remuneraciones que van a parar a los mercados de capitales, es decir a los grandes grupos económicos que controlan el país ( banca, inmobiliarias, minería, cadenas de venta minorista ó retail, farmacias, agro negocio y forestales, salmoneras, concesiones de autopistas …) muchos de ellos depredadores del medio ambiente, y en cambio recibimos pésimas pensiones. Para las grandes empresas es el negocio soñado, reciben un flujo permanente de dinero barato, y luego lo prestan caro, o lo invierten en nuevos negocios. Si las cosas van mal hacen que las perdidas las paguen los fondos de los trabajadores.
El sistema de AFP es rechazado por la mayoría de la población, los datos que explican este rechazo son elocuentes. Cuando se crearon las AFP se prometió que los trabajadores recibirían el 70 ó 75% de su último salario, algo que está muy lejos de la realidad, dado que el promedio de las pensiones que pagan las propias AFP no llegan a los $120.000 (182 dólares) mensuales, aquellas jubilaciones que pagan las compañías de seguro, la Renta Vitalicia, que apunta a los trabajadores de remuneraciones más altas, llega a un promedio menor a $296.000 (449 dólares), pero lo que es más grave 91% de las pensiones se encuentra por debajo de los 156.000 pesos (236 dólares) lo que equivale a 62% del salario mínimo, el salario mínimo está en $250.000 (379 dólares), lo que condena a la mayoría de los pensionados a vivir en condiciones de la más absoluta miseria, algo que no solo los complica a ellos, sino también a sus familias, dado que para poder sobrevivir dependen de la ayuda que le puedan dar sus hijos y familiares más cercanos, que a su vez tienen que sobrevivir con salarios que son también bastante miserables y con los que a duras penas pueden mantener a sus familias.
Por otro lado los sectores más afectados como ha quedado demostrado hasta ahora, son los sectores profesionales, donde hay casos de abogados y otras profesiones similares que pasan de ganar en promedio $1.500.000 pesos (2276 dólares) mensuales a recibir pensiones de $350.000 pesos (531 dólares) por mes, que aunque están por sobre el promedio de la mayoría de las pensiones, dado su nivel de vida, gastos y endeudamiento generalizado simplemente no les alcanza para vivir. Hay casos de profesores que han sido difundidos ampliamente por las redes de Internet, que una vez pensionados han tenido que salir a pedir limosnas en las calles para poder sobrevivir.
Los constantes escándalos de corrupción de políticos y empresarios han contribuido ha aumentar la indignación y la preocupación de la gente. Se anunció la rebaja de las nuevas pensiones en 2,1% menos a contar de julio, por otro lado en estos días han salido a la luz pública que en algunas reparticiones del Estado se están entregando pensiones fraudulentas que superan los $5.000.000 de pesos (7586 dólares), como el caso de la mujer del diputado y ex presidente de PS, Osvaldo Andrade, y los miembros de las Fuerzas Armadas que tienen pensiones razonablemente decentes, pero abusivamente altas para los ex altos oficiales, además se supo que las pensiones de las Fuerzas Armadas que finalmente tenemos que pagar todos los trabajadores de este país crecen a un ritmo del doble de las pensiones de AFP, .
Como ya nos hemos encargado de destacar todos los que no estamos de acuerdo con las AFP, este no es un sistema de pensiones, sino un sistema de ahorro forzoso en la que los trabajadores están obligados a entregar una parte de su salario, pero que finalmente solo son recursos frescos a los que echan mano los bancos y los grandes grupos económicos, que hacen enormes ganancias, pero que condena a los trabajadores pensionados a vivir en condiciones completamente miserables.
A pesar que en algunos casos los empresarios que controlan las AFP pierden parte importante de los ahorros de los afiliados (los trabajadores) ellos igual siguen teniendo enormes ganancias, porque cobran comisiones por administrar los dineros independientemente de los resultados, y ni hablar de los ejecutivos de estas empresas que reciben ingresos siderales comparados con el mal desempeño de las AFP.
Ya todo el mundo tiene claro que este sistema fracaso completamente y que no cumple con tu objetivo principal que es entregar pensiones decentes para los que hoy están jubilando y está creando una gran catástrofe social en todo el país.
Esta es la razón principal para que un millón de chilenos salieran a las calles a exigir que se ponga fin a las AFP y se termine con el lucro que los empresarios y los banqueros están haciendo con sus platas, dado que los únicos que no se benefician con los recursos acumulados que hoy están en las AFP, son sus verdaderos dueños, los trabajadores.
La respuesta que están tratando de dar el gobierno y los empresarios, es la creación de una AFP estatal para ganar años para el sistema y los empresarios pretenden que los trabajadores coticen una cuota aun mayor de la que hoy están cotizando para el pozo sin fondo de as AFP, y además subir la edad de jubilación de 65 a 67 años de edad, finalmente el remedio sería peor que la enfermedad.
Claramente esta marcha es un primer paso para cambiar las cosas, pero a su vez ha sido un paso gigantesco para terminar con este sistema injusto y perverso.
Reforzar las Coordinadoras No + AFP, hacia el Paro Nacional.
El congreso nacional del movimiento NO + AFP celebrado con 400 personas de todo el país, definió una ruta de movilizaciones. Las elites empresariales y políticas que se benefician de estos abusos no van a terminar con las AFP, si no los obligamos. En todo el país hay que reforzar y levantar las coordinadoras NO + AFP que encabezan los sindicatos independientes. Tenemos que ser capaces de movilizar cada vez más gente en la calle, hasta llegar a una protesta nacional y un paro productivo que termine con el sistema de AFP, y recuperar nuestros derechos sociales, empezando con un sistema previsional de reparto solidario, financiado con financiamiento tripartito por los trabajadores, empresas y estado. Un sistema que garantice pensiones suficientes, con transparencia y control de la gestión por los trabajadores, para evitar abusos y corruptelas.
Special financial appeal to all readers of socialistworld.net

Support building alternative socialist media

---

Socialistworld.net provides a unique analysis and perspective of world events. Socialistworld.net also plays a crucial role in building the struggle for socialism across all continents. Capitalism has failed! Assist us to build the fight-back and prepare for the stormy period of class struggles ahead. Please make a donation to help us reach more readers and to widen our socialist campaigning work across the world.

Donate via Paypal

CWI- Please inform us if you are reproducing any material from this site.