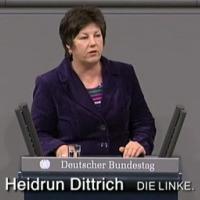 "Un SAV fuerte fortalece la izquierda de Die Linke"
La diputado de Die Linke (La Izquierda) de la Baja Sajonia, Heidrun Dittrich, se ha unido Sozialistische Alternativa (SAV), la sección alemana del CIT. Esto sigue a un período de intensa cooperación dentro del partido y su corriente de izquierda, la "Izquierda Anticapitalista". Esta es su declaración:
¿Por qué me uno a la SAV?
A la vista de los movimientos de masas en casi todos los continentes, la actual falta de una alternativa en la mente de muchas personas y la decepción con los partidos neoliberales, la construcción de fuertes fuerzas socialistas es determinante para mostrar una salida a la crisis del capitalismo. De otra manera partidos pro-capitalistas o incluso grupos fascistas pueden utilizar la decepción existente, los movimientos progresistas pueden convertirse en guerras civiles como en Siria o los militares pueden tomar el poder, como en Egipto. Éstas sólo se pueden prevenir si la clase obrera a escala internacional y como una fuerza independiente lucha por una alternativa.
Decidí unirme a Sozialistische Alternativa (SAV), porque creo que se necesita una organización marxista internacional que represente esta perspectiva.
Por la mitad de mi vida me he considerado un marxista y hemos estado luchando junto con colegas, sindicalistas y desempleados por una alternativa a la guerra, la pobreza y la esclavitud asalariada. Por eso me uní al sindicato cuando tenía 16 años y me convertí en activista en mi lugar de trabajo. Hace cinco años me uní a DIE LINKE, porque era necesario un fuerte partido socialista, que represente una alternativa al capitalismo. En 2009 fui elegida para el Bundestag en la lista electoral de nuestro partido en el estado federal de Baja Sajonia. Soy de la opinión de que nuestro trabajo dentro del parlamento debe, en primer lugar, ser utilizado, como Rosa Luxemburg escribió hace más de cien años, para dejar al descubierto la hipocresía de los partidos burgueses, para propagar nuestra alternativa política, extender las demandas de los movimientos extraparlamentarios y fortalecer la resistencia a nivel local. Siempre me opuse a la visualización de las posiciones parlamentarias como un fin en sí mismo.
También soy activa en la Izquierda Anticapitalista (AKL) para ayudar a construir una izquierda en la base del partido que pueda ganar la mayoría para las políticas anti-capitalistas y socialistas. En el partido y en el AKL he conocido a compañeros del SAV, que también son miembros de Die Linke. Trabajando juntos por un período de meses me di cuenta de que mis ideas y las ideas de SAV sobre un DIE LINKE combativo, democrático y socialisto son similares.
Al igual que los compañeros del SAV, no creo que la crisis actual sea una crisis de los mercados financieros, sino una crisis sistémica del capitalismo. Esta crisis no puede resolverse a través de una redistribución de la riqueza, porque la fuerza motriz del capitalismo es la maximización del beneficio. Por lo tanto, una solución sólo puede encontrarse a través de la socialización de los medios de producción y la planificación ecológica-social en una sociedad socialista. Nuestra tarea es, a partir de los problemas del día a día de la gente, mostrar una salida socialista y construir un puente para una alternativa socialista.
Los gobernantes siempre dicen que no hay alternativa al capitalismo. Pero la destrucción del medio ambiente en todo el mundo, las guerras y el dramático empeoramiento de las condiciones de vida de millones de personas, significan para mí que ninguna otra conclusión se puede sacar, salvo la lucha por una sociedad socialista – de lo contrario el capitalismo destruirá las necesidades civilizadoras de la vida. Tenemos que tratar de formular nuestras propuestas de una manera no abstracta, concreta. A partir de las luchas contra los bajos salarios, los despidos, los recortes sociales, por una semana de trabajo más corta sin pérdida de salario y con la creación de nuevos puestos de trabajo, los programas de inversión financiados por el Estado en educación, salud, servicios sociales, etc., es necesario vincular esto a las ideas anticapitalistas y dejar claro que las mejoras duraderas sólo son posibles sobre la base de la superación de la economía del lucro capitalista.
Para cambiar las relaciones sociales de una manera fundamental necesitamos ganar la mayoría en la sociedad. Esto sólo es posible a través de estimular la actividad autónoma de la gente y de esta manera lograr que cada vez más gente entre en conflicto con el sistema. Esto no se logrará a través de coaliciones parlamentarias con partidos burgueses como el SPD y los Verdes.
Los miembros el SAV luchan dentro DIE LINKE contra una adaptación hacia el SPD y los Verdes. Un SAV fuerte fortalecerá la izquierda en DIE LINKE y ayudará a prevenir un cambio más a la derecha en la línea del "Foro Democrático Socialista" (FDS, una corriente de extrema derecha en el partido). Los compañeros del SAV combinan actividades diarias para desarrollar la resistencia y contra-balancear el poder a través de la construcción de DIE LINKE, el ala juvenil del partido y de los sindicatos con la idea de una transformación socialista de la sociedad. En la campaña electoral que viene trabajaré junto con otros miembros de SAV y el resto de los compañeros del partido por un fuerte reingreso de DIE LINKE en el Bundestag. Fortalecimiento de SAV y edificio DIE LINKE hay contradicción.
Me impresionó en particular de las actividades de los miembros de SAV en el hospital Charité en la construcción del grupo sindical allí, donde se han desarrollado campañas sindicales ejemplares. Tuve la oportunidad de conocer a los miembros del Comité por una Internacional de Trabajadores (CIT) en un encuentro internacional y ver una verdadera asociación internacional y socialista. Especialmente el papel de los compañeros del Movimiento Democrático Socialista (DSM) en las huelgas de los mineros y la construcción de un nuevo partido obrero en África del Sur y la batalla de XEKINIMA para la unidad de la izquierda griega sobre una base socialista claro, son ejemplos de cómo la izquierda socialista debe acercarse a sus tareas.
Como diputada siempre he donado grandes cantidades de los movimientos extraparlamentarios. El SAV propone que todos diputados sólo deberían tener un salario promedio de los trabajadores cualificados con el fin de asegurarse de que nadie se convierta en un Diputado de intereses egoístas y porque es importante no ser privilegiados en comparación con las personas que una representa. Por lo tanto decidí tomar 2.400 euros de mis ingresos mensuales como diputado para mi subsistencia, orientada en base a mi salario que recibí antes de convertirme en un miembro del Parlamento, y donar todo lo anterior para los movimientos sociales y proyectos políticos.
Heidrun Dittrich
Special financial appeal to all readers of socialistworld.net

Support building alternative socialist media

---

Socialistworld.net provides a unique analysis and perspective of world events. Socialistworld.net also plays a crucial role in building the struggle for socialism across all continents. Capitalism has failed! Assist us to build the fight-back and prepare for the stormy period of class struggles ahead. Please make a donation to help us reach more readers and to widen our socialist campaigning work across the world.

Donate via Paypal

CWI- Please inform us if you are reproducing any material from this site.