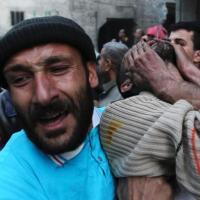 ¡No a la intervención militar!
Recientemente se han transmitido alrededor del mundo, a través de las redes sociales, móviles y canales tradicionales de información, un diluvio de imágenes y vídeos sangrientos y de noticias sobre el sufrimiento insoportable del pueblo sirio.
Inicialmente en 2011, después de las revoluciones de Túnez y Egipto, hubo un levantamiento popular contra el régimen policial de Al-Assad. Pero como ya se ha explicado en "The Socialist", las monarquías semi-feudales de Arabia Saudí y Catar, y las fuerzas imperialistas, intervinieron con enormes ayudas financieras y militares.
El levantamiento contra la dictadura en Siria se ha convertido en un conflicto sectario y además ha desatado un enfrentamiento peligroso entre suníes y chiíes en toda la región. El número de víctimas del conflicto en Siria de más de dos años está estimado en más de 100.000 personas. Además, 2 millones de personas han huido del país y hay 5 millones de desplazados internamente. En resumen, una acumulación de horrores.
Para la gran mayoría de la gente las noticias de que se han usado armas químicas en Ghouta, un distrito de Damasco, parece el comienzo de un nuevo círculo del infierno que están sufriendo las masas sirias. Las informaciones que citan cientos de muertos y miles de heridos son tan desgarradoras como espantosas.
El deseo de buscar una solución a este horror es muy humana, teniendo en cuenta los últimos acontecimientos, combinado con la amenaza de inestabilidad que se cierne sobre la región. Pero tener esperanzas en que los gobiernos de EEUU y el Reino Unido y sus aliados Francia, Alemania y Turquía puedan traer una solución es un terrible error si tomamos en consideración su historia tanto reciente como lejana.
Ataques aéreos
Durante los últimos meses el presidente de EEUU, Obama, ha declarado no menos de 5 veces que el uso de armas químicas en Siria sería una "línea roja" que desencadenaría una respuesta internacional. Ya hay 3 buques de guerra estadounidenses en el Mediterráneo y otro está en camino, y pilotos de Chipre han informado que han avistado aviones de combate británicos en la zona.
El ministro de Asuntos Exteriores del Reino Unido, William Hague, ha estado preparando el terreno en su país, declarando que la ausencia de un mandato de Naciones Unidos no sería un obstáculo: "Es posible intervenir basándose en una gran emergencia humanitaria". Hague también ha sugerido que la intervención militar, muy posiblemente bombardeos aéreos intensivos, podrían darse en semanas o incluso en días. El Consejo de Seguridad de las Naciones Unidas está dividido: Rusia y China se oponen a la intervención militar para defender los intereses de la clase capitalista de sus países.
También ha habido informaciones sobre colaboraciones de Hague con los regímenes dictatoriales y represivos de Catar y Arabia Saudí, que estarían encantados de derrotar a Al-Assad y dar un golpe a Irán y Hezbollah. Irán ya ha advertido que una intervención militar occidental desestabilizaría la región.
Patrick Cockburn, un experto en Oriente Medio, ha señalado las dificultades para verificar quién es el responsable del reciente ataque químico. Se concedió el acceso y un acuerdo de alto el fuego a los inspectores de la ONU pero estos estuvieron bajo fuego y se les ordenó regresar en unas pocas horas. Sin embargo, esto en sí mismo no prueba quién fue responsable del ataque y los inspectores solamente deben determinar si hubo o no un ataque con armas químicas.
Antes de que los inspectores de la ONU hayan publicado sus conclusiones, el secretario de estado estadounidense John Kerry dijo que los EEUU responderían al "innegable" uso de armas químicas de Siria, y que las fuerzas de Bashar al-Assad habían cometido una "inmoralidad" contra su propio pueblo.
"Inmoralidad" también podría ser una palabra adecuada para describir la destrucción de Iraq, incluyendo el supuesto uso de fósforo blanco y de misiles con uranio, la cárcel a cielo abierto que niega a los palestinos sus derechos democráticos y nacionales, el silencio ante las matanzas genocidas en Sri Lanka y la propia trayectoria de los poderes imperialistas en el uso de armas químicas y nucleares.
Hay mucha oposición en EEUU y Reino Unido contra la intervención a pesar del deseo de terminar con el exterminio. El actual calentamiento para el ataque a Siria recuerda a la preparación para la invasión de Iraq y los dossieres manipulados en los que se decía que Saddam Hussein tenía armas de destrucción masiva.
El programa electoral de Obama incluía la retirada de Iraq y el final del belicismo de la administración de Bush. Pero en realidad Obama ha sido un presidente de guerras y los asesinatos con aviones no pilotados se han multiplicado en Afganistán y Pakistán, además de realizar una gran reposición de las tropas sobre el terreno y mantener la cárcel de Guantánamo.
El 60% de la población de EEUU se oponen a la intervención militar en Siria. Pero los gobiernos tanto de EEUU como del Reino Unido tienen interés en aparecer como héroes ante las masas Sirias y como defensores de la democracia, atrapados como están en una profunda crisis sin solución del capitalismo y teniendo en cuenta la rabia que está creciendo entre las masas de sus países.
La guerra de Iraq
Antes de la invasión de Iraq los Liberales Demócratas en el Reino Unido intentaron pulir sus credenciales anti-militares oponiéndose a cualquier acción sin un mandato de la ONU. El Partido Socialista (CIT en Inglaterra y Gales) señaló que no se podía confiar en la ONU como árbitro en interés del pueblo iraquí, ya que está compuesto y dominado por representantes de los mayores poderes imperialistas y gobiernos belicistas. Sin embargo, el anterior líder de los Liberales Demócratas, Paddy Ashdown ahora argumenta que en el caso de Siria una acción unilateral es preferible a la inacción.
El representante de la oposición para Asuntos Exteriores, Douglas Alexander, ha demandado una comparecencia en el parlamento. Parece que Cameron podría concederla, ya que se enfrenta a la oposición de un pequeño número de sus propios parlamentarios debido a las complicaciones y posibles riesgos para toda la región.
El Partido Laborista aún no ha dicho cuál será su voto. Un verdadero partido de los trabajadores se opondría frontalmente a cualquier forma de acción militar en Siria, pero el Laborismo tiene un historial brillante de gobiernos furiosamente belicosos que han enviado tropas a Iraq para luchar por el petróleo y por los intereses de grandes empresas y sus propios objetivos estratégicos.
Además, el Laborismo tiene también un historial "inmaculado" de arrodillarse ante las políticas de recortes del gobierno Conservador-Demócrata. De nuevo, la necesidad de construir una nueva fuerza que represente a una mayoría anti-guerra y anti-recortes es evidente.
No podemos esperar que ninguna acción de este gobierno o de sus aliados internacionales pueda traer ningún alivio a la población de Siria o de Oriente Medio en general. De hecho, lo que es seguro es que un incremento de bombardeos traerá un incremento de sufrimiento para las masas. Y por eso debe ser rechazado.
No se menciona un 'cambio de régimen' porque el régimen de al-Assad es relativamente fuerte debido a la fiera oposición de Rusia y porque sería muy problemático resolver la cuestión de con qué reemplazarlo. Y debido al crecimiento y financiación significativa de Al Qaeda existe un serio peligro de que crezca el terrorismo tanto en la región como dentro de las fronteras en el Reino Unido y sus aliados en este conflicto.
No hay una verdadera solución capitalista a este conflicto que amenaza en este escenario inestable con desatar un conflicto étnico más amplio que podría durar años. Por las experiencias en Iraq y Libia, y de todas las intervenciones militares imperialistas, está claro que su motivación no era defender los intereses de la clase trabajadora y los pobres de la región.
No hay alternativa a la construcción y al apoyo para que se establezcan fuerzas independientes de la clase trabajadora que puedan unir a los pobres y oprimidos y a los que sufren en su interés común contra las fuerzas del imperialismo y sus aliados semi-feudales y capitalistas de la región.
¡No a la intervención imperialista! Retirada de todas las fuerzas extranjeras de Siria y de toda la región.
Contra la opresión, el pueblo debe decidir democráticamente su destino
Construcción de comités de defensa unitarios y no sectarios para defender a los trabajadores, pobres y otras contra ataques sectarios de cualquier tipo
Preparación de un movimiento para luchar por un gobierno de representantes de los trabajadores y los pobres
Asamblea Constituyente revolucionaria en Siria
Derechos nacionalistas y democráticos para las masas, con el reconocimiento del derecho de autodeterminación del pueblo kurdo incluyendo, si éste lo desea, el derecho a su propio estado
Sindicatos independientes y construcción de partidos de masas de los trabajadores con un programa de tierra para las masas y fábricas para los trabajadores, a través de un programa de economía socialista planificada democráticamente
Formación de una confederación democrática socialista de Oriente Medio y el Norte de África
Special financial appeal to all readers of socialistworld.net

Support building alternative socialist media

---

Socialistworld.net provides a unique analysis and perspective of world events. Socialistworld.net also plays a crucial role in building the struggle for socialism across all continents. Capitalism has failed! Assist us to build the fight-back and prepare for the stormy period of class struggles ahead. Please make a donation to help us reach more readers and to widen our socialist campaigning work across the world.

Donate via Paypal

CWI- Please inform us if you are reproducing any material from this site.