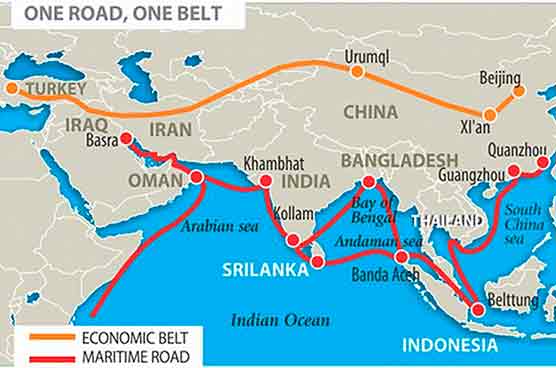 El inmenso plan de infraestructuras que el régimen chino pretende llevar a cabo es la punta de lanza para toda su estrategia económica y geopolítica. La Iniciativa del Cinturón y Ruta de la Seda (la BRI, por sus siglas en inglés) ha cobrado cada vez más importancia para el 'hombre fuerte' del régimen chino, Xi Jinping.
La BRI, también conocida como OBOR (siglas en inglés de 'Un Cinturón, Una Ruta'), es "el mayor proyecto de construcción del mundo" según el periódico The Guardian. Su ambición es conectar más de 65 países con una población combinada de 4.500 millones de personas ‒ tres veces la de China ‒ en una esfera económica dirigida por China, que abarque todos los continentes a excepción de las Américas. Esto pretende conseguirse mediante la construcción de una serie de bastos "corredores económicos de cooperación" incluyendo oleoductos, carreteras, puertos, vías férreas, redes eléctricas transnacionales e incluso sistemas de fibra óptica.
'Ruta de la Seda polar'
Como parte de la propaganda de la dictadura capitalista del autodenominado Partido "Comunista", la BRI se lanza como una versión moderna de la antigua Ruta de la Seda que unía comercialmente Oriente y Occidente. De hecho, el alcance geográfico de la BRI va mucho más allá. Islandia, Groenlandia, la península escandinava y el región ártica, están siendo incluidas en el esquema "Cinturón y Ruta" con vistas a una 'Ruta de la Seda polar'. El ártico es una de las últimas fronteras que quedan para la extracción de gas y petróleo a gran escala, y también constituye una nueva ruta marítima clave, ahora abierta por la destrucción de la superficie helada debido al calentamiento global.
En la cumbre para promocionar la BRI que se celebró en Pekín en mayo de 2017, a la que 130 países enviaron representantes, Xi Jinping prometió "construir una gran familia que coexista armoniosamente", y añadió que "la BRI significaría una nueva era dorada de la globalización". Pero en realidad la BRI es una expresión de la explosiva irrupción de China como nueva potencia imperialista global, que busca asegurarse esferas económicas de control e influencia en competencia con sus anteriores rivales liderados por EEUU.
La economía china ha superado sus límites nacionales. En una economía capitalista global que aún padece los efectos de una crisis que dura ya una década, con la 'desglobalización' en el orden del día ya que cada Gobierno capitalista intenta proteger sus propios intereses individuales, el régimen chino teme quedarse aislado de mercados clave.
El todavía relativo bajo nivel salarial en China, unido a las subidas desorbitadas del coste de la vivienda, la sanidad o la educación, son una fuerte contención de la demanda interna. El gasto del consumidor representó sólo el 39,2 por ciento del PIB en 2016, a pesar de las afirmaciones del Gobierno de que está teniendo lugar una exitosa transición de la inversión hacia el consumo como factor de crecimiento. El nivel de consumo de China en relación al PIB es aún muy bajo según los estándares internacionales, y más bajo todavía que en la China de la década de los 60.
"Aterrizaje forzoso"
Tras el ambicioso proyecto de la BRI se encuentra la grave crisis de sobreproducción que sufre China. Un gran número de las llamadas compañías "zombis" que no tienen un mercado en el que vender, son mantenidas con vida mediante crecientes niveles de deuda. En los últimos años el régimen chino ha usado la inversión masiva en infraestructura para evitar una fuerte caída en el crecimiento económico ‒ un "aterrizaje forzoso"‒ que las autoridades chinas, temen con razón, que pudiera desencadenar grandes disturbios. Pero esta opción se está volviendo cada vez más problemática a medida que más y más proyectos de infraestructura se mantienen infrautilizados (ciudades fantasmas, etc) lo que pone más carga a un sistema financiero ya inestable.
Así, el régimen del PCCh ve la BRI como una salvación con la que crear nuevos mercados para sus gigantescas empresas de infraestructura, mercados que luego quedan vinculados a la economía china a través de su deuda. Esta es la razón por la que el PCCh tomó el extraordinario paso de plasmar la necesidad de "desarrollar la Iniciativa del Cinturón y la Ruta" en el programa del partido, en su 19º Congreso el octubre pasado. Xi Jinping ha hecho esto para insistir en que la BRI es irreversible.
El único ejemplo de otra iniciativa de política exterior específica a la que se le otorgó tal estatus es la política de "reforma y apertura" procapitalista de Deng Xiaoping, lanzada en 1978, hace ahora 40 años, y consagrada en el programa del partido en los años 80.
Imperialismo
Lenin, señaló en su incisivo análisis publicado hace ahora más de un siglo, que el imperialismo bajo el capitalismo se caracteriza por "la lucha por las fuentes de materias primas, por la exportación de capital, por las 'esferas de influencia', o sea, las esferas para operaciones rentables, concesiones, beneficios monopolistas, etc., y, finalmente, por el territorio económico en general" (El imperialismo, fase superior del capitalismo, p. 75, Fundación Federico Engels).
El periódico 'The Economic Times', que refleja la visión de la burguesía india, una potencia imperialista asiática rival, describió de manera sucinta cómo funciona el imperialismo financiado por el Estado chino: "La estrategia de China para apoderarse de la tierra y los activos en países más pequeños y menos desarrollados es simple: concede préstamos con altas tasas de interés para proyectos de infraestructura, obtiene valores en los proyectos, y cuando el país no puede pagar el préstamo, se hace con la propiedad del proyecto".
Acertadamente, las acciones de China son descritas por Brahma Chellaney, un asesor del Gobierno de Nueva Delhi, como "imperialismo de acreedores". Un claro ejemplo es lo que acaba de suceder en Sri Lanka, donde China se ha asegurado la propiedad mediante un contrato de arrendamiento de 99 años del puerto de Hambantota, construido con préstamos chinos.
El puerto tiene importancia geopolítica por su ubicación en la punta del subcontinente indio. Las empresas y los préstamos chinos han construido una infraestructura tan cuestionable en Sri Lanka, incluido el "aeropuerto más vacío del mundo" también en Hambantota, que las compañías de turismo realizan tours por estos desiertos, a los que han llamado "elefantes blancos".
En Pakistán, el país con más inversión china vinculada a la BRI hasta el momento, asistimos a una lucha de poder político entre el ejército y los políticos civiles por el reparto de acciones chinas similares. Un reciente informe crítico del Senado paquistaní revela que China obtendrá durante los próximos 40 años el 91 por ciento de los ingresos generados por el puerto de aguas profundas de Gwadar en el Mar de Arabia, construido utilizando compañías y préstamos chinos.
Gwadar, como Hambantota 2.700 kilómetros al sur, representa no sólo un centro marino logístico, sino también un activo estratégico militar para China en caso de un futuro conflicto regional o mundial. El dominio del Estado paquistaní en Balochistán, donde se encuentra Gwadar, se caracteriza por una brutalidad extrema. Otros proyectos vinculados a la BRI desde Myanmar a Indonesia están agravando las tensiones étnicas y nacionales, causando estragos en el medio ambiente y desalojando a comunidades locales.
En el sur de Asia, el gran aumento de las inversiones chinas y de los acuerdos para infraestructura está alimentando un conflicto geopolítico con India, el mayor obstáculo y contrapeso a la BRI y a la creciente presencia de China. EEUU se está apoyando en la India. Trump revivió recientemente su "diálogo cuadrilateral de seguridad" con India, Japón y Australia para intentar frenar la expansión de China.
Las organizaciones obreras y la izquierda deben ser políticamente independientes y no caer en la trampa de apoyar ninguno de estos Gobiernos enfrentados que hipócritamente atacan los planes imperialistas de los demás. Sólo el internacionalismo y la lucha contra el imperialismo y la explotación capitalista, venga de donde venga, ofrecen una salida para las masas.
Recrudecimiento de los conflictos
Claramente, la variante china del imperialismo presenta características especiales. Esto se ve en el caso de la BRI, en primer lugar en términos de tamaño. La escala de la BRI es gigantesca, en caso de que realmente pueda realizarse. En segundo lugar, pretende repetir características clave que distinguen el modelo de crecimiento interno de China, impulsado por el crédito del sector bancario estatal.
Este modelo ha permitido a China industrializarse rápidamente y modernizar su infraestructura, pero también ha llevado a su monumental y según el propio Gobierno chino, insostenible problema de deuda. Pekín espera repartir la carga de esa deuda con otros países a través de préstamos vinculados a la BRI. Así, la élite financiera china ve esta jugada como una forma de reducir la exposición del sistema bancario a las empresas 'zombis' del país, fuertemente endeudadas.
Establecieron el Banco Asiático de Inversión e Infraestructuras (AIIB por sus siglas en inglés) en 2016 como un apoyo a la BRI con el fin de atraer a los estados capitalistas occidentales (se han unido a él 61 países, incluyendo Gran Bretaña, Alemania, Francia y el Estado español) y aprovechar su "experiencia" financiera. Esto se ha hecho para dar forma a las prácticas de préstamo del AIIB/BRI en líneas capitalistas más tradicionales, como hacen las instituciones dominadas por EEUU como el Banco Mundial y el FMI, y de este modo reducir el riesgo de impagos de deuda. O eso cree Pekín.
Los proyectos de esta Nueva Ruta de la Seda, esperan que reemplacen las tóxicas deudas locales de China, por deuda soberana respaldada por Gobiernos nacionales. Pero es más probable que esto simplemente reproduzca los apuros y la situación 'zombi' de China a escala intercontinental, al tiempo que agudiza los conflictos nacionales e interimperialistas.
Special financial appeal to all readers of socialistworld.net

Support building alternative socialist media

---

Socialistworld.net provides a unique analysis and perspective of world events. Socialistworld.net also plays a crucial role in building the struggle for socialism across all continents. Capitalism has failed! Assist us to build the fight-back and prepare for the stormy period of class struggles ahead. Please make a donation to help us reach more readers and to widen our socialist campaigning work across the world.

Donate via Paypal

CWI- Please inform us if you are reproducing any material from this site.