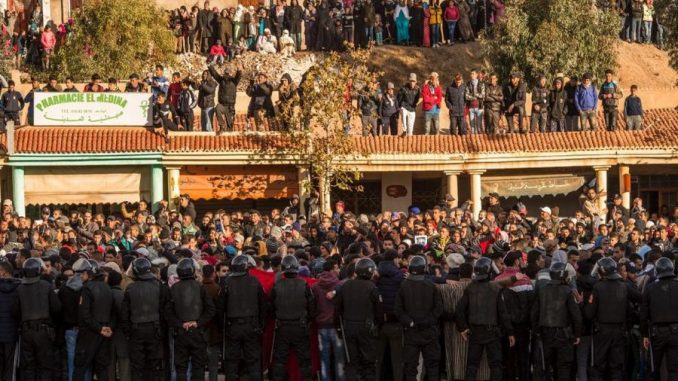 La población de la ciudad minera de Jerada, en el noreste marroquí, lleva movilizada durante más de tres meses en contra de la miseria, la marginalización económica y la represión del estado. El pasado 22 de diciembre la muerte de dos hermanos, Houcine y Jedouane, en un pozo de carbón subterráneo en desuso, transformó la rabia latente en una rebelión abierta. En las siguientes semanas otros dos jóvenes murieron en circunstancias similares.
La región de Jerada, una de las más pobres del país, ha estado socialmente atormentada desde finales de los años noventa después del cierre de las minas de carbón. Esta situación desesperada ha obligado a cientos de antiguos mineros y jóvenes desempleados a arriesgar sus vidas en las llamadas "minas de la muerte", extrayendo carbón en condiciones peligrosas y venderlo de contrabando por un puñado de dinares para enriquecer a los traficantes a los que comúnmente se les conoce como "los barones", que a menudo son también los políticos corruptos locales o empresarios vinculados a las empresas energéticas multinacionales que operan en la región.
Anteriormente proporcionaban más de la mitad de las necesidades energéticas del país, la población de Jerada hoy se queja de las facturas prohibitivas del agua y la electricidad, del desempleo de masas y el desprecio de las autoridades monárquicas.
Después de la primera ola de movilización con manifestaciones y acciones de huelga diarias, le elite dominante del país, temiendo que la lucha se pudiera extender más allá de su epicentro e imitada en otras zonas de Marruecos, en febrero anunció un "plan de emergencia" para la ciudad.
Pero la población local rápidamente se dio cuenta de que las promesas hechas por el gobierno eran una cortina de humo con la intención de asfixiar sus demandas en lugar de satisfacerlas. Desde el reinicio de la movilización a finales de febrero, la única respuesta del régimen ha sido la represión policial, incluido el arresto masivo de activistas, en particular de los líderes del movimiento. Desde el inicio de las movilizaciones en Jerada han sido detenidas más de 300 personas, incluidos por lo menos 17 menores.
Después de la huelga general en la ciudad del 12 de marzo, ampliamente seguida, el Ministerio de Interior ordenó la prohibición de cualquier manifestación local a partir del día siguiente. Los videos subidos a las redes sociales demuestran que los camiones de la policía se dirigen hacia la multitud que valientemente desafía esta prohibición arbitraria. Algunas personas heridas por la violencia policial han tenido que tratarse en casa, evitando acudir al hospital por temor a ser detenidas.
En este momento la ciudad está bajo asedio, con presencia policial en cada esquina. A pesar de esto, radicalizada aún más por la represión, la población local, como la de pueblos cercanos, continúa movilizándose y se discute la convocatoria de una nueva huelga general y una marcha a Rabat, la capital de Marruecos.
Mientras tanto, cientos de detenidos languidecen aún en las prisiones del reino por su participación en el movimiento social del año pasado en El-Hoceima, en la vecina región del Rif. Lo que está sucediendo en Jerada es sólo el último episodio de movimientos recurrentes que expresan demandas similares en todo el país: el derecho a trabajar de los jóvenes, una infraestructura pública decente, una vida digna. En octubre las "manifestaciones de la sed" contra los recortes del agua también estallaron en Zagora, al sur, debido a la sobreexplotación de los acuíferos para el beneficio de los grandes granjeros. El régimen también respondió a este movimiento con la fuerza.
La lucha en Jerada ha adoptado el nombre de "Hirak de Jerada" ("Movimiento Jerada"), una referencia directa a los acontecimientos del año pasado en El-Hoceima, ilustrando un sentimiento ampliamente compartido de convergencia de los intereses de ambas luchas.
El desafío es materializar este sentimiento en la construcción de una lucha conjunta. Haciendo causa común estos movimientos tienen la oportunidad de avanzar y romper la política de bloqueo y aislamiento practicado por el régimen. Algunas organizaciones asociativas y sindicatos correctamente han convocado a una movilización nacional en solidaridad con la Hirak de Jirada el 2 de abril. Esta convocatoria podría servir de oportunidad para extender la lucha y movilizar al movimiento obrero y la juventud en todo el país sobre la base de una tabla reivindicativa amplia, y golpear el corazón de la política contra los pobres del régimen. Una huelga de 24 de horas en solidaridad con Jerada y por la liberación de todos los prisioneros políticos, pero también incorporando reivindicaciones claras de empleo, aumentos salariales, fin de las privatizaciones y los ataques a los subsidios, sería un paso importante para crear esta dinámica.
Las demandas de los habitantes de Jerada en realidad tienen un alcance nacional. Porque sólo luchando contra el poder político y económico del país las reivindicaciones de las comunidades marginadas pueden cumplirse de manera duradera, y la demanda de una "alternativa económica" defendida por los manifestantes en Jerada puede encontrar todo su significado. ¿Por qué los parados, los trabajadores y los pobres hundidos en la miseria y que arriesgan sus vidas para alimentar a sus familias, mientras el Makhzen (el rey y las instituciones gobernantes), junto con un puñado de empresas y compañías mafiosas poseen todo y se hacen cada vez más ricos a su costa?
La lucha de masas con jóvenes y trabajadores en todo el país es necesaria para expropiar a la monarquía y las grandes empresas. Las marroquíes y las extranjeras que controlan y saquean la economía del país, para reorganizar la vida económica sobre la base de las necesidades de la población. Esta alternativa es el socialismo, que defiende el CIT contra la miseria, la injusticia y la barbarie del sistema capitalista mundial.
El CIT muestra su total solidaridad con la lucha en Jerada y defendemos:
* Fin de la represión del estado y la criminalización de los movimientos sociales en Jerada y en el esto de Marruecos; liberación inmediata de todos los prisioneros políticos y el final de los procedimientos judiciales contra ellos.
* Desarrollo de comités de acción locales para coordinar democráticamente la lucha y organizar la defensa del movimiento contra la represión policial.
* Preparación de una huelga general de 24 horas en todo Marruecos en solidaridad con la lucha de Jerada, por los empleos, contra la represión de los movimientos sociales y contra las políticas neoliberales del gobierno.
* Empleos públicos, decentes y bien pagados para todos. Programa de construcción y renovación de las infraestructuras en las áreas marginadas, financiado por el estado y coordinado democráticamente por la población afectada.
* Servicios públicos de calidad y accesibles para todos, fin inmediato de las privatizaciones; mantenimiento de todos los subsidios a las mercancías básicas.
* Nacionalización, bajo el control democrático de los trabajadores y la población, de los sectores clave de la economía, con el objetivo de planificar los recursos según las necesidades sociales.
* Apoyo a las luchas de los trabajadores y jóvenes en Marruecos, Túnez, Argelia… por una federación socialista, democrática y voluntaria de los pueblos del Magreb.
Special financial appeal to all readers of socialistworld.net

Support building alternative socialist media

---

Socialistworld.net provides a unique analysis and perspective of world events. Socialistworld.net also plays a crucial role in building the struggle for socialism across all continents. Capitalism has failed! Assist us to build the fight-back and prepare for the stormy period of class struggles ahead. Please make a donation to help us reach more readers and to widen our socialist campaigning work across the world.

Donate via Paypal

CWI- Please inform us if you are reproducing any material from this site.