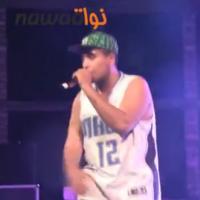 Two rappers sentenced to prison for standing up against brutal police methods – solidarity needed
Two young Tunisian militant rappers have recently been condemned to heavy prison sentences for having produced and performed rap songs criticising the police and the corruption, nepotism and violence rooted within it. One of them, whose artist name is "Weld El 15", had already been given a two-year sentence in June for a song called "Boulicia El Kleb" ("The Police are dogs"), but was released in July following public outrage and solidarity protests.
Already previously while "Klay BBJ" was in Morocco in February 2013 his mother received a 'visit' by two plain clothes police officers at her home who gave a warning that Klay should "stop producing songs talking about politics".
On August 22 both of them were arrested while performing on stage at a music festival in Hammamet. Weld El 15 was violently beaten up by the police in front of the crowd and, after his release, had to go to hospital because of his serious injuries. Klay BBJ was also beaten up while in police custody. Both were released after having had their identity cards confiscated by the police. A video of the police operation during the concert can be seen on this link.
On the 29 August, they were charged and tried in abstentia on charges of having "assaulted an officer on duty", "attacked public morals" and "slanders", receiving both a total of 21 months imprisonment. Incredibly, they were not even informed in advance of the charges they faced or the actual day their court case was supposed to take place.
This is a classic example of the growing wave of repression and threats falling on a quite wide range of left-wing opponents, artists, journalists, intellectuals, trade unionists etc., in the recent period, by ruling Ennahda party and its henchmen, the police, Salafist groups and others.
This is also the background of the national strike staged on 3 September by the National Union of Tunisian Journalists in state-owned radio stations, against arbitrary appointments by Ennahda at the top of these media outlets, to defend the freedom of the press and against police censorship.
Please send urgently protest letters to Tunisia's Justice Ministry to demand the charges on Weld El 15 and Klay BBJ being dropped, and to defend basic rights of expression against the authoritarian methods of rule of the Tunisian government and police, at: mju@ministeres.tn, and send copies to cwi@worldsoc.co.uk.
Drop the charges on Weld El 15 and Klay BBJ!
Defend freedom of press and expression, and all democratic rights!
Stop threats and attacks on opponents to Ennahda's regime – stop police brutality!