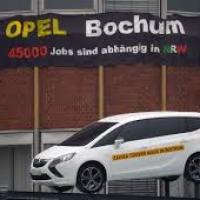 Defend all plants and jobs – save factories through nationalisation – for a 30-hour week at Opel/Vauxhall without loss in pay
For the first time since the second world war a car plant is about to be closed in Germany – General Motor's Opel plant in Bochum.
During night shift from 9 to 10 September 150 workers went out on a wildcat strike, sick of management's plans. They took this decision following a 17 hour meeting called by the works' council. Demanding a future for their jobs, families and the region, their boiling anger was visible at the meeting. With huge pressure from the bosses and lacking the backing of the trade union, management was able to stop the strike and avoid it spreading to the morning shift.
The already impoverished Ruhr area will suffer from huge consequences from the closure of this Opel factory. However, resistance is so far limited. This is in contrast to the militant traditions of this factory which has seen a number of struggles including an unofficial six day wildcat strike in 2004 against the sackings of thousands of workers, and a five shift wildcat strike in 2000 against outsourcing and splitting the workforce.
Now, the final blow to the jobs of 5,000 workers – 3,200 in the plant, around 2,000 at direct suppliers and subcontractors inside the factory site – has seen no significant resistance, despite these combative traditions.
In March 2013 more than three-quarters of the workforce in Bochum rejected a management-proposed deal with the trade union, IG Metall, and the works' councils. In exchange for vague promises, the workers were asked to accept the end of car production in Bochum by 2016 and were expected to pay for this with a loss in pay and a waiver of future gains of collective bargaining.
While all other Opel plants in Germany were pushed into acceptance of this plan by the trade union and works' council leaders, the Bochum workers refused to finance their own funeral by wage cuts.
In retaliation, the GM management announced in April 2013 the complete closure of the plant by the end of 2014. Five months later, the situation is unchanged – and no lead has been offered how to fight back.
Attack of the management – accepted by union leaders
Seven million cars of "superfluous capacity" are weighing on Europe's car industry (FT, 1 August 2013). Within a generally declining market, Opel is doing particularly badly. From its 2011 share of Western European car markets of around 11%, its share fell to 6.8% in the first six months of 2013. The German trade union IG Metall reports about a 50% operating capacity at Opel's European factories.
GM stopped production in Antwerp in December 2010. The workers in other factories were blackmailed and forced into accepting worse conditions and lower wages.
At the centre of the problem: The different trade unions and works' councils accepted the internal 'race to the bottom', a blackmailing of workers by divide and rule and offered nothing but a capitulation to the bosses' logic of competition and profits.
In May 2012 the British trade union Unite agreed to longer hours, losses in real wages and more flexibility, even accepting the company dictating weekend shift patterns in order to "win" the internal competition about models and future production. To 'secure' jobs at Ellesmere Port near Liverpool, Unite even insisted that in return for wage cuts the management should promise not to produce the Astra model at more than one other factory – while at this time production was still running in two other plants.
A layer of shop stewards in Ellesmere Port genuinely believed that there was no alternative to these concessions. But the role of trade union reps should be to openly explain the situation and prepare for future battles. However, the trade union leaders have had a disarming and demoralising effect by turning this concession bargaining into a strategy to 'save' jobs. In practice, a layer of Unite leaders has accepted the allegedly 'unavoidable loss' of jobs and plants in this crisis of capitalist car production in Europe.
In June 2012 the German trade union IG Metall agreed not to implement the 4.3% pay rise at Opel which the workers were entitled to according to their contract. This was part of the "Deutschland-Plan" ("Plan for Germany") to increase the company's competitiveness – against other factories also within General Motors. This plan already included the closure of the Bochum factory by 2016.
Production of the Astra car, the most important model for Opel, will be moved away from Germany.
However, the strategy of gaining through concessions does not pay off. The main 'winner' – in the long term only the bosses – appeared not to be Ellesmere Port, but the Polish factory of GM in Gliwice. Last year, Ellesmere Port saw a fall in production putting workers on a four-day-week and a halt in production for one week.
The support of the works' council leaders from Rüsselsheim near Frankfurt, Germany, against the Bochum factory has now been paid back by management with the complete loss of Astra production and only being compensated by bringing Zafira production from Bochum there. Their own future is uncertain.
In this management game, all workers are losing – just differing in the degree of suffering. The token Europe-wide cooperation of the works councils and trade unions de facto has already broken down over these decisions.
Strategy to defend jobs
The chair of Germany's Opel works councils, Wolfgang Schäfer-Klug, defended the "Deutschland-Plan" with all concessions to "defend" German workplaces – while hypocritically criticising the British Unite union for their concessions.
This IG Metall leader even indicated that the combative traditions of the Bochum plant were to blame for the closure. In an interview he argued, "that excessive radicalism can in the final stages lead to putting such a site's future into question".
The GM bosses might have planned to punish Bochum for its rebellious past. GM is reported to think about withdrawing from producing in South Korean because of the strength of the trade unions and the effect of recent strikes there.
However, without the combative resistance of the Bochum workforce, the plant would have been closed long ago. It is the task of the trade unions – and leaders like Schäfer-Klug – to defend these traditions, not to help to rubbish them.
While arguing to refuse the "Deutschland-Plan" and encouraging the workers in Bochum to vote against it, the well-known local works' council leader in Bochum, Rainer Einenkel, did not put forward any alternative strategy to fight back. On the contrary, he called again for 'prudence', without actually doing anything.
His strategy seems to be to hope for re-negotiations with the GM management. He is appealing to them, not to further damage the brand Opel by closing the Ruhr area factory. As another token step, he also took legal action, to try to sue Opel to keep the factory open.
For a 30 hour week at GM without loss in pay to fight redundancies
A real strategy is needed to cut across the management's plans and to fight to defend all jobs and all plants.
The first step is to start to mobilise and fight back – immediately. Strike action hast to be taken.
IG Metall in Germany, Unite in Britain and other trade unions have the power to organise resistance. Pressure is needed to push the leadership forward. However, workers especially in Bochum cannot wait until the leadership wakes up or is replaced.
A movement from below, starting with strike action, sending delegates to other plants, to open a widespread debate about how to defend jobs and plants is needed. This can find a huge echo in the whole region of the Ruhr area.
Such a movement needs an outlook on a solution to win. In Bochum workers can link their struggle to defend all jobs to the demand on the federal government as well as the regional state of North Rhine-Westphalia's government to nationalise the plant and stop the decline. Under workers' control and management, a strategy can be developed to use the plant and this skilled workforce to produce socially necessary good, including cars but not necessarily only.
As GM is not willing to run the factories without sackings or attacks on working conditions, they should be nationalised under workers' control and management. An emergency plan of production to use the resources of these skilled workers and to benefit from the huge potential of these factories should be implemented. Where necessary, a conversion from car production towards making other socially necessary goods could be organised. Then, these factories will not add to the problem of unemployment, but on the contrary, they will help to offer youth apprenticeships and create new jobs.
GM announced new profits while attacking workers' jobs and conditions. Open the books of GM internationally, including, but not only Opel and Vauxhall. Let the workers know where all the massive profits, tax rebates and subsidies have gone.
To spread the struggle, a strategy is also needed to cut across the divide and rule policies. The main argument of management – and unfortunately also by the right wing trade union leaders – is over-capacity throughout the car industry. This is the basis to 'divide and rule' the workers at the different company plants. At the moment, workers at Rüsselsheim, Ellesmere Port or in Gliwice might hope that they will somehow benefit from the closure in Bochum.
A first step to cut across this argument could be an immediate campaign for the reduction of the hours of the working week; for 30 hours with full payment in all General Motor (Opel, Vauxhall) plants in Europe and beyond. This could set an example for car workers of other companies not to accept over-capacity as their problem, but to share out the work and to make the bosses pay.
Again, this would be much more effective if the trade union leaders take it up. But without waiting for them to do their job, delegations from below visiting different plants could argue the case to widen the protest with such a prospect. Union activists should campaign for this demand to overcome the divisions within the trade unions and to defend jobs, working conditions and payment.
This will also help in Bochum as workers feel let down by their colleagues in other plants, due to policies of trade union leaders. It would be a way to overcome the isolation and build towards a joint struggle to help to mobilise new energy for the fightback.
A fighting leadership is needed, to organise a joint struggle. This could lay the basis to mobilise to keep open all factories and plants. The trade unions have to be transformed into combative organisations, based on internal democracy, building close links of workers European-wide and internationally. A militant movement in the workplaces and trade unions is needed to struggle for these changes, developing direct links of workers' representatives between factories and countries and overcome the barriers towards a joint fightback.
Special financial appeal to all readers of socialistworld.net

Support building alternative socialist media

---

Socialistworld.net provides a unique analysis and perspective of world events. Socialistworld.net also plays a crucial role in building the struggle for socialism across all continents. Capitalism has failed! Assist us to build the fight-back and prepare for the stormy period of class struggles ahead. Please make a donation to help us reach more readers and to widen our socialist campaigning work across the world.

Donate via Paypal

CWI- Please inform us if you are reproducing any material from this site.