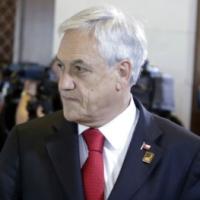 El Cosena es un órgano ilegitimo del Estado chileno.
Sebastián Piñera llama a reunión del Consejo de Seguridad Nacional (Cosena) ante el inminente fallo de La Haya por los límites marítimos con Perú ¿Qué es lo que realmente se persigue con este llamado? Representantes de la Alianza y la Nueva Mayoría coincidieron y apoyaron el llamado del presidente, aparentemente "todos" buscan legitimar el rol del COSENA, como supuesto garante de la defensa de nuestro territorio y de la "tranquilidad" interna del país.
El Cosena es un órgano ilegitimo del Estado chileno.
En la Constitución de 1980 de la dictadura (que todavía nos rige) Pinochet estableció este órgano estatal para legitimar la intervención de los militares en la política del país. El Cosena es ilegitimo desde su origen (Igual que la Constitución) y lo que en realidad persigue es poder legitimar la intervención militar en momentos de una crisis al interior del país, es un órgano que tiene como objetivo principal legitimar futuros golpes de estado en Chile. Por esto no podemos aceptar el blanqueamiento que está tratando de hacer el gobierno de la derecha empresarial.
¿Cual defensa de la patria?
La dictadura encabezada por las fuerzas armadas chilenas fueron las que entregaron las principales riquezas de este país a las grandes transnacionales de los países imperialistas, ellos jugaron los que vendieron el cobre, el agua, la electricidad, también fueron los que privatizaron el mar, que hoy está en manos de las siete familias más ricas de este país, incluso fueron ellos los que entregaron los dineros de los fondos de pensiones (AFP) de los trabajadores a los grandes consorcios internacionales, entonces de ¿Cuál defensa de la patria están hablando? Cuando fueron ellos los que vendieron este país al imperialismo. Por esto los trabajadores de este país no podemos caer en este "patriotismo" barato, sin sentido que está levantando la derecha chilena, que lo único que persigue es defender sus propios intereses, que son los intereses de los actuales dueños del mar supuestamente chileno.
La necesaria unidad de los trabajadores por sobre las fronteras.
En toda esta disputa lo que ha primado siempre son los intereses comerciales de una pequeña minoría, no los reales intereses de los trabajadores chilenos o peruanos y menos de las mayorías de las poblaciones de ambos países. Los trabajadores chilenos y peruanos no podemos prestarnos para estos juegos patrioteros de las burguesías de ambos países.
La unidad de los trabajadores latinoamericanos es clave si queremos terminar con el abuso patronal, con la desigualdad, con las condiciones de miseria y pobreza que afectan a amplias masas de nuestro continente.
Special financial appeal to all readers of socialistworld.net

Support building alternative socialist media

---

Socialistworld.net provides a unique analysis and perspective of world events. Socialistworld.net also plays a crucial role in building the struggle for socialism across all continents. Capitalism has failed! Assist us to build the fight-back and prepare for the stormy period of class struggles ahead. Please make a donation to help us reach more readers and to widen our socialist campaigning work across the world.

Donate via Paypal

CWI- Please inform us if you are reproducing any material from this site.