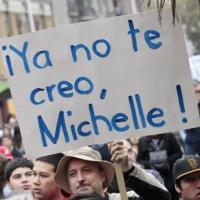 ¿Mercado o Estado? La privatización de nuestros derechos.
La dictadura de las fuerza armadas y los empresarios chilenos tenía como principal objetivo destruir y quitarnos todos los derechos que la clase trabajadora había conquistado durante un siglo de luchas contra los empresarios y la elite dominante de este país.
Todas las políticas neoliberales implementadas por Pinochet y sus Chicagos Boys, apuntaban básicamente a expropiar de sus derechos a los trabajadores y sus familias, así es como terminaron privatizando la educación, la salud y la previsión y estos derechos que habían sido logrados después de muchos años de lucha, fueron entregados a los empresarios privados para que lucraran con nuestros derechos y después de cuatro décadas de abusos, ahora ya no pueden ocultar la enorme crisis que están sufriendo estos sectores.
El sistema de educación hace agua por todos lados, llevamos más de una década con movilizaciones casi permanentes por parte de los estudiantes y una nula respuesta por parte de los gobiernos de turno y cada día que pasa empeoran las condiciones en que trabajan los profesores, la calidad de la educación se agrava a la par y lo mismo ocurre con la infraestructura de los colegios y liceos públicos y las soluciones no aparecen por ningún lado, las demandas que mayoritariamente están exigiendo los estudiantes, sus padres y familias no son tomadas en cuenta y ya está quedando claro que el actual gobierno de la Nueva Mayoría no tiene la menor intención de solucionar.
El sistema de salud sigue un camino similar a lo que está ocurriendo con la educación, cada día que pasa las condiciones de atención siguen empeorando y ya estamos llegando a un punto crítico muchos usuarios de la salud pública simplemente están siendo enviados a sus casas a morir, dado que no existen las condiciones materiales para solucionar sus problemas de salud, una explosión en este sector ya es una cuestión de tiempo.
El sistema previsional es otro sector que ya está haciendo agua, los montos promedio de las pensiones entregadas por las AFP son miserables y es evidente que con esos montos los trabajadores que se están jubilando están siendo condenados a vivir en la indigencia, en la más completa privación de sus necesidades más elementales.
¿Privado o Público? Una pequeña minoría se sigue enriqueciendo.
Pero por otro lado, los sostenedores de los colegios privados subvencionados, los dueños de la Isapres y los dueños de las AFP, siguen lucrando con las necesidades de la mayoría de la población, ellos siguen llenando sus bolsillos con la plata y los recursos de los sectores más pobres, que es la mayoría de la población que vive en este país.
Está claro que estos y otros derechos sociales no pueden estar sujetos a las "Leyes del Mercado", no pueden estar en manos de la avaricia de un pequeño grupo de empresarios que lo único que persiguen es seguir aumentando sus cuentas bancarias, aunque esto lo logren perjudicando a los trabajadores y sus familias, o sea, a la mayoría de la población.
El único camino tenemos es luchar por nuestros derechos.
Los estudiantes nos han estado demostrando desde el año 2006 hasta ahora cual es el camino que debemos seguir para poner fin a todos estos abusos que se vienen aplicando desde la dictadura y que luego fueron continuados por los gobiernos de la Vieja Concertación, luego Piñera y hoy por la Nueva Mayoría, pero los trabajadores no podemos seguir esperando que los estudiantes solos puedan lograr los cambios que necesitamos, llego la hora que los trabajadores también nos hagamos parte de esta lucha, pero de manera efectiva y no solo con saludos de solidaridad hacia los estudiantes.
La unidad de los trabajadores, estudiantes y del conjunto de la sociedad es clave para poner fin al abuso patronal, para poner fin al lucro y recuperar todos nuestros derechos que nos fueron conculcados por la dictadura de los empresarios a sangre y fuego, llego la hora de construir una sociedad más justa y democrática, una sociedad que piense en solucionar las necesidades de la mayoría de la población y no solo en el privilegio de una pequeña minoría.
Special financial appeal to all readers of socialistworld.net

Support building alternative socialist media

---

Socialistworld.net provides a unique analysis and perspective of world events. Socialistworld.net also plays a crucial role in building the struggle for socialism across all continents. Capitalism has failed! Assist us to build the fight-back and prepare for the stormy period of class struggles ahead. Please make a donation to help us reach more readers and to widen our socialist campaigning work across the world.

Donate via Paypal

CWI- Please inform us if you are reproducing any material from this site.