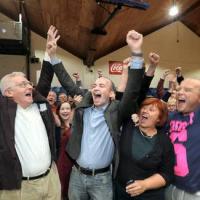 Paul Murphy gana escaño parlamentario mientras 100.000 marchan en contra de los cargos de agua
12 de octubre 2014 será un día recordado en los próximos años en Irlanda. Se estima que 100.000 personas marcharon en Dublín contra los odiados cargos de agua. Y el mismo día, Paul Murphy, miembro del Partido Socialista y candidato de la Alianza Anti Austeridad (AAA), ganó la elección complementaria en Dublin South West, levantando el llamado a una campaña masiva de no pago y resistencia activa a este doble impuesto. Paul se une a los miembros del parlamento del Partido Socialista, Joe Higgins y Ruth Coppinger en el Dáil (Parlamento irlandés). Ruth ganó una elección complementaria en Dublín West hace cinco meses.
Hace poco más de un año, la campaña en contra del Impuesto de Bienes Inmuebles fue derrotada, lo que sin duda desmoralizó a mucha gente de la clase trabajadora. Pero de esa campaña se formó la AAA, por iniciativa del Partido Socialista, para competir en las elecciones de mayo de 2014 y recibió una cálida bienvenida por parte de la clase obrera con la elección de 14 concejales a nivel nacional.
Esas elecciones fueron una indicación de un punto de inflexión en la comprensión de la gente de la posibilidad de resistir la austeridad, después de siete años de embestida. El 12 de octubre fue una explosión social en base a ese sentimiento.
La victoria en el corazón del Sinn Fein1.
En la mañana del viernes 03 de octubre, llegó a la sede del Sinn Fein Dublín Sur Oeste, una entrega de afiches, una semana antes de la jornada electoral. Llevaban el lema que había servido al Sinn Fein tan bien en las elecciones locales y europeas poco más de cuatro meses antes, en las que habían hecho un histórico avance electoral. En ellos se lee simplemente: "Hacer el cambio".
Esto era parte de su plan para un último gran esfuerzo para asegurar la victoria en una de sus tradicionales circunscripciones. Pero a medida que los equipos de activistas determinados del Sinn Fein se posicionaban en diferentes direcciones a través de la circunscripción de repente se vieron desanimados y frustrados. Se encontraron con un mar de afiches de la AAA rojos, negros y amarillos que llevaban una respuesta a los carteles ni siquiera habían colocado aún: "Hacer el cambio REAL – vote 1 Paul Murphy".
Este era un símbolo de cómo la elección general se jugó de principio a fin. La AAA estableció el orden del día y fue un paso por delante en el toma y daca de la batalla política. La AAA hizo la campaña electoral no sólo en contra de los cargos de agua, sino sobre cómo vencerlos, y de manera crucial sobre en quién la clase trabajadora puede confiar en esta lucha.
La elección se hizo clara: la gente debería poner sus esperanzas en otro partido político, como el Sinn Fein, para formar un gobierno que pueda abolir los cargos de agua (como muchos habían hecho con anterioridad en el Laborista) o deben confiar en cambio en la organización de las comunidades, en el no pago masivo y la protesta, y en la construcción de la presión política que ningún gobierno pueda ignorar.
En consonancia con la revuelta que se está gestando contra los cargos del agua en todo el estado de Irlanda, la mayoría eligió la segunda opción y votó a favor de la AAA.
Todos los analistas políticos y comentaristas en Irlanda de acuerdo en que el favorito en esta elección era el Sinn Fein y ninguno pensaba que la AAA podría ganar. Los corredores de apuestas daban al Sinn Fein un 25 sobre 1 como ganador en la elección y a la AAA un 1 sobre 16. Las elecciones locales y europeas en mayo de este año se caracterizaron por un giro hacia el Sinn Fein, particularmente en comunidades de la clase trabajadora en Dublín, donde el Partido Laborista está hundido en el estiércol por sus pasadas traiciones y promesas incumplidas.
Una encuesta de opinión a nivel nacional publicado por el Irish Times dos días antes de las elecciones puso al Sinn Fein el el mismo nivel del Fine Gael – el principal partido de derecha en el gobierno – lo que indicaba una continuación de ese giro. El Sinn Fein estaba muy confiado.
Pero subestimaron la AAA y su capacidad para convencer a la gente de la necesidad de una lucha activa en el tema y exponer las debilidades del propio enfoque del Sinn Fein.
El periódico Irish Times el día después de la elección, escribió que la campaña de AAA había sido un "golpe maestro de la táctica política y el timming". El resultado fue una gran sorpresa, lo cual habría sido imposible sin una evaluación política correcta y la capacidad de expresar un enojo subyacente. También demandó una enorme cantidad de trabajo duro de muchos activistas y simpatizantes dedicados.
La lección que hay que sacar es que el tiempo para construir un nuevo movimiento para representar a los trabajadores y en contra de los cargos de agua y toda la austeridad, es ahora. Ese será el foco de la AAA de aquí en adelante.
Special financial appeal to all readers of socialistworld.net

Support building alternative socialist media

---

Socialistworld.net provides a unique analysis and perspective of world events. Socialistworld.net also plays a crucial role in building the struggle for socialism across all continents. Capitalism has failed! Assist us to build the fight-back and prepare for the stormy period of class struggles ahead. Please make a donation to help us reach more readers and to widen our socialist campaigning work across the world.

Donate via Paypal

CWI- Please inform us if you are reproducing any material from this site.