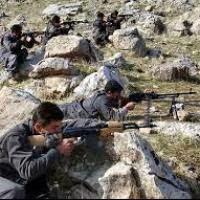 Por la defensa democrática de la clase trabajadora y la lucha masiva contra el capitalismo
El cantón de Kobane, que es parte de Rojava (Kurdistán sirio), ha estado bajo asedio desde el 16 de septiembre y se ha convertido en uno de los puntos principales de resistencia al avance del Estado Islámico (EI). Hay muchas noticias sobre como los defensores de Kobane están parando los pies del EI, cuando muchos pensaban que Kobane estaba a punto de caer. Pero el peligro no ha pasado, y hay aún miles de personas enfrentándose a la amenaza de la masacre.
El EI está atacando Kobane con tanques y misiles, con una fuerza militar similar a la de un estado mediano. El estado turco y el gobierno del AKP han estado dando apoyo tangible al EI y ha tratado de boquear la ayuda enviada al YPG, las fuerzas de defensa de Kobane. También han intimidado a las masas que están saliendo en manifestación en solidaridad con Kobane y han puesto obstáculos a la lucha contra el EI, incluyendo la introducción de legislación más represiva en la propia Turquía.
El pueblo de Rojava ha tomado control de la región donde viven (un proceso que comenzó en Kobane en 2012) y han intentado establecer una región autónoma bajo el modelo, según han proclamado, del secularismo y auto-gobierno, y sin divisiones religiosas o étnicas. Esta situación ha sido un paso adelante muy importante por parte de la mayor nación en el mundo sin estado, los kurdos, pero también está en completo contraste con la agenda reaccionaria del EI y otros en Oriente Medio.
El EI está utilizando los métodos más brutales para crear una atmósfera de terror y está tratando de establecer un estado teocrático basado en las leyes más reaccionarias. Entre sus muchos objetivos, el EI quiere barrer el PKK (el Partido de los Trabajadores del Kurdistán) y el PYD (Partido de Unión Democrática) de esta región, porque ambos, con su ideología secular, tienen políticas antagónicas con el EI y representan una amenaza para sus fines. Además, el EI quiere extender su autoproclamado estado, tomando la ciudad estratégica de Kobane, e incrementar su poder en la región.
Por una parte, el régimen turco quiere reducir a escombros todos los avances que han conseguido los kurdos hasta ahora. Y por otra parte, quiere convertirse en un poder imperial en la región liderando una intervención militar contra el régimen de Assad y con la esperanza de que lo apoyen los grandes poderes occidentales. A su vez, estos poderes occidentales están perdiendo terreno en la región, por lo que quieren restaurarlo y crear la percepción de que son los salvadores de los pueblos de la región.
¿Pero son los poderes occidentales los salvadores?
Muchos han demandado una intervención militar y el apoyo con armas de los poderes imperialistas, particularmente después del ataque del EI a Shingal, y hubo demandas similares después de que comenzaron el asedio a Kobane. Pero la idea de estabilidad para los imperialistas, para el gobierno turco y para otros en la región no tiene nada que ver con el genuino deseo de estabilidad de las masas trabajadoras. La estabilidad para estos regímenes significa la continuación de la explotación del petróleo, el saqueo de los recursos naturales de la región y el mantenimiento del balance de fuerzas; no significa terminar con las bombas, la muerte, la opresión o la explotación. Las organizaciones y estados pro-capitalistas quieren secuestrar las demandas de de ayuda humanitaria y militar para la gente que está en riesgo de ser masacrada para favorecer sus intereses.
Es fácil entender por qué la gente amenazada por el EI demanda el bombardeo de sus posiciones alrededor de Kobane, o la apertura de un corredor de asistencia a la resistencia de Kobane desde Turquía. Pero los recientes acontecimientos muestran cómo los diferentes poderes se han movido para defender sus propios intereses y contener el movimiento de las masas. Los EEUU iniciaron un suministro limitado de armas a los defensores de Kobane pero ya está solicitando contrapartidas económicas, pidiendo que el movimiento de resistencia no amenace los intereses estadounidenses en la región.
Aunque siempre se visten con los ropajes de la ayuda humanitaria, todas las intervenciones militares apoyadas por las fuerzas imperialistas no solamente han terminado en desastres sangrientoss (Iraq, Libia…) sino que en una gran parte son el origen de la actual pesadilla que están sufriendo los kurdos y otros pueblos de la región.
La decisión del gobierno del AKP de permitir a su corrupto aliado, el régimen de Barzani (presidente de la región semi-autónoma del Kurdistán iraquí) enviar sus propias fuerzas a Kobane, tiene el propósito doble de detener al EI e intentar controlar el movimiento en Rojava tratando de marginar a los luchadores más a la izquierda del PKK y el PYD.
Por esto la lucha contra el EI debe ser parte de una guerra revolucionaria que atraiga a todos los trabajadores y oprimidos, que tenga como objetivo unirlos en la lucha contra la opresión y por una alternativa real contra los corruptos gobiernos y dictaduras pro-capitalistas de la región. Así se puede minar el apoyo al EI y unir a todos los trabajadores de la región, ya sean estos kurdos, turcos, árabes, suníes, chiíes, cristianos, etc.
La defensa de Rojova
Defender Rojova es muy importante en varios aspectos. La caída de Kobane significaría no solamente la posible masacre de muchas personas que aún viven allí, sino también el final cruel de una lucha que ha inspirado a muchos kurdos, jóvenes y trabajadores internacionalmente. También fortalecería al EI geográfica y logísticamente. En este sentido, la caída de Kobane significaría una derrota para toda la gente que está luchancho en otros países contra el EI y por un mundo mejor.
En el pasado, los regímenes estalinistas de la antigua Unión Soviética y el Este de Europa, a pesar de sus monstruosas características dictatoriales, ejercía un contrapeso global contra las políticas capitalistas e imperialistas. Después de su caída en los años 90, el movimiento internacional de la clase trabajadora se enfrentó a una gran derrota debido a la desilusión de los trabajadores, al no tener una alternativa al capitalismo y por la renovada ofensiva de éste. Los organizaciones socialistas de Oriente Medio se desintegraron o giraron a la derecha. Las masas de la clase trabajadora y los campesinos en Oriente Medio sufrieron también la opresión de la pobreza, las intervenciones imperialistas y los regímenes dictatoriales. Éstas comenzaron a buscar una alternativa, y una capa de éstas se dirigió al islamismo o incluso a organizaciones yihadistas. Pero esto no resolvió los problemas del pueblo; por el contrario, las situación ha empeorado y se ha vuelto más compleja.
Sin embargo, los años del capitalismo triunfal han terminado y éste se encuentra ahora en una crisis histórica. Al mismo tiempo, han sacudido al mundo revueltas masivas de trabajadores, pobres y jóvenes contra el capitalismo. Las masas de Túnez y Egipto derrocaron sus dictaduras hace casi 4 años. La defensa y el posterior triunfo de la lucha en Rojava podría influir positivamente estas luchas y ayudar a desbloquearlas. Pero estos enormes movimientos han mostrado también que es vital que mantengan un rumbo independiente de cualquier fuerza pro-capitalista para construir la lucha de la forma más efectiva.
Además, el modelo de gobierno en Rojava no puede triunfar si se basa en el capitalismo y no se extiende más allá de estos pequeños cantones. Rojava tiene una infraestructura industrial muy limitada, por lo que estas zonas aisladas no son sostenibles si no se convierten en polos de atracción de los trabajadores y campesinos pobres que viven en las regiones fronterizas.
Para que esto suceda, lo más necesario es que la gran mayoría de la población se involucre en la resistencia y la defensa de Rojava. Se deben organizar democráticamente comités y milicias de voluntarios, y fortalecerlos donde ya existan, para implicar a la población y construir una resistencia férrea contra la ofensiva del EI. Estos comités y milicias deben inspirarse en los mejores ejemplos de resistencia armada de la clase trabajadora, como la lucha de los trabajadores de Barcelona contra el golpe fascista en España de 1936.
Esto debe hacerse con el objetivo consciente de construir una lucha masiva e internacional para derrocar el sistema económico basado en el lucro del capitalismo en Oriente Medio. Y a través de la acción y organización masiva, independiente y no sectaria de la clase trabajadora y los pobres de toda la región. Por esto, Sosyalist Alternatif lucha por el desarrollo de una Rojava socialista, que forme parte de una confederación voluntaria e igualitaria de Oriente Medio, y de un mundo socialista.
Special financial appeal to all readers of socialistworld.net

Support building alternative socialist media

---

Socialistworld.net provides a unique analysis and perspective of world events. Socialistworld.net also plays a crucial role in building the struggle for socialism across all continents. Capitalism has failed! Assist us to build the fight-back and prepare for the stormy period of class struggles ahead. Please make a donation to help us reach more readers and to widen our socialist campaigning work across the world.

Donate via Paypal

CWI- Please inform us if you are reproducing any material from this site.