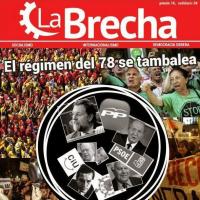 Unidad y movilización para derrotarlo mediante un programa de ruptura con el capitalismo
El "régimen de 78" está en plena descomposición. Su crisis se extiende al bipartidismo (con PP y PSOE incapaces de aglutinar el 50% entre ambos), al estado de las autonomías, la monarquía y las instituciones. Es decir, todas las ramas fundamentales del régimen actual y de los acuerdos de "la Transición". Los dueños del sistema, que durante décadas se sintieron triunfadores, segurísimos de su hegemonía indiscutible, empiezan a sentir algo de incertidumbre, de miedo sobre el futuro.
Los constantes casos de corrupción (Cajamadrid, Gurtel, Púnica,… ) han servido para agudizar y acelerar este proceso aún más. Muestran una vez tras otra que ésta forma parte del ADN del régimen de 78 y del capitalismo en el estado español. El carácter corrupto del sistema, finalmente es desvelado como tal.
Pero este estado terminal no nos debería sorprender. Un régimen incapaz de mantener alimentada, con un trabajo y una vida digna a su población y que se enfrenta a un pueblo hastiado no puede sobrevivir, al menos en su forma actual.
Esta situación abre una nueva etapa para todos los que luchamos por el cambio social. Por primera vez, en medio de la miseria humana de la crisis surge una esperanza, la posibilidad de cambiar las cosas de verdad. La tarea más urgente para el movimiento obrero, los movimientos sociales y la izquierda transformadora es dotarse de las herramientas movilizadoras, organizativas y políticas para llevar este cambio por la senda correcta.
La muerte del bipartidismo, el fantasma de la "gran coalición"
Entre todas las manifestaciones que tiene la actual crisis, el fin del bipartidismo es quizás la que más preocupa a la clase dominante. A través de él, han conseguido monopolizar no sólo el gobierno, sino también cualquier cambio político. Por muy desgastado que Unidad y movilización para derrotarlo mediante un programa de ruptura con el capitalismo estuviera uno de sus partidos, siempre estuvo el otro para ocupar el gobierno, manteniendo intacto el sistema y sus intereses.
Ahora, con el desmantelamiento del bipartidismo, ninguno de los dos partidos parece tener posibilidad de gobernar. Mientras continua el ascenso de Podemos, son cada vez más las voces del sistema que defienden la necesidad de un gobierno de "gran coalición" PP-PSOE, como única posibilidad de garantizar la "estabilidad" de su política de saqueo al servicio de la Troika y los mercados.
Esta gran coalición, es la única solución que le queda al los partidos del régimen para hacer frente a la inevitable revuelta de los trabajadores, parados, jóvenes y pensionistas. Pero esto tampoco va a funcionar. Cualquier gobierno de unidad PP-PSOE será la antesala de un desgaste cada vez mayor del bipartidismo, que afectará sobre todo al PSOE, al igual que al PASOK en el caso de Grecia, que nos ofrece muchas lecciones para el estado español.
Esta situación puede acercarnos todavía más a la posibilidad de un gobierno de Podemos. Esto sería una gran noticia y paso adelante, pero también va a poner encima de la mesa temas tan importantes como el programa necesario para salir de la crisis y las limitaciones para llevarlo a cabo dentro del actual sistema. Estas son cuestiones que todo activista de izquierdas debe tener presente.
El intento de domesticar a Podemos y la izquierda
Otra importante lección que nos trae el caso de Grecia, es que la élite capitalista pondrá muchísima presión a la izquierda alternativa para que modere su discurso y su programa según se vaya acercando más a la posibilidad de gobernar. La clase dominante es pragmática y aunque una fuerza les inquiete mucho, si su llegada al poder es inevitable, intentará que gobierne al menos dentro de ciertos límites, es decir dentro del contexto de su sistema. En Grecia, hemos visto una lamentable cesión ante esta presión por parte de los líderes de Syriza, que han "moderado" su discurso y abandonando su compromiso de rechazar el memorando de la Troika y de anular las privatizaciones y todos los recortes. Sin duda, intentarán hacer lo mismo con Podemos, al igual que con IU.
No hay solución a la crisis dentro de los límites del capitalismo. Por la defensa de un programa rupturista.
Resistir esta presión, forjar y mantener un programa de ruptura con la Troika y la dictatura del capital es imprescindible. Las bases de las organizaciones obreras y populares, tanto Podemos como IU y los movimientos sociales, tenemos una responsabilidad enorme para imponer este rumbo y resistir cualquier intento de "domesticar" nuestra lucha.
Pagar la deuda – incluso "re-estructurada" – significa negarse a invertir esos miles de millones de euros en lo que realmente hace falta: la creación de empleo y la recuperación de una vida digna para todas las personas. No nacionalizar la banca y los sectores estratégicos bajo control democrático, significa no disponer de las herramientas necesarias para poner la economía al servicio de las personas. Sin estas medidas las demandas que revindican los movimientos sociales – como el derecho a la vivienda, la renta básica, el empleo,…- se convierten en "irrealizables".
Ceder a la presión para moderar el programa, para que quepa dentro de lo "aceptable" para las grandes empresas y mercados, significa en realidad abandonar la pretensión de acabar con la austeridad, y preparar el terreno para administrar el sistema y hacer una política de austeridad light.
El papel de un verdadero gobierno de los trabajadores no es introducir meros retoques legislativos dentro de "lo posible" en las instituciones actuales, sino conquistar el poder para cederlo a un pueblo movilizado y organizado, dando paso a una nueva democracia obrera. En el periodo actual, impulsar masivamente la movilización obrera y popular y unirse a la lucha por un gobierno de ruptura con el régimen de 78 con políticas socialistas revolucionarias son las tareas primordiales.
Special financial appeal to all readers of socialistworld.net

Support building alternative socialist media

---

Socialistworld.net provides a unique analysis and perspective of world events. Socialistworld.net also plays a crucial role in building the struggle for socialism across all continents. Capitalism has failed! Assist us to build the fight-back and prepare for the stormy period of class struggles ahead. Please make a donation to help us reach more readers and to widen our socialist campaigning work across the world.

Donate via Paypal

CWI- Please inform us if you are reproducing any material from this site.