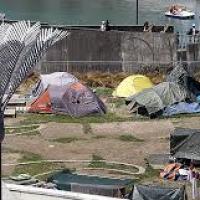 Workers need to build political alternative to major parties' big business agenda
The push to make ordinary working people pay for the economic crisis is undermining New Zealand's standard of living and forcing an increasing number of people into poverty conditions. In 2009 it was estimated that the urban homeless numbered around 300, those in rural improvised housing numbered 500-1000, and those in temporary accommodation numbered somewhere between 8,000 – 20,000.
By the end of 2013 a different study found that one out of every 120 people (0.83%) was understood to be facing a homeless situation. The broader definition includes sleeping rough, in cars, in garages, temporary accommodation, or living in sub-standard forms of accommodation.
Generally speaking, these figures indicate that the number of people in homeless situations has gone up by about 50% over that five year period. For example, homelessness has doubled in Christchurch since the 2010 earthquake. In mid-2013 it was estimated that there were 7000 homeless people there. The social conditions in that city are worsening.
In November half a dozen homeless people in Christchurch were arrested for sleeping in abandoned buildings and breaching non-association orders. Separately, a 49-year old man told the media that he had been arrested three times in the space of four days for breach of non-association orders. Non-association orders imposed on homeless people prevent them from being able to attend charity meals. A Christchurch volunteer worker has claimed that most of those sleeping rough have non-association orders.
A 26 year-old man said he had been arrested 9 times in the space of a month for squatting in car parks and abandoned buildings. He said "The judge says I need to find a life outside the four aves (Christchurch city centre) but there is nothing in the suburbs". Clearly the legal system is only working to worsen the situation facing homeless people.
Cutting off benefits
Making matters worse the government has deliberately pursued a policy of cutting people off benefits. Counter-reforms to welfare have been cynically packaged under names like 'Future Focus'. While cutting people of benefits there has been no real attempts to help them find secure work.
It has been shown that in the 1990s the number of people on benefits and the number of people reporting they were unemployed in government surveys were roughly the same. It has also been shown that the number of people receiving a benefit compared to the number of unemployed recorded by the household labour force survey is now about 130,000 fewer than it was in the late 1990s. This demonstrates that a large number of unemployed people have been pushed off benefits that they should be entitled to.
In addition to that the government drives department policies which prevent welfare recipients from obtaining particular benefits that they are entitled to. In August this year Auckland Action Against Poverty (AAAP) staff and volunteers did a 3-day 'impact' at the Mangere Work and Income New Zealand (WINZ) branch.
An impact involves advocates setting up outside a WINZ branch with various benefit applications and assisting people to get their full entitlements. Over the three days the AAAP crew was swamped with around 1000 people asking for assistance. As AAAP volunteers have pointed out, this was only but one WINZ branch servicing one South Auckland suburb.
Insecure work is now an issue for approximately one third of workers in New Zealand. In October major newspapers carried the story of a Skycity Casino worker who told the company's annual shareholders meeting that she faced the prospect of losing her house because the company had unilaterally cut her shifts from two per week to one. Skycity is a large employer and she has given 15 years' service to the enterprise. Criminally, the government is soon to pass amendments to the Employment Relations Act which will make it easier for bosses to employ people on an insecure basis.
Child poverty has been at the centre of a lot of public debate in the last period. In 2012, 285,000 children under the age of 17, which was 27% of all children in the age group, were deemed to be living in poverty. According to the government's own figures 17% of the age group was considered to be in material hardship. This equated to approximately 180,000 children.
Richest get richer
While the situation facing ordinary people is getting worse, new figures show that the richest 10% of New Zealanders are now wealthier than the rest of the population combined. With the economy showing few signs of improvement, the government and their big business backers are pushing for more rights, benefits, and conditions to be stripped away from ordinary people. The situation is likely to get worse before it gets better. All this points to the need for ordinary working people to campaign against poverty, and in defence of their living conditions. Despite the National Party winning the election in September there are signs of growing resistance to their profit-driven agenda.
In opposition to employer attempts to make finance sector workers' hours more insecure, FIRST Union members at ANZ Bank have carried out a campaign of strikes. Unite Union is also looking towards a campaign initiative to fight back against insecure hours of work.
The MANA Movement carried out a pressure campaign in parliament and on the streets to 'feed the kids' which has heightened awareness on the issue of child poverty and has gained some concessions. On the issue of child poverty, the long-standing lobbying organization, Child Poverty Action Group, called its first ever demonstration in September. The march to end child poverty attracted a broad cross section of people.
These types of actions and campaigns should be supported and built upon over the coming years. At the same time, we need to look at bringing all the campaigns of resistance together under the banner of a new workers' party. Workers and the poor in New Zealand desperately need to build a political alternative to the major parties and their big business agenda. There is more than enough wealth in society to cater for all. The problem is that under capitalism it is distributed in an extremely unequal way. A democratic socialist system would use the wealth that exists to wipe out poverty and raise the living standards for everybody.