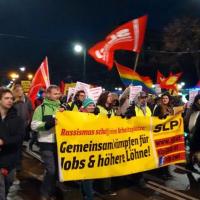 Right-wing Ball events, PEGIDA, and neo-nazi Violence: A Month of Intense and Successful anti-fascism in Austria
The last several weeks have seen anti-fascist protests erupt all over Austria. Numerous right-wing ball (dinner dance) events and PEGIDA demonstrations provoked seven sizeable counter-demonstrations in Linz, Graz, Salzburg and Vienna. The Socialist Left Party (SLP- CWI in Austria) played an active role in these activities.
What are these right-wing "fraternities?"
Following German nationalist traditions – often including Holocaust denial and anti-semitic attitudes – "Burschenschaften", or "fraternities", constitute a central source of right-wing extremist ideology in Austria. Their members' scars across their faces, caused by sword fighting, are seen to prove masculinity. In an atmosphere of reactionary patriarchy, women are not allowed to play an independent role, they are at most accepted as company in an evening gown. Sexist, racist, and homophobic behavior is common, and the Burschenschaften form a hotspot for reactionary and dangerous ideas. And of course for most fraternities, immigrants and Jews are not accepted as members.
The Burschenschaften play several different, dangerous roles for the far right in Austria. They function as career-networks, helping right-wingers into important positions inside the judicial system and the police. This leads to scandalous repression against anti-fascists, especially in recent years. They also play the role of a link between the more classical fascist community and the "modern" racist, populist FPÖ ("Freedom Party of Austria").
In recent years, both prominent members of right-wing parties from all over Europe (like Jean-Marie LePen, Geerd Wilders, Markus Beisicht, Filip Dewinter) and open neo-fascists (Frank Rennicke, Alexander Dugin) have participated in their ball events which are common in January in Austria. There, they have time to link up and mix into something even more dangerous than they already are.
FPÖ – Freedom Party?
While many people correctly focus on their far-right social positions, it must not be forgotten that the Burschenschaften also play a dangerous role when it comes to economic issues. Their networks provide good opportunities for career development, and once in a leading position their members tend to drive an extremely anti-working-class course. Receiving salaries far above the average Austrian's, they fight against trade unions and taxes on property. So focusing protest against right wing ball events is important, not only to block right-wing extreme get-togethers where reactionary ideas can be shared and propagated, but also because those dancing in the ballrooms form a vanguard of capitalism, with cuts and the reduction of social benefits among their priorities. They don't care that 1.2 million people, out of a 8.5 million population in Austria are at risk of falling into poverty, or that 400,000 are unemployed, or that wages are dropping back to the levels of the early 1990s. Instead of caring for the real problems of our society the gentlemen of the Freedom Party and their Burschenschaft members prefer dancing in ceremonial rooms.
Martin Graf, a member of the most far-right "Olympia" Burschenschaft, a Freedom Party functionary and former 'third president' of the National Assembly, recently commented that the Freedom Party has not organized any protests or demonstrations within the last five years. However, they actually have taken part in demonstrations against new mosques and asylum-centers, attracting fascists to follow them. But where were they when people protested against cuts in the social budgets in the federal state of Styria, when students initiated Unibrennt ("University is Burning" – a movement against cuts in the university sector), when protests against the closure of hospitals in Upper Austria were organized, when pay rises in the public sector were suspended, when the proposal for raising the workday to a maximum of 12 hours came on the agenda?
The answer is simple – the Freedom Party was not there. This proves their claim to be a "Social Homeland Party" to be nothing more than a lie. Like many other far right parties, they pretend to be on the side of working people, even demanding in a populist way higher wages and other benefits for working class people. But their political practice is completely different. Wherever the Freedom Party is in power, cuts are on the agenda and corruption is booming. The previous 2000-2005 coalition government, in which the Freedom Party was a partner, turned Austrian swamps of corruption into a sea of corruption. Financial scandals led to losses of billions and a subsequent increase of public debt. Pensions were cut drastically and privatization led to unemployment and falling wages.
All together, this provided enough reasons for demonstrating against the racist tendencies in the Freedom Party, the allied Burschenschaften and the neoliberal mania for cuts, especially in the last several weeks.
PEGIDA and the Brown Mob
The attempt to establish PEGIDA as an Austrian mass movement playing a role similar to PEGIDA in parts of Germany completely failed. Small groups of neo-Nazis, right-wing extremists, hooligans and Freedom Party functionaries gathered in Vienna and Linz, but were unable to march. They were successfully blocked by counter-protests (most of the time by a ratio of 1:10) and could not spread their reactionary propaganda – a big success for the anti-fascist movement and moreover for the Austrian section of the CWI. In the course of PEGIDA gatherings, one could clearly observe how meetings of right-wing extremists can lead to pure violence. There were Hitler salutes and other fascist greetings and symbols, flags and swastikas were flown. After the demonstration in Vienna broke up, several people were attacked and one female activist of the anti-fascist alliance "Offensive gegen Rechts" (OGR) had to go to the hospital. Georg Nagl, former speaker of PEGIDA in Vienna, called the assaults "just stories." Nagl, Freedom Party members, and in some cases the Vienna Police have all turned a blind eye. Violations of the Verbotsgesetz auf Wiederbetätigung (law forbidding Nazi activities) in many cases have been ignored or neglected.
SLP activists under attack
The second PEGIDA gathering in Linz on Saturday 21 February was also successfully blocked by more than 2,000 anti-fascists. Spectators standing near the demonstration expressed solidarity and some even joined the march spontaneously.
After the demonstration and blockades, some SLP comrades were attacked by a group of neo-Nazis at the main train station. Four activists had to go to the hospital after the incident. The police were present at the station, but did not hurry to get to the situation after an activist reported the attack to them. They did not want to stop the train and press charges against the attackers. In response to the incident, we are organizing a campaign against right wing violence. We will not take a single step back, will not fall into resignation but will rather push forward with full energy! Those attacks will not break us, but will make us even stronger in the fight against racism, sexism, capitalism!
A later meeting of over 20 people, trade unionists, youth and SLP members, planned the next step – a bigger demonstration against fascist violence in Linz and a public meeting on the issue.
Summary on an Anti-Fascist Period
The right-wing ball events (Burschenbundball, Linz, January10; Akademikerball, Graz, January17 and Akademikerball, Vienna, January 30) have caused demonstrations and blockades for years, with the SLP playing an active role everywhere. With a lot of effort, we met our goals. Thousands of flyers were distributed, hundreds of newspapers were sold. Many people were radicalized because of the numerous anti-fascist events taking place in the Austrian streets and could be won to our organization. Several weeks of mobilization took place in the 20th district of Vienna – Brigittenau, one of the poorest areas of the Austrian capital, where the SLP has built a base of support. It led to a demonstration from Brigittenau joining the large rally in the city organized by an anti-fascist alliance (OGR).
Even the small demo from Brigittenau was met with repression from the police. Participants were separated, surrounded, isolated, and their IDs were checked. We couldn't prevent the right-wing ball taking place in one of the republic's most central locations, but the whole event was accompanied by a clear anti-fascist presence dominating the streets. The proposal of the SLP is that all organizations allied in OGR should mobilize on a district level and link the campaign against the far right and the fascists with the struggle against social cuts – as the SLP did. This could lift the campaign to a higher level, a broader support and could finish with the Akademikerball in the future. Direct communication in day-to-day street work should help to create a level of awareness high enough to drive people into protest, a protest not limiting itself to anti-right-wing activity. We can carry that momentum to also give clear statements against cuts and other kinds of social injustice. Our campaign on a local level was a trigger that led a lot of people to notice our work, which is also due to an increased SLP presence in social media.
How to continue
For next year, the Akademiker Ball has been already planned. Also, PEGIDA wants to organize more gatherings in other cities all over Austria which gives the far right neo-nazi organizations and individuals outside the Freedom Party (FPÖ) a legal way to march and spread their ideas. To put an end to this we need to increase our work in mobilizing workers and trade unions against the far right. The biggest threat of racism is to the workers and the organized workers-movement, so it's up to them to stop them. The task for the next period is to campaign in workers' neighborhoods and to build pressure on the union leadership to actually support the anti-fascist work, not just give some speeches.
In 2015 important elections will also take place in the states of Styria and Vienna. The FPÖ is expected to increase in support because they are the only ones rallying the anger about social injustice. The SPÖ (social democratic party) heads the national coalition and for years has worked completely as a pro-capitalist party, thereby allowing the FPÖ to build support by posing as defenders of "ordinary" Austrians. We need a new workers' party, giving actual answers to problems like unemployment, wage cuts and austerity instead of just blaming immigrants and Muslims. We need a party not just for voting but for organizing the resistance in the workplaces, the unions and neighborhoods. A new party for workers, unemployed and youth is both the answer to the far right and to fighting increasing poverty in one of the richest countries in Europe.