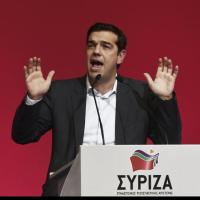 Necesitamos políticas socialistas, no pactos con la Troika
¿Cómo describirías el pacto entre la Unión Europea y el gobierno de Syriza?
Claramente es un paso atrás comparado con lo que Syriza y Alexis Tsipras decían antes de las elecciones.
El tema principal es el de la deuda. El acuerdo firmado por el gobierno griego dice que éste (en realidad la clase trabajadora griega) pagará la suma total de la deuda, es decir, 320.000 millones de euros o más del 170% del PIB griego. Antes de las elecciones, Syriza dijo que la deuda debía ser reducida drásticamente a través de una conferencia internacional como la que tuvo lugar en 1953 y redujo la deuda externa alemana.
El segundo asunto más importante es que el nuevo gobierno pactó que todas las políticas que sean implementadas en los próximos meses tendrán que ser aceptadas y acordadas con la troika (Unión Europea, Banco Central Europeo y FMI), que desde ahora no se llamarán "la troika" sino "las instituciones". Además el gobierno se compromete bajo contrato a no aplicar ninguna política para eliminar leyes derivadas de anteriores memorandos, que eran leyes de recortes salvajes. Esto significa que el gobierno estará bajo un continuo chantaje de la troika y que "el Programa de Salónica" está bajo cuestión. Éste es el programa de medidas inmediates para los sectores más pobres de la sociedad que Syriza presentó y aprobó en una reunión en Salónica en septiembre de 2014. El único punto positivo es que las medidas de austeridad que acordó el anterior gobierno y la troika el otoño del año pasado no seguirán hacia adelante.
¿Había una alternativa para Tsipras y Varoufakis aparte de ceder a la presión de Schäuble y compañía?
¡Sí, había una alternativa, había otra opción! La gran mayoría de la población griega estaba a favor de una "línea dura". Por eso se organizaron manifestaciones masivas en todo el país, incluso en las islas pequeñas, a favor del gobierno y contra el chantaje de la troika y especialmente del gobierno alemán. En las encuestas, hasta el 70 o el 80% de los griegos apoyaban al gobierno en su "batalla". Xekinima, junto con otras fuerzas, e incluso con algunos parlamentarios de Syriza, propuso a Tsipras que debería volverse hacia el pueblo griego y convocar un referéndum con las opciones "euro y políticas de recortes" o "políticas contra los recortes, por la clase trabajadora y dracma". Estamos convencidos de que si esta cuestión se planteara a los griegos, la gran mayoría de los pobres y los trabajadores griegos hubieran elegido romper con el euro. Por supuesto, al mismo tiempo, explicamos que el regreso del dracma no sería en sí mismo una solución a la crisis del capitalismo y que para poner la economía en la senda del crecimiento y al servicio de la gente trabajadora se necesitan que se implementen inmediatamente políticas socialistas.
¿Cómo vio estos desarrollos? El apoyo al gobierno creció fuertemente después de las elecciones, ¿pero ahora esto cambiará?
Una gran parte de la sociedad griega aún apoya al gobierno porque lo comparan con el anterior gobierno de Nueva Democracia y PASOK, uno de los más represivos contra la clase trabajadora y más odiados de la historia reciente. La gente se siente aliviada porque no hay nuevas medidas de austeridad en el horizonte. Al mismo tiempo está claro, especialmente en las capas más radicalizadas, que el gobierno se está rindiendo bajo la presión de las clases dirigentes alemana, europea y griega. El gobierno no implementará inmediatamente las medidas que habían prometido antes de las elecciones y están intentando llegar a acuerdos con sus enemigos de clase. Así que grandes secciones de la sociedad están confusas y parcialmente decepcionadas y esto se ve claramente en la ausencia de una participación masiva en las últimas manifestaciones.
¿Qué propondrías como políticas de un gobierno griego de izquierda?
El gobierno debería tomar medidas inmediatas contra la crisis humanitaria, la profunda y masiva pobreza en la que la mayoría está viviendo. También debería continuar, como prometió, con el regreso de los convenios colectivos, el incremento del salario mínimo a alrededor de 670 euros netos al mes (después de sustraer los pagos de seguros sociales e impuestos a 751 euros) y abolir el gravoso impuesto sobre la vivienda para las familias de clase trabajadora que no pueden pagarlo y están en riesgo de perder sus casas. Estas medidas, aunque básicas, serian recibidas con entusiasmo por la sociedad griega.
Al mismo tiempo, Tsipras debería explicar quién es el verdadero responsable de la deuda (banqueros, capitalistas, la clase dirigente griega, alemana y de toda Europa) para parar los pagos inmediatamente. Después, deberían implementar políticas socialistas como la nacionalización de la banca y los sectores claves de la economía, bajo el control y la dirección social y de los trabajadores y una inversión pública masiva para poder planear la economía y hacer que ésta crezca. La economía debería ser "protegida" de los especuladores y los saboteadores del capital griego y europeo, a través de los controles de capitales y del comercio exterior.
Está claro que Tsipras no está eligiendo este camino. Por eso la presión desde abajo, de la clase trabajadora y otros movimientos, es crucial. Las fuerzas de la izquierda que entienden esta perspectiva y no están de acuerdo con el enfoque sectario y ultra-izquierdista del KKE (Partido Comunista de Grecia) y ANTARSYA (izquierda radical anticapitalista) se enfrentan a tareas cruciales e históricas. Por otra parte, tienen que unirse, discutir, coordinarse y explicar la necesidad de políticas socialistas a capas más amplias de la sociedad, para empezar a construir una alternativa política masiva revolucionaria y socialista.
Special financial appeal to all readers of socialistworld.net

Support building alternative socialist media

---

Socialistworld.net provides a unique analysis and perspective of world events. Socialistworld.net also plays a crucial role in building the struggle for socialism across all continents. Capitalism has failed! Assist us to build the fight-back and prepare for the stormy period of class struggles ahead. Please make a donation to help us reach more readers and to widen our socialist campaigning work across the world.

Donate via Paypal

CWI- Please inform us if you are reproducing any material from this site.