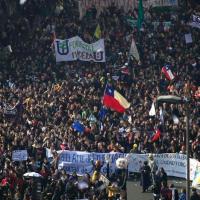 ¿Cuál es la alternativa de la clase trabajadora?
La corrupción abrió una profunda crisis de la casta dominante hace ya más de seis meses, que a pesar del cambio de gabinete que realizo la señora Bachelet todavía no pueden superar y hoy nuevamente apenas un mes después del último cambio de ministros, nuevamente se está hablando de cambiar el gabinete especialmente después de la renuncia forzada del ministro Jorge Insunza solo 28 días después de haber jurado como tal.
Una crisis de gobernabilidad de la que difícilmente podrán salir dado otros factores que se han unido a la crisis de la clase dirigente que tiene que ver con un nuevo impulso de las luchas estudiantiles que nuevamente han sacado a cientos de miles de personas a las calles en busca de respuesta a las demandas no satisfechas hasta ahora, movilizaciones a las que se han unido los profesores, los pescadores artesanales, y muchas otras huelgas de diferentes sectores de la clase trabajadora. Sin lugar a duda un factor relevante es lo que está ocurriendo con la economía chilena (e internacional) que ya lleva seis semestres de desaceleración que se sigue profundizando lo que hace todavía más complicado cumplir con las mínimas promesas lanzadas durante la campaña presidencial de la Nueva Mayoría.
Por supuesto unir la crisis política de la clase dirigente, a un nuevo impulso en las luchas estudiantiles y de trabajadores, justo en el momento en que la economía chilena esta desacelerada es un coctel bastante peligroso para el sistema, algo que hasta ahora no había tenido la elite dominante chilena.
¿Que hacer frente a este nuevo cuadro político?
La clase dirigente está en una situación de extrema debilidad, el gobierno cuenta con apoyos bajísimos, lo mismo ocurre con la supuesta "oposición" aliancista (UDI-RN), que todavía está más abajo en las encuestas que el gobierno de la Nueva Mayoría ¿Entonces por qué todavía pueden seguir controlando la situación y se mantienen en el poder? Nosotros como Socialismo Revolucionario creemos que esto se debe primero a la dispersión que se da en las diferentes luchas que se están dando y a que el grueso de los trabajadores no han entrado en las luchas y que lamentablemente son los estudiantes lo que han llevado el peso de la lucha y que claramente faltan los trabajadores para dar una derrota definitiva a la clase política que nos ha gobernado los últimos 25 años de supuesta democracia, lo que está claro es que necesitamos la unidad de los trabajadores y los estudiantes, algo que por ahora solo se mantiene como consigna pero no se hace carne en la realidad concreta de las luchas.
La necesaria unidad de trabajadores y estudiantes.
Esta sin lugar a duda debe ser la principal tarea del próximo periodo ¿Pero quién puede llamar a esta unidad? Los dirigentes de la CUT claramente no pueden jugar este rol, dado el enorme desprestigio y la nula legitimidad que tiene de cara a los jóvenes y la mayoría de los trabajadores que hace rato no les cree a estos dirigentes y no se sienten representados por ellos.
La Fech y la Confech deben hacer el llamado a la unidad de los que están luchando.
Como ha quedado demostrado en el último tiempo los únicos que cuentan con el prestigio y la legitimidad para hacer un llamado a la unidad y lograr que este se cumpla son los dirigentes estudiantiles que han encabezado las mayores marchas contra el sistema neoliberal y sus medidas contra los trabajadores, estudiantes y movimientos sociales y por la recuperación de todos nuestros derechos que continúan conculcados desde el tiempo de la dictadura.
También es necesario unificar las luchas sociales en todo el país, solos aislados, no podemos ganar. Por eso creemos que la Confech, junto con las organizaciones sindicales y sociales que hoy están luchando, deberían llamar a un Encuentro Nacional de estudiantes y trabajadores, que se levante como el referente reconocido de amplios sectores de la población, por la reconquista de los derechos sociales y contra la corrupción de políticos y grandes empresarios, y llame a una Huelga General y Protesta Nacional de 24 horas.
La desobediencia civil es un derecho que tienen los pueblos.
Desde las luchas del año 2006 de los secundarios y las enormes movilizaciones que se vienen dando desde 2011 por el conjunto del movimiento estudiantil las demandas de los jóvenes no son tomadas en cuenta y no han encontrado cabida o tenido respuestas desde los gobiernos de la Concertación-Nueva Mayoría con Bachelet y el gobierno de la Alianza que encabezo Piñera.
Como es posible que la casta política pueda imponer sus políticas cuando su legitimidad es prácticamente igual a cero y cuando la mayoría de la población apoya las demandas de los jóvenes y los trabajadores. No es posible que un pequeño grupo siga imponiendo sus puntos de vista frente a la mayoría de la población.
Ya son demasiados años soportando las imposiciones de una minoría, desde los tiempos de la dictadura que el 1% más rico impone a rajatabla sus políticas depredadoras contra la clase trabajadora.
La desobediencia civil es un derecho que tienen los pueblos para terminar con regímenes tiránicos disfrazados de "legitimas democracias". Está claro que tenemos que asumir seriamente esta política sino queremos terminar como en el año 2006 donde la clase política término celebrando con las manos arriba, algo que finalmente terminó siendo una gran estafa contra los estudiantes y el 90% de la población que apoyo la lucha de los jóvenes.
No podemos permitir que una vez más la minoría encabezada por la casta política y empresarial corrupta, termine imponiendo acuerdos que finalmente solo sirvan para seguir perpetuando la misma situación que hemos visto en los últimos 40 años.
La lucha por una sociedad más justa y solidaria (socialista), donde el lucro de unos pocos no puede estar por sobre las reivindicaciones y necesidades de la mayoría de la población, debe estar en el punto central de nuestros objetivos.
Special financial appeal to all readers of socialistworld.net

Support building alternative socialist media

---

Socialistworld.net provides a unique analysis and perspective of world events. Socialistworld.net also plays a crucial role in building the struggle for socialism across all continents. Capitalism has failed! Assist us to build the fight-back and prepare for the stormy period of class struggles ahead. Please make a donation to help us reach more readers and to widen our socialist campaigning work across the world.

Donate via Paypal

CWI- Please inform us if you are reproducing any material from this site.