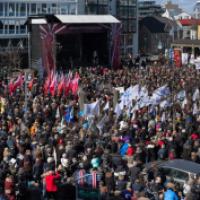 Workers win thirty percent wage increase over three years
A strike wave in Iceland has produced results: workers in the private sector won a wage increase of 7.2% this year. The demands of the unions will be fully implemented by 2018. This means a total increase of 31.1%, from 214,000 to 300,000 ISK, a month (€1,370 to €1,900).
Private employers primarily in the tourism sector and fishing industry were forced to back down because of the threat of a general strike. A one day strike was held on 28 April and more strikes followed in early May. However another two-day strike was postponed during negotiations.
The planned general strike, which would have involved over 70,000 workers, would have been the largest industrial action in Iceland's history. This threat forced the bosses to back off."The tourist industry was most affected by the strikes and the entire tourist industry would be paralysed by a general strike", reported Skúli Jón Kristinsson, from Iceland.
Meanwhile, strikes involving unions with 40,000 members are still going ahead or planned.
An academic workers union, BHM, has been on strike since the beginning of April. A wide range of employees are taking action, including veterinarians in the meat industry, biomedical scientists in hospitals and lawyers from the different state authorities.
Over 2000 nurses, midwives and radiographers went on strike on 27 May. Key parts of the healthcare sector are affected by industrial action and only emergency cases are treated.
On Thursday 4 June, Skúli Jón Kristinsson reported, "Negotiations broke down yesterday between BHM and the state and there is great frustration among strikers now. One-third of radiographers have resigned their jobs and many midwives are looking for jobs in other Nordic countries. Many healthcare professionals are looking seriously at the option of leaving for job opportunities in other countries". ". On Friday morning, 5 June, more than one thousand people attended a picket organised by the BHM and the nurses' union outside the Prime Minister's office in Reykjavik.
Workers demand their share
Another union, including metalworkers and engineers, announced a week's strike, from 10 June.
The unions that first signed deals, Efling and VSFK, organise private sector workers. "Efling is one of the largest unions in Iceland. It is made up of blue-collar workers in Reykjavik and surrounding towns. It mainly consists of private sector employees, but also some unskilled public sector laborers and cleaners etc. Efling is part of Iceland's blue-collar union federation, ASI. VSFK is the fisheries workers' union in Keflavik, southwest Iceland. It's made up of fishermen and unskilled workers and is also part of ASI", Skúli Jón Kristinsson explained. Before the agreement, 94% of Eflings members voted for strike action.
Subsequently the SGS, which coordinates several other private unions in Asi, also received the same contract.
Industrial action or the threat of it has led to all these workers winning a 7.2% pay increase, from 1 May this year, with a gradual increase to reach 300,000 ISK (€1,900) by 1 May 2018. In total, there will be an increase of 31.1% during the contract period. The employers' demands for "flexible" working hours were removed from the deal and put for further talks.
The wage increases follow seven years of wage freezes and economic crisis. ASI estimates that without this increase around one in three workers would have found it hard to cover their living costs. A single parent earns on average 218,000 ISK per month but needs 232,000 for the most basic expenses, which does not include housing. Many are forced to hold two jobs.
The strikes in the public sector continue. Like other strikes, they have wide public support, despite the media sounding the alarm about the shortage of chicken and meat because of the veterinarians' strike. The academic's union federation, BHM, calculated that university graduates in Iceland earn a fifth less than in other Nordic countries but university directors and managers have higher salaries in Iceland.
The public sector industrial conflict is sharper because the government denounced the unions' wage demands, while they lowered taxes for businesses and the highly paid. Recently they also raised the legal limit for bonuses to top business people. Both Iceland's Central Bank Governor and bosses in the country's major companies stated that wage increases are threatening the country's economy. But it is precisely the relative economic upturn that has increased workers' demands for their share.
"There is pressure on the union leadership to drive on workers' needs and they have done it, so far. The ongoing strikes can last for a long time. The government said that they do not intend to ban any of the current strikes, although it is put forward as a possibility for a strike of nurses and other health professionals. If some of the strikes are declared 'illegal', it would probably mean the end of the government", comments Skúli Jón Kristinsson.
"Criticism against the government is growing. An anti-government demonstration outside Parliament, last week, saw 2,000 people demand the government steps down."
Widespread criticism of the government has, so far, led to a sharp rise in support for the Pirate Party. In the latest poll, the Pirate Party got 34.1%, more than the coalition government's two parties, the Progressive Party and Independence Party. In Reykjavik, the Pirate Party was on 40%.
The rise of the Pirate Party is an expression of a desperate search for an alternative. But the Pirate Party, like their counterparts in other countries, declares it is "neither right nor left" and therefore lacks a real alternative. The Pirate Party is seen as uncorrupted compared to the older parties that ruled in the years when the banking crisis developed. The Pirate Party is best known for its support for Edward Snowden but has no clear position on most class and social issues.
What is needed is a debate among trade unionists about building a new party that will fight for the workers' demands.