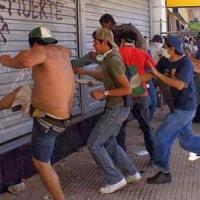 En los últimos días en varios sitios del país, ha sucedido episodios de saqueos en algunos supermercados, hechos que han tenido un papel principal en la opinión pública…
En los últimos días en varios sitios del país, ha sucedido episodios de saqueos en algunos supermercados, hechos que han tenido un papel principal en la opinión pública, de todos los acontecimientos el que más ha traído de que hablar fue el que ocurrió en la población de San Félix en el sureño estado Bolívar, dicha población se ha caracterizado como un municipio combativo, dado que la mayor parte de ese municipio es poblada por trabajadores de la industria, que se encuentran en la zona de desembocadura del rio Caroní, en dicha comunidad se produjo el saqueo de un establecimiento publico conocido como PDVAL, en dicho saqueo tuvo como resultado una persona fallecida en extrañas circunstancias, dado que se desconoce si fue asesinada por personas en la cola o por la represión de la Guardia Nacional, en ese mismo hecho fueron aprehendidas 27 personas.
En la población Fronteriza de Sinamaica en el Municipio Guajira del estado Zulia hubo encontronazos entre la población, los contrabandistas y la Guardia nacional, que conllevó a la quema de la sede de la alcaldía, hay versiones diversas dado la lejanía de dicha región y la falta de información veraz y oportuna de los acontecimientos. Las respuestas a dichos sucesos por parte del gobierno es, por un lado intentan desmentir su existencias y cuando ya no pueden hacerlo culpan a planes de la derecha para desestabilizar al gobierno, cosa que no es tan descabellada pero las respuestas del gobierno dan que pensar que estamos ante un gobierno cómplice de la situación porque está en la más absoluta quietud como quien no limpiar el piso y se conforma con tapar el sucio con la alfombra. Sin embargo también encontramos sospechoso el tratamiento de sectores de la oposición de derechas, intentado promover saqueos para alimentar irresponsablemente sus aventuras golpistas.
Estos hechos se dan en un contexto dramático que está viviendo la población venezolana para el acceso a los productos de la cesta básica, donde las cadenas de supermercados se ven a diario abarrotadas de personas en búsqueda de dichos productos, generando kilométricas colas que hace que la gente pierda hasta 4 o 5 horas para comprar alimentos, con el agravante del surgimiento ya desde hace mas de dos años de personas que hacen colas para comprar los productos, para luego revenderlos en la calle hasta un 1000% por arriba de su precio original, a estas personas se le conoce con el nombre de "Bachaqueros" haciendo alusión a las filas que hace las hormigas para llevar sus alimentos
En las zonas fronterizas es más profundo el asunto, dado que los alimentos son contrabandeados para ser vendidos ilegalmente en el exterior, situación similar pasa con la gasolina, que es mayor el contrabando pero sus consecuencias al común son menores. En el estado Zulia por ejemplo se dice que consume un 60% del arroz que se envía, el 40% restante sale a la vecina Colombia vía contrabando.
Las causas son diversas, por un lado tenemos, como lo dijimos anteriormente, la intermitencia de los productos en los anaqueles, los constantes "no hay" generan un gran incertidumbre que llevan a la gente a comprar el producto donde lo haya porque no sabe cuando lo volverá a conseguir. Aunado esto a la gran liquidez de dinero en la calle que no se corresponde con las producción, es mayor la demanda que la oferta, con su normal consecuencia de subida de precios, que al no poderse hacer por la vía legal de distribución, se da por la vía de mercado informal (de allí el surgimiento del bachaquero), también podemos observar la acción de el grueso del empresariado en reducir la producción de los productos regulados porque le genera menor ganancia y poner el énfasis en productos que están por fuera de la regulación (de ahí la esterilidad de los controles de precio en el marco del capitalismo), la reducción de las importaciones de alimentos producto de la caída de los precios del petróleo y por ende del flujo de caja del estado para importar, lo cual ha llevado a la reducción de establecimientos públicos para la venta de alimentos, podemos ver un gran número de sedes del emblemático programa MERCAL cerrados, aduciendo la mayoría de casos remodelaciones, que ya llevan más de un año y sin poder concretarse. También está el contrabando que se realiza hacia países vecinos, es normal ver en poblaciones fronterizas de dichos países los productos venezolanos vendidos por los comerciantes informales que por el gran diferencial cambiario hace muy rentable al contrabando.
Podemos ver que también existe una política dirigida por los comerciantes y empresarios que generan las colas para obtener mayor ganancia, en los supermercados, los productos como el papel, jabón, harina entre otros, que duraban de 15 días a 3 semanas para salir de toda esa mercancía ahora lo venden en un solo día
Desde el SR no llamamos a la calma de manera hipócrita, como lo hace los personeros del gobierno y los empresariados con el miedo a que los saqueos se le salgan de las manos y reediten los suceso del 27 de febrero del 89, ni tampoco nos unimos al coro destructivo de parte de la ultraderecha que plantea utilizar la rabia del pueblo para sus leoninos intereses de hacer retroceder la rueda de la historia y que volvamos a momentos donde la ideología neoliberal tenia sumidos en la más profunda pobreza a la población venezolana. Hacemos un llamado a la organización de movimientos para el aseguramiento del acceso a los alimentos que fiscalicen a la producción, distribución y comercialización de los alimentos, asi mismo en la organización de cooperativas de consumo que rompan con la dinámica de distribución capitalista. También en la conformación de un gran movimiento político y social que bajo un programa consecuentemente socialista revolucionario se erija como alternativa a los dos polos de hegemonía y opresión que estamos sufriendo en la actualidad.
Special financial appeal to all readers of socialistworld.net

Support building alternative socialist media

---

Socialistworld.net provides a unique analysis and perspective of world events. Socialistworld.net also plays a crucial role in building the struggle for socialism across all continents. Capitalism has failed! Assist us to build the fight-back and prepare for the stormy period of class struggles ahead. Please make a donation to help us reach more readers and to widen our socialist campaigning work across the world.

Donate via Paypal

CWI- Please inform us if you are reproducing any material from this site.