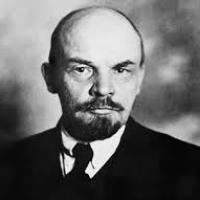 Para e l público de izquierda de SYRIZA, el señor Tsipras tratando de justificarse uso a … Lenin
La adopción del tercer memorándum por la mayoría de los parlamentarios del partido Syriza no fue sólo un impresionante farsa, sino una elección estratégica. El liderazgo de SYRIZA dejó el campamento de los trabajadores y las clases populares y se pasó al frente, junto a los representantes políticos de los banqueros, magnates y aliados multinacionales de la Merkel, Schäuble, Juncker y Langkarnt.
Para el público de izquierda de SYRIZA, el señor Tsipras tratando de justificarse uso a … Lenin. En una entrevista a la emisora de radio "La Red" el 30 de julio, dijo lo siguiente:
"Ya sabe, el compromiso es un elemento de la realidad política y el punto y la táctica revolucionaria". Durante los primeros compromisos hablaba de Lenin y su libro "izquierdismo, enfermedad infantil del comunismo" y dedicó varias páginas a explicar que los compromisos son parte de la táctica revolucionaria. "De hecho, por lo general, se dice que cuando un ladrón entra y le apunta con la pistola y ofrece "la bolsa o la vida", ¿qué debe hacer? ¿Le da a su vida? ¿Le da su dinero?, y afirma que así podrá vivir para seguir luchando. Y si le da su dinero, ¿este es un compromiso miserable y lo convierte en cómplice y corresponsable con el bandido?" Eso es que entonces dijo Lenin. "[1]
Sin embargo, en el mismo capítulo del "izquierdismo" en los siguientes párrafos de ese que eligió el señor Tsipras, Lenin escribe lo siguiente:
"Hay compromisos y compromisos. Usted debe saber analizar la situación y las condiciones concretas de cada compromiso, o de cada variedad de compromiso. Usted debe saber distinguir entre el hombre que dio os bandidos dinero y armas para reducir el daño que harían los bandidos, del hombre que da a los bandidos dinero y armas para participar en el reparto del botín ".
"El político que quiere ser útil para el proletariado revolucionario debe saber destacar los casos específicos precisamente cuando esos compromisos son inadmisibles, expresando el oportunismo y la traición …"
A partir de la "teoría" en la práctica
Lenin y el partido bolchevique nunca fuimos a retiros y compromisos que alteran el carácter de la revolución de octubre de 1917, y el nuevo régimen socialista que el partido bolchevique y los trabajadores se esforzaron por construir.
Con la toma del poder los bolcheviques procedieron entre otras cosas a:
La negativa de pago de préstamos y deudas del zar (y del gobierno interino) en los bancos rusos y europeos y otros prestamistas.
A la nacionalización de los bancos de Rusia y de todos los Estados pertenecientes al ex Imperio ruso que habían participado en la revolución.
A la nacionalización de todas las grandes empresas, la infraestructura (por ejemplo, ferrocarriles, y puertos) y las tierras pertenecientes a la Iglesia, aristócratas, terratenientes y así sucesivamente.
Al control social y la gestión por los trabajadores de los bancos nacionalizados, empresas, etc. a través de la operación de los soviets – la de los representantes electos (que podían se revocados en cualquier momento) por las asambleas de trabajadores en estas áreas.
Condiciones infinitamente más difíciles.
Los bolcheviques y los soviets de obreros y campesinos adoptaron esas medidas revolucionarias [2] en condiciones infinitamente más difícil de lo que tiene que hacer frente hoy en día el señor Tsipras.
En particular, la Primera Guerra Mundial todavía causaba estragos, Rusia tenía frente de batalla abierto con Alemania. Además, sólo unos meses después de la toma del poder del nuevo Estado soviético tuvo que enfrentarse a las fuerzas de la contrarrevolución en el interior: los señores de la guerra del zar, que con la ayuda de los imperialistas lanzaron una ofensiva de partida en las regiones donde la revolución no había prevalecido. Entonces, inmediatamente después del final de la Primera Guerra Mundial, 21 Estados enviaron tropas a Rusia para ayudar a las tropas de la contrarrevolución para aplastar el nuevo Estado soviético. Al mismo tiempo, la gente del antiguo Imperio Ruso estaba incomparablemente más decrépita que la sociedad griega actual, con el hambre real prevaleciente en vastos sectores de la población.
En estas condiciones, Lenin y los bolcheviques hicieron concesiones y compromisos, pero en ninguno de ellos comprometieron los pilares centrales y fundamentales de su política.
La retirada de Brest Litovsk.
En marzo de 1918, el gobierno revolucionario de firmaron el Tratado de Brest – Litovsk. Con este tratado, los bolcheviques habían entregado Ucrania, los países bálticos y la provincia de Kars Oblast en el Cáucaso del Sur a las fuerzas del atacante las "Potencias Cebtrales" [3].La retirada fue necesaria para salvar el poder de los trabajadores que había sido establecido por la revolución. Había que "cerrar" un frente para permitir a los bolcheviques y los soviéticos enfrentar las fuerzas militares de la contrarrevolución en el país y para avanzar en medidas económicas y políticas para aliviar la gente del hambre y la pobreza le la aquejaban.
Los bolcheviques hicieron una retirada (dolorosa) en el frente de batalla para salvar al pueblo y la revolución. Aún así no retrocedieron en las cuestiones fundamentales, no han abandonaron las "conquistas" de la revolución. No retrocedieron en el tema de la deuda. Ellos no ofrecieron el sistema bancario y los medios de producción nacionalizados a los imperialistas. Establecieron la jornada de 8 horas! Establecieron la igualdad de hombres y mujeres. Crearon en el primer período, el estado más democrático que existía en el planeta! No entregaron el poder, como ha hecho hoy en día a la Troika el señor Tsipras … Por el contrario, la presión se incrementó, frente al sabotaje económico por el capital europea que se intensificó, derrotadando el poder del capital en favor del poder de los trabajadores y las capas populares.
El préstamo de 1.922
En 1921, al final de la guerra civil, el gobierno soviético trató de obtener un préstamo del exterior para enfrentar el hambre que con la guerra ha tomado dimensiones de hambruna.
Aún así los bolcheviques no hicieron ninguna concesión a los posibles prestamistas para alterar el carácter de la revolución y el nuevo régimen.
En septiembre 1922 en el quinto Congreso de toda Rusia de Sindicatos Lenin dijo:
"No queremos que nos dén un préstamo, si se restaura la propiedad de los capitalistas y terratenientes, no lo podemos hacer y no lo haremos. Sigue siendo un camino muy largo y difícil ".
¿Por qué ahora recordado a los "obsoletos bolcheviques", según él?
En el pasado, las únicas ocasiones en las que el señor Tsipras habló de Lenin y los Bolcheviques era para mantener distancias claras de sus principios y políticas y así tranquilizar a la burguesía en Grecia y Europa, y los (potenciales) votantes más conservadores.
"No queremos un anticuado partido bolchevique, guiando al pueblo". Declaró a K. Arvanitis, en el programa "En la Red" el 05/15/2013.
Ahora, con el riesgo de perder la base de izquierda de los votantes del partido, recordó lo que Lenin escribió sobre compromisos. Sólo que su memoria era extremadamente selectiva …
La falsificación y la manipulación de los escritos de Lenin es muy "llamativa". Así que dejamos la respuesta a Lenin:
"Las personas ingenuas y totalmente inexpertas imaginan que en general es suficiente hablar de compromisos internos, e inmediatamente se elimina cualquier límite entre el oportunismo, contra el cual es necesario llevar a cabo la lucha inflexible, y el marxismo revolucionario o comunismo.
"En cuestiones separadas o específicas de política prácticas en cada momento histórico, lo importante es saber cómo distinguir las cuestiones en que se manifiesta la principal forma de compromisos que son inadmisibles, traidores, fatales, que encarnan el oportunismo para la clase revolucionaria y dirigir todo sus esfuerzos en su desenmascaramiento y en la lucha contra ellos ".
(VI Lenin, "izquierdismo, enfermedad infantil del comunismo", Capítulo VIII "¿Ningún Compromiso?".)
_________________________________
[2] Cabe señalar medidas como la abolición del "secreto comercial", el control de los movimientos de capital, la planificación de la producción, etc. Ellos formaron la columna vertebral del programa de los bolcheviques antes de la revolución. Una breve pero completa descripción general de estas medidas lo da el folleto de Lenin titulado "La catástrofe que nos amenaza y cómo combatirla", escrita en septiembre de 1917.
[3] En la primera guerra mundial la alianza de las "Potencias Centrales" consistió en: Alemania, Austria-Hungría, el Imperio Otomano y Bulgaria.
Special financial appeal to all readers of socialistworld.net

Support building alternative socialist media

---

Socialistworld.net provides a unique analysis and perspective of world events. Socialistworld.net also plays a crucial role in building the struggle for socialism across all continents. Capitalism has failed! Assist us to build the fight-back and prepare for the stormy period of class struggles ahead. Please make a donation to help us reach more readers and to widen our socialist campaigning work across the world.

Donate via Paypal

CWI- Please inform us if you are reproducing any material from this site.