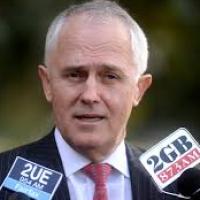 A lesser evil?
Malcolm Turnbull became Australia's fourth prime minister in just over two years after deposing yesterday Tony Abbot as leader of the ruling Liberal Party. Abbot became prime minister in 2013 but was a divisive figure overseeing a weakening economy. The Liberal-National coalition government has been losing support for months and trails behind the Labor Party. With their parliamentary seats in jeporday, Liberal party MPs moved ruthlessly to get rid of Abbot and to put Turnbull in his place. Much of the media in Australia and internationally welcomed the move and praised the new prime minister. But a look at Turnbull's big business background and right wing politics shows he is no friend of the Australian working class.
In an article first published in November 2014, Conor Flynn from the Socialist Party (CWI Australia) examines the real Turnbull.
Socialistworld.net
When compared to Abbott many see Turnbull as a sort of lesser-evil. But would Turnbull be any different from Abbott?
While Turnbull might seem softer, and have a more sophisticated style than Abbott, he has the same hard-line approach to economics. Like Abbott, Turnbull would facilitate the same process whereby ordinary people would be forced to pay for a crisis they didn't create. His privileged background gives us an insight into his politics.
Malcolm Turnbull established himself as one of the richest people in Australia, with an estimated personal wealth of $186 million, long before he was elected to parliament in 2004. A barrister by profession, he left the bar in 1983 to become general counsel for Australia's richest man, Kerry Packer, who was facing allegations of corruption at the Costigan Commission.
Turnbull ensured that Packer, who was linked to tax evasion and drug trafficking, escaped without charge. In 1987, when he established Whitlam Turnbull & Co Ltd, an investment bank in partnership with Neville Wran, a former Labor Premier of New South Wales, and Nicholas Whitlam, the son of former Labor Prime Minister Gough Whitlam, Packer, as a token of gratitude, chipped in $25 million in start-up costs.
In the 1990s, Turnbull served as chairman of various multinational companies, including Australia's largest internet provider OzEmail, which made Turnbull a profit of $60 million; Axion Forest Resources, a logging company that cleared forests in the Solomon Islands; and Goldman Sachs, which was active in various privatisation programs being carried out by the then Howard Government.
In parliament, Turnbull has continued to champion the cause of big business. Appointed Environment Minister in the dying days of the Howard Government, Turnbull approved of a controversial application by Gunns Limited to build a $1.7 billion pulp mill in Tasmania. As leader of the Liberal Party from 2008-09, Turnbull argued that sweeping cuts be made in response to the global financial crisis.
Turnbull's drastic cuts
As Communications Minister under Abbott, Turnbull has overseen drastic cuts to the public broadcasters, ABC and SBS. Turnbull announced that $254 million would be ripped out of the ABC. A further $25.2 million would be cut from SBS. Likely to cost 600 jobs over the next five years, Turnbull's cuts will reduce the threat posed by the public broadcasters to the profits of private operators such the Murdoch-owned News Limited. He has also flagged the potential privatisation of Australia Post.
As noted by the Financial Review in February, the push for leadership change was led by the "Liberal Party base (of) business and the big donors". It has not been a "push to install an alternative government but to install a leader who will stop Labor regaining government". With economic crisis worsening, and much of the Abbott government's first budget stalled in the Senate, big business is concerned that the Liberals are "losing the battle over the budget". Turnbull's extensive links to big business makes him Abbott's ideal replacement.
Far from being a lesser-evil or a softer touch, a Turnbull led Liberal Party would be more like an iron fist in a velvet glove. Regardless of who leads the major parties, both the Liberals and Labor act as representatives of big business. The challenge ahead is to break from these parties and build a political alternative based on the interests of ordinary people.