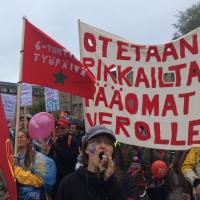 30,000 join Helsinki union demonstration
A general strike in Finland last Friday, 18 September, shook the government, even if it does not want to show it. Plans to attack trade unions were suspended after almost 30,000 people gathered at the railway station square in Helsinki to demonstrate. Most important was the extensive strike that stopped all transport and much of heavy industry. The car and transport union, AKT, strike was complete for 24 hours. The paper industry workers' union stopped 60 paper mills frim working during the same period. At the Turku shipyard 850 shipbuilders went on strike.
"Most significant was the metal workers' union strike; we have not seen them so militant before", said Juha Tapio, who distributed Sosialistinen Vaihtoehtos (CWI supporters in Finland) leaflets at the Helsinki.
The metal workers' strike meant, for example, that Outokumpu's major steel plant in Tornio, with 2,500 employees, stood still. Other sectors on strike were postal workers, police officers and other public employees. Although the strike was not complete and often only lasted a few hours during workers' demonstrations, it was still a display of workers' power. Many strikers travelled halfway across the country to participate in demonstrations. Coaches travelled from Vaasa to Helsinki. In Oulu 1000 people gathered at a demonstration.
"Compromises"?
The pro-capitalist media in Finland has made every effort to downplay the significance of the strike, while they promote the claims of EKS (the employers' federation) that the strike cost 100 million euros. Instead the newspapers were filled with reports about the refugee crisis and highlighted the far right True Finns party demands for reduced immigration. Even Prime Minister Sipilä's announcement that the government would postpone a decision on the its attacks on unions until 30 September, when unions are able to come up with their own proposals, included references to the refugee issue.
Unfortunately, trade union unity was broken, with the civil servant unions unions, AKAVA and STTK, prepared to make far-reaching compromises and pressurising the blue collar union federation, SAK/FFC, to follow suit. Both civil servant unions are open to negotiate "other proposals" that offer reduced "unit labor costs" of five percent. The SAK /FFC, so far, said no to proposals that, in practice, regardless of how it is implemented, means wage cuts of five percent. But SAK is open to accepting a reduction, as part of a "larger package" in which the employers must pay.
University occupation
A positive pressure for continued struggle comes from the student occupation of a building at the University of Helsinki, which started during the strike last Friday. Last week the University of Helsinki announced up to 1,200 jobs could disappear by 2020 due to government cuts in education. The student occupiers correctly argue that the quality of research and teaching are threatened and also protest against state funding being replaced by increased "commercial cooperation".
The question now is whether the unions' fight will continue. The concessions from the other federations have opened the way for SAK to agree a rotten deal whereby the government's attacks go through with some small and symbolic changes.
The Finnish trade union movement is still strong and among the best organised in Europe. Just as in Belgium, where several strikes and a massive general strike took place, it has the muscle to really challenge the government's attacks.
Counter offensive needed
It is also about a political challenge. It must be highlighted how the rich just get richer while the poor are attacked. Last year the bonuses and salaries of CEOs increased by 79,000 euros, while workers gained only 1.5%. CEO salaries are now 25 times higher than the average employee. Among those who gained most are the CEOs who fired most employees. UPM CEO, Jussi Pesonen, negotiated a 'parachute' of €2.7 million should he be fired.
What is needed is a counter offensive, where the slogan at last Friday's demonstration #STOP really means stop and where the struggle escalates to a two-day general strike, if the government does not retreat.
Hopefully the more radical unions in SAK/FFC will push for such a struggle. If not, the more radical trade unions, in cooperation with others who want to fight, such as students and socialists, must begin a mobilisation that could force other unions to follow suit.
Massive attacks on unions and workers' conditions
The government of three parties – the Centre Party, the Conservatives and the True Finns – proposes an autumn budget that includes a brutal attack on welfare, working conditions and on collective agreements. The target of the government is to cut "unit labour cost" by five percent.
The government overrules any collective agreement in proposing:
Overtime Compensation cut by half
Sunday compensation drops from 100% to 75%
No one should have more than six weeks' holiday in the public sector (today, older workers have up to 38 days)
No pay for the first day of illness
Two bank holiday days (Epiphany and Ascension Thursday) are days off without pay
The government's proposals also includes that state expenditure will be cut by 800 million euros next year. A number of indexation of benefits will be frozen and reimbursements for medical services will fall. Major cuts will come out of the foreign aid budget and education expenditure. According to public employees union PAM, women will suffer most from the government's attacks.
Report from Helsinki: "18 September – only the beginning"
Public transport was completely shut down on 18 September and police expected huge traffic chaos. But it was significantly quiet, with almost everything closed down, as it should be during a major strike. Despite at times heavy rain, the rail station square was quickly filled by upwards of 30,000 protestors. There was a large stage with a huge screen displaying the slogan: #STOP
Sosialistinen Vaihtoehto (CWI sympathisers in Finland) proposed Friday's strike must become a springboard for continued escalation. Our leaflet had the headline, '18 September – only the beginning'. Rarely has it been so easy to distribute flyers. We proposed trade unions and other associations convene joint meetings in workplaces, neighbourhoods, universities and so on, to discuss and organise a stepped-up mobilisation. If the government does not back the fight, escalate by calling a two-day general strike to time with the parliamentary decision on the budget, in December.
The union demonstration on 18 September was lively, multi-coloured and had an open atmosphere. It was also very young.
"We have recently re-discovered willingness for big demonstrations. First, the big Pride Parade last summer, followed by 10,000 against cuts a month ago and also a big demonstration against racism", said Ainur Elmgren, a graduate in political history in Helsinki.
Outrageously the unions invited the government parties to speak from the stage. But they were comprehensively booed. Only the True Finns dared to send a well-known representative, Sampo Terho (leader of the parliamentary group). Several demonstrators thought it was comical to hear someone who always wanted to seem as "different" now defending the government.
From the platform, nothing was said about continuing the struggle. Among workers, however, there was a fighting mood. We got very good response.
Workers' views:
Bus driver Melanie Kircher:
"100 percent are on strike at my garage. Three out of five bus companies in Helsinki are at a complete standstill today.
"Women are hardest hit by the government's attacks, as more have low salaries and depend on overtime pay. Moreover they also propose cuts in child allowance. To go along with this is not an option. It is not right for the government to step in and decide over wages. The need for a general strike is discussed in the workplaces".
Kimmo Tanner works as a security guard and Mikko Hakkinen is a telemarketer:
"The enormous disappointment over the government is turning into anger. No one buys government lies, such as that we in Finland have higher wages when they are actually lower than in comparable countries. Finland is in 4th place in the world in terms of productivity. That's how hard we already work.
"To stop the attacks, we need longer strikes with everyone involved."
Many strikers we spoke with mentioned that the rich are untouched by the cuts and evade tax. Kimmo and Mikko mentioned the hypocrisy that one of the ministers charged with tax evasion was not forced to resign.
Kristiina Koskiluoma organises social workers in Talentia union:
"This is a neo-liberal attack, it is Thatcherism. The Conservatives want to turn against the unions and the working class."
Like many others, she makes the point that cuts are not a solution, as countries such as Greece and Portugal shows. It only aggravates the crisis in a downward spiral.
"Social workers are suffering the ending of compensation when they are sick and of a harder work environment due to reduced social benefits. Pre-school teachers are organized by Talentia. The children's groups hit are becoming larger. It's a very polarized situation. The desire to fight back only grows in the workplace while the government still has the support of a layer."