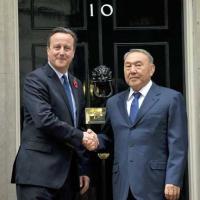 Letter from Campaign Kazakhstan secretary
Just before the recent visit to London of the president of Kazakhstan, Nursultan Nazarbayev, the Secretary of Campaign Kazakhstan wrote the following letter that was published in full in the Guardian newspaper and on the web-site of Campaign Kazakhstan.
The Financial Times has followed the visit closely, describing it as part of a major privatisation drive. In an article on 13 November, the FT points out that the currency – the tenge – has lost a third of its value since August. The country's foreign exchange reserves are dwindling and the current account deficit is ballooning. Up for sale are large parts of the mining and oil industry, air transport and even the actual port of Aktau.
Nazarbayev's minister of investment and development is quoted as saying in London: "We are not only going to privatise big companies. If a company cannot be privatised, it will be closed".
As Mike Whale explains, ahead must be big struggles of workers for their livelihoods and for democratic and human rights.
Dear Sir/Madam,
Following the much publicised and criticised recent visit of Chinese leader Xi Jinping, the British government is now preparing to meet and greet Nursultan Nazarbayev, the leader of Kazakhstan. Nazarbayev, like Xi Jinping has no regard for human rights. Opponents of his regime are ruthlessly dealt with. He is a dictator in all but name as only tame opposition parties are allowed to contest elections.
Those who claim that the way to liberalise countries like Kazakhstan is to do business with them should look at the facts. In 2011, 70 oil workers protesting in Zhanoazhen were shot down by armed police. Survivors of the massacre have struggled to find work or even get proper medical care. Instead of remorse after the massacre, Nazarbayev promoted the local mayor and launched a "forward plan" which among other things has given the courts powers to jail union leaders for calling a strike for up to 12 years.
Tony Blair, who has been paid millions by Nazarbayev for "consultancy", should be ashamed that lawyers like Vadim Kuramshin, who have defended opponents of Nazarbayev in the courts, continue to be arrested and jailed on trumped up charges. Aron Atabek, a renowned Kazakh poet, also remains in prison after protesting at the destruction of workers' homes. Workers who are trying to organise independent and free trade unions face victimisation, harassment and often worse.
While the living standards of ordinary people in Kazakhstan fall due to devaluation linked to the fall in commodity prices, Nazarbayev himself has amassed a huge fortune, making him one of the richest men in the world. His wealth has come through the selling off of Kazakh oil, gas and mineral companies to US, Russian, Chinese and British companies. British business may profit from closer ties with Kazakhstan, but it will be on the back of further repression and increased poverty for the Kazakh workers.
By welcoming Nazarbayev and continuing to support trade with Kazakhstan, the British government is propping up a dictatorship. Is this what Cameron and Osborne mean when they talk about promoting "British values"?
Yours sincerely Mike Whale (Secretary of Campaign Kazakhstan).