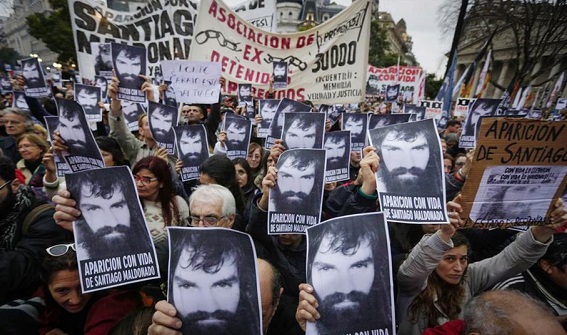 Este 1 de septiembre se cumplía un mes de la desaparición de Santiago Maldonado, cuando participaba en las últimas movilizaciones del pueblo mapuche de la comunidad Lof Cushamen en la provincia de Chubut, en La Patagonia. El 1 de agosto fue la última vez que fue visto por varios testigos, cuando la Gendarmería Nacional, fuerza represiva de carácter militar y policial, que suele custodiar las fronteras del país, lo cargaba en una camioneta. Desde entonces, tanto la Gendarmería como el gobierno de Macri, a través de su ministra de Seguridad, Patricia Bullrich, no sólo no da información sino que la que da es falsa, recordando cruelmente las mentiras y engaños que suministraba la dictadura de Videla cuando las madres de Plaza de Mayo reclamaban por sus hijos.
Para defender a la Gendarmería se plantean todo tipo de historias absurdas… que si lo vieron en Córdoba, yendo a Corriente o, la última, que estaba en Chile y lo habían asesinado. Todo tipo de hipótesis con el objetivo de crear confusión y tapar la actuación de la Gendarmería y la del propio gobierno, cuya política represora tiene como objetivo favorecer a las multinacionales, en este caso a Benetton: dueño de 960.000 hectáreas de tierra patagónica*, entre ellas las pertenecientes a la comunidad mapuche, y que campa a sus anchas con sus camionetas y sus hombres dando órdenes a la gendarmería y hasta al mismísimo jefe de Gabinete de Patricia Bullrich, Pablo Noceti, que "casualmente" ese día se paseaba por la zona.
Este 1 de septiembre, la familia de Santiago Maldonado conjuntamente con las organizaciones por los derechos humanos como El Encuentro, Memoria, Verdad y Justicia, las madres de Plaza de Mayo, Línea Fundadora, las abuelas, los Hijos, sindicatos y partidos políticos, convocaron una movilización y una concentración en Plaza de Mayo y en el resto del país, que ha sido contundente.
En Buenos Aires se concentraron cientos de miles de personas, desbordando las calles y señalando la responsabilidad del Gobierno —que lleva un mes evitando y obstaculizando la investigación de lo sucedido— y exigiéndole la aparición de Santiago y que se juzge a los culpables. La marcha fue muy combativa con gritos de ¡asesino, asesinos!, o "yo sabía, yo sabía, a Santiago Maldonado, lo llevó gendarmería", mientras uno de los familiares desde la megafonía exigía la dimisión de la ministra de Seguridad Bullrich, respaldado por los gritos de "Fuera, fuera, que se vaya". Es un clamor popular que el Estado está protegiendo a los policías culpables.
¡Abajo el gobierno Macri!
La reacción del gobierno Macri, aislado y débil socialmente, está siendo cada vez más histérica. Aunque la marcha fue tranquila, al finalizar decenas de encapuchados, probablemente organizado desde el poder con policías infiltrados, comenzaron una batalla campal contra la policía que duró horas en distintos puntos de la ciudad de Buenos Aires, que terminó con 27 detenidos, de los cuales 23 estaban heridos. La actuación policial fue sumamente agresiva, deteniendo a periodistas y fotógrafos.
También ha sido muy importante toda la solidaridad y debate que se ha generado en el día a día por todo el país y a nivel internacional. En los barrios, en las fábricas, obreros como los de Pepsi Co, o el de la fábrica de dulces Mantecol, que fue expedientado por la patronal por haber colocado un cartel,… todos se preguntan dónde está Santiago Maldonado. También la CTERA, sindicato docente, sacó material para debatir el tema de Maldonado y los desaparecidos, que ha sido aplaudido por la mayoría de los padres, por supuesto no así por aquellos que comulgan con el régimen. Los periodistas de distintos medios se han expedido, los hospitales, las calles llenas de pintadas y de carteles pidiendo por la aparición con vida de Santiago Maldonado.
Toda la sociedad se ha levantado indignada, planteando ¡Nunca Más! Antes fue el 2×1 y ahora la desaparición forzada. Es una sociedad marcada por los 30.000 desaparecidos de la dictadura. Pero desde 1983, final de la dictadura y principio de la democracia burguesa decadente, ha habido otras 210 desapariciones. La más sonada fue la del compañero Julio López, que declaró en un juicio contra torturadores y en la segunda fase de su declaración no pudo llegar al juzgado porque fue secuestrado. Después de 11 años aún no se ha encontrado su cuerpo. Otro caso importante fue el de Luciano Arruga, al que su hermana logró encontrar en el cementerio en una fosa con el nombre de NN (sin nombre), tras 8 años desaparecido.
El aparato del Estado sigue infestado de elementos fascistas y torturadores, que desde la llegada de Macri al poder se sienten envalentonados y amparados. Es obvio que no sólo hay que encarcelar a los torturadores y represores de alta graduación, sino hacer una limpieza completa, de arriba a abajo. Hay una tradición de asesinatos y desapariciones, que viene desde el siglo XIX. En la Patagonia a principios del XX con las grandes huelgas patágonicas donde fueron represaliados con fusilamientos los obreros que simplemente pretendían un convenio laboral, y ahí empezaron las desapariciones, se los fusiló y se ocultaron sus cadáveres en algún punto del desierto patagónico y también ahí quien mandaba a las fuerzas policiales eran los terratenientes de la zona.
Desde que llegó este gobierno reaccionario y cómplice de la dictadura, cada ataque ha sido contestado de forma cada vez más masiva: los maestros y los estudiantes, el movimiento Ni Una Menos y el movimiento obrero, que obligó a la burocracia de la CGT a convocar una huelga general el pasado mes de abril. Es evidente que hay condiciones para ir mucho más allá y no sólo tirar a la ministra Bullrich sino a todo este gobierno dictatorial y fascista, que rinde pleitesía a los grandes fondos de inversión sin ningún tipo de interés por el pueblo. Quieren arrasar con todas las riquezas del país y hay mucha. Es necesario la organización de una gran huelga general. Hay las condiciones, la fuerza y la conciencia, sólo falta la organización de esa fuerza.
* El Estado argentino en su momento regaló estas tierras a un ciudadano inglés, Rodger, quien a su vez las vendió a la compañía de Tierras del Sud Argentino, perteneciente al grupo Benetton.
Special financial appeal to all readers of socialistworld.net

Support building alternative socialist media

---

Socialistworld.net provides a unique analysis and perspective of world events. Socialistworld.net also plays a crucial role in building the struggle for socialism across all continents. Capitalism has failed! Assist us to build the fight-back and prepare for the stormy period of class struggles ahead. Please make a donation to help us reach more readers and to widen our socialist campaigning work across the world.

Donate via Paypal

CWI- Please inform us if you are reproducing any material from this site.