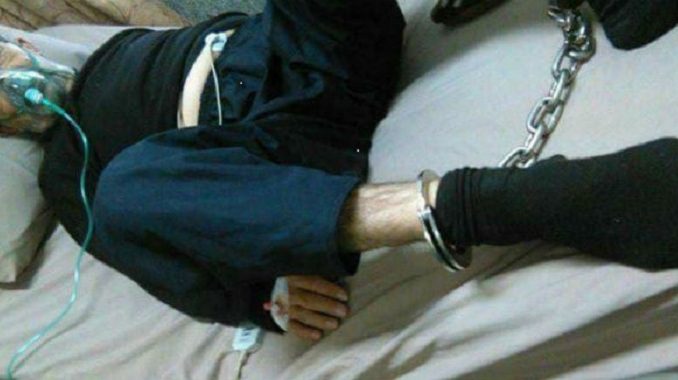 On Saturday 11 November Mahmoud Salehi, a jailed and seriously ill Iranian trade unionist, was moved back to Saqqez prison from the Khomeini Hospital in Saqqez, despite the pleas of his family.
Mahmoud Salehi, 55, is an Iranian labour activist and trade unionist from Iranian Kurdistan. He is a co-founder of the Coordinating Committee for Forming Labour Organisations. He has spent two and a half years in prison just for taking part in this committee. Other political charges brought against him have meant he has spent a total of eight years in prison since the 1979 revolution.
Salehi was arrested on the eve of International Labour Day in 2015. He charged with "propaganda against the government" and "membership in hostile associations". This resulted in Salehi being sentenced to nine years in prison. He appealed against the ruling, and was later released because of his bad health condition. The sentence was mitigated to one year and remained pending while he did not have a defence lawyer.
Salehi was again arrested on 29 October 2017 in his home town of Saqqez, in Kurdistan Province, and was put into jail to serve the one-year sentence. He suffers from heart problems and kidney damage because of spending years in prison. He underwent haemodialysis (?) twice a week until his arrest.
On 3 November, Salehi was transferred to hospital because his health condition worsened in prison. During his stay in hospital, the security forces handcuffed him to a bed – a photograph of which was widely circulated on social media. Despite his dangerous condition and contrary to doctors' advice, Salehi was sent back to prison because. His family stated the judiciary and the Intelligence Ministry decided not to allow Salehi sick leave.
Iranian labour unions and organisations, as well as 536 labour and social right activists, condemned the mistreatment of Salehi and hold the regime responsible for his life.
Please send urgent protests to:
Leader of the Islamic Republic
Ayatollah Sayed Ali Khamenei
Twitter: @khamenei_ir (English) or @Khamenei_fa (Persian)
Email: info_leader@leader.ir or contact@leader.ir
President of the Islamic Republic of Iran
Hassan Rouhani
Email: media@rouhani.ir
Twitter: @HassanRouhani (English) and @Rouhani_ir (Persian)
The Judiciary of the Islamic Republic of Iran – High Council of Human Rights
info@humanrights-iran.ir