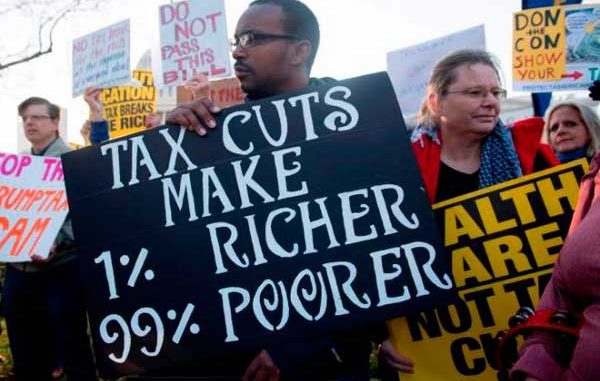 El congreso norteamericano ha aprobado una ley que reducirá 1,5 billones de dólares los impuestos a las grandes empresas y millonarios, en los próximos diez años. Donald Trump cumple así su promesa, dando un paso más en su contrarrevolución política y social. El punto central es la reducción del Impuesto de Sociedades del 35% actual al 21%, que comenzará a aplicarse este año.
Aluvión de millones para los ricos
Wall Street Journal publicó un análisis del impacto de la ley en algunas industrias. El gigante de las telecomunicaciones AT&T ahorrará 1.600 millones de dólares; Home Depot, uno de los grandes en venta online de muebles y artícu­los de hogar, verá aumentar sus beneficios otros 1.600 millones; Verizon obtendrá 1.200 millones y la industria del petróleo sólo este año ahorrará más de 150.000 millones de dólares en impuestos. Algunas empresas, de manera hipócrita, han anunciado que compartirán con sus trabajadores estas ganancias. AT&T dice que utilizará 200 millones (un 12,5% de lo que se ahorrará) para dar una prima de mil dólares a sus 200.000 empleados. A la vez, para compensar esta "generosidad", ha notificado el despido de 600 trabajadores.
El gobierno y los republicanos han hecho una sonora campaña presentando esta ley como beneficiosa para la "clase media trabajadora", argumentando que creará empleo y subirá los salarios. Pero, como ha sucedido con otros recortes de impuestos aplicados durante las últimas cuatro décadas, nada de eso sucederá.
Actualmente las empresas norteamericanas cuentan con un efectivo de 1,63 billones de dólares, que no utilizan para la inversión productiva ni para la creación de empleo. Según Associated Press, desde septiembre de 2016 al mismo mes de 2017, las empresas del S&P 500 gastaron más de 500.000 millones de dólares en recomprar sus acciones, más de 400.000 en pagar dividendos y 1,48 billones de dólares en fusiones y nuevas adquisiciones de empresas. Y como confirma un artículo de Reuters: "Las empresas estadounidenses dicen que utilizarán las inesperadas ganancias de la reforma de impuestos para recomprar acciones, retirar deuda y otras medidas favorables a los accionistas".
Más desigualdad social y económica
La nueva ley incluye algunas migajas para las clases medias y los trabajadores, como aumentar la deducción por hijo o por hipotecas. Aunque, a diferencia de las grandes empresas, que disfrutarán su regalo de manera permanente, estas deducciones tendrán sólo un carácter temporal, hasta 2025. Además, la ley incluye medidas que impactarán negativamente en las familias con menos ingresos, como la eliminación de las ayudas del gobierno para contratar un seguro médico y que dejará a millones de personas sin ningún tipo de cobertura sanitaria.
En los últimos años la transferencia de renta y riqueza fue mayor en EEUU que en cualquier otra economía desarrollada, convirtiéndose en uno de los países más desiguales del mundo. La desi­gualdad social está en su nivel más alto desde los años veinte. Hace unas semanas un grupo de economistas, encabezado por Tom Piketty, publicó un informe que señala que el 50% de la población de EEUU en 1980 recibía el 20% de la renta nacional, en 2016 ese porcentaje de la renta había caído al 13%. En el mismo período, el 1% de la población norteamericana aumentaba su parte de la renta nacional del 10% al 20%.
Esta nueva rebaja de impuestos producirá otro masivo trasvase de riqueza de la clase trabajadora a la clase capitalista, ahondando aún más las desigualdades sociales y la pobreza. Además, la caída de la recaudación por impuestos repercutirá directamente en un aumento del déficit presupuestario y de la deuda, que será utilizado como pretexto para atacar aún más los programas sociales y los derechos básicos de los trabajadores.
Special financial appeal to all readers of socialistworld.net

Support building alternative socialist media

---

Socialistworld.net provides a unique analysis and perspective of world events. Socialistworld.net also plays a crucial role in building the struggle for socialism across all continents. Capitalism has failed! Assist us to build the fight-back and prepare for the stormy period of class struggles ahead. Please make a donation to help us reach more readers and to widen our socialist campaigning work across the world.

Donate via Paypal

CWI- Please inform us if you are reproducing any material from this site.