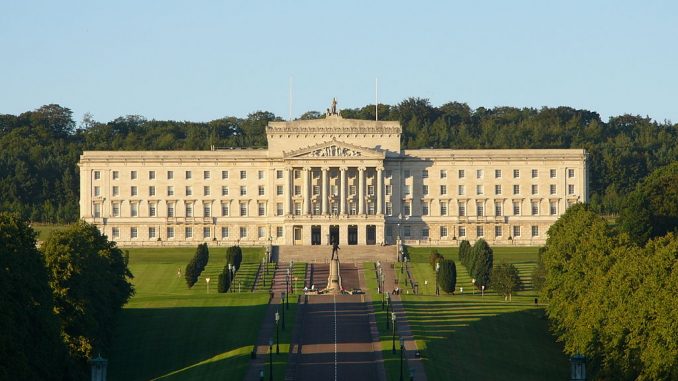 On 12 February, Prime Minister Theresa May and Irish Taoiseach (prime minister) Leo Varadkar, flew to Belfast to supposedly clinch a deal between Sinn Fein and the Democratic Unionist Party (DUP) that would see the power-sharing executive at Stormont restored after it collapsed in acrimony 13 months ago.
May's claim that an agreement would be "up and running very soon" humiliatingly came to nothing when Arlene Foster, DUP leader, announced that her party was not going to sign up. The media had speculated that a deal was in the offing over several contentious issues, concerning same sex marriage rights, how to deal with 'Troubles legacy' issues and, in particular, regarding an Irish language act. But fierce opposition from sections of the DUP leadership and the party's grassroots forced Foster to back off.
The DUP leader is partly the victim of her own 'success'; for months the DUP adopted an increasingly hardline approach on an Irish language act, to shore up their support in the Protestant community. In doing so, they stirred up sectarian tensions and fears and made unfounded claims, including that Irish language would become compulsory teaching in all schools.
Sinn Fein
Sinn Fein also hardened their position in recent months, attempting to restrengthen their position as the largest party among Catholics. The party made little effort to counter provocative proposals from some Irish language activists, including one who during a radio interview advocated Gaelic street signs on the Shankill Road, a well-known working class Protestant area of Belfast.
Sinn Fein insists on no return to power sharing unless there is agreement on an Irish language act and no return to the "status quo". The leadership is well aware that many working class Catholics were angered the party made what they viewed as too many concessions to the DUP when sharing power and felt they got little in return. For years Sinn Fein and the DUP presided over deep austerity cuts and worsening poverty.
The election to the Stormont Assembly of two candidates pitching themselves to the left of Sinn Fein, in West Belfast and Derry – supposedly Sinn Fein strongholds – alarmed the leadership. Sinn Fein leaders were also slow to take action over the Renewable Heat Incentive 'cash for ash' scandal that could squander up to £700 million of public money for the benefit of businesses and enveloped the DUP leadership. It was only widespread anger among Catholics that forced Sinn Fein to call time on power sharing.
The 'talks process' is now in a quagmire. Foster has called for a period of direct rule from London while leaving open "two to three months" for new negotiations. Direct rule is strongly opposed by Sinn Fein and the nationalist SDLP, and also the Irish government. Understandably most Northern Catholics do not regard the Tory government as a "neutral partner" in negotiations, given its reliance on the DUP's 'supply and demand' support to stay in power. Sinn Fein's call for a period of 'joint direct rule' between London and Dublin, in turn, is anathema for Unionists and opposed by the Tory government.
There may be intensified efforts by the British and Irish governments to find an agreement between the local parties ahead of the 20th anniversary of the Good Friday Agreement. This deal brought a formal end to decades of conflict and saw the introduction of power-sharing at Stormont.
To great fanfare, the Good Friday Agreement was held up as a model for other 'peace processes' throughout the world to follow. For the 'historic anniversary' to be marked in April with Sinn Fein and the DUP at each-other's throats and failing to agree to share power would be deeply embarrassing for the establishment on both sides of the Irish Sea.
But today's political paralysis was always an inherent outcome of the Good Friday Agreement. It was not a genuine attempt to overcome divisions between Catholics and Protestants but actually institutionalised sectarianism (for example, the stipulation that Members of the Legislative Assembly officially state they are 'nationalist' or 'unionist' or 'other'). Instead of the much heralded "peace dividend" promised 20 years ago, Northern Ireland today is the worst economic performing region of the UK. Over 25% of children live in poverty, public services are slashed, 'peace walls' still divide Catholic and Protestant working class communities, and basic rights, such as same sex marriage and a woman's right to choose (which both Sinn Fein and the DUP oppose) are denied.
The policies of Sinn Fein and the DUP – austerity and their making sectarian capital out of issues – can only continue and compound the problems facing working class Catholics and Protestants in Northern Ireland. The DUP's role in propping up the Tory government also means more austerity misery for the working class across these islands. And in Southern Ireland Sinn Fein's new leader, Mary Lou McDonald, publicly stated recently her intention to seek to share power with either of the two largest right-wing parties, Fianna Fail and Fine Gael.
Working class people and youth in Northern Ireland desperately need a party that acts in their interests, opposing cuts and cutting across sectarian division. Our sister party, the Socialist Party in Ireland, has played a key and courageous role in campaigning for a strong, independent, working class force in the North for many years. Their initiative, Cross Community Labour Alternative, is an important step in this direction, making an impact in recent elections and drawing together trade union and community activists.
Complicating the situation even more in the North is Brexit. While a majority in Northern Ireland voted to remain in the EU, the 2016 referendum was largely split along religious lines; most Catholics who voted backed remain (though many abstained, especially in the most deprived areas) and of those Protestants who voted most opted to leave.
While there is no enthusiasm for the big business agenda of Brussels, many Catholics fear that exiting the EU will leave them without a 'buffer' to counter Westminster rule, which currently is a Tory government beholden to the DUP. Sinn Fein, formerly an anti-EU party, now champions the myth that the bosses' EU is a guarantor of democratic and civil rights.
All the parties oppose a return to a 'hard border' between the North and Republic because of the economic dislocation it would cause and fear that customs posts would be an highly visible sign of division and a potential target for republican dissident paramilitaries. Yet the anti-customs union position of the pro-Brexit faction of the Tory party, supported by the DUP, makes a hard border a possibility.
Tories divided
Theresa May, facing a cabinet divided on Brexit, has tried to fudge the issue. Last December, the UK government stated there would be "specific arrangements" for Northern Ireland. If this fails, the EU wants "full regulatory alignment with the Irish republic". However the DUP strongly opposes any measures that give Northern Ireland 'exceptional' status to the rest of the UK. And how can an "alignment" happen if May does take the UK out of the customs union and single market, as she currently states she will do?
Facing such contradictions, May claims to be working on a plan to achieve a "frictionless border" alongside Leo Varadkar. However Varadkar warned that achieving this would be "the tricky bit" in Brexit talks. An exasperated Financial Times commented: "Calling it the 'tricky bit' is an understatement. A solution to the border issue looks utterly intractable". This newspaper of big business predicts that "Ireland is the issue that could yet derail the entire Brexit process". But it could also see the end of the May government.
If the Irish government stands firm on its demand for full regulatory alignment between north and south, May will have to decide whether to accept and risk being brought down by the DUP. If May attempts to get Varadkar to back down, she will face a nationalist backlash and a dangerous heightening of sectarian tensions.
Playing on Catholics' post-Brexit fears, and their long-held national aspirations, Sinn Fein agitates for a 'border poll', arguing that demographic changes mean that a united Ireland is achievable in the medium term. In doing so, Sinn Fein leaders play down Protestant working class fears of being outvoted into a capitalist united Ireland and dismiss the fierce opposition such moves would entail.
On the basis of capitalism, it is clear that there is no solution to the problems facing working class Protestants and Catholics in the North and South of Ireland and for the working class across all these islands. Only a united working class struggle, with socialist policies, can show a way out of austerity, poverty, injustice and divisions.