Below, CWI reporters provide a selection of 2018 International Women's Day protests and events from across the globe.
Socialistworld.net
Germany
International Women's Day marked the 100th anniversary of women's right to vote and galvanized activists throughout the country, generating discussions about the economic and political restrictions on women's rights: Germany's wage discrimination based on gender is the highest in Europe, with the gap being 21%.
In the legal sphere, a case against Dr. Kristina Hänel caused an uproar, who listed abortion as one of her medical services on her website because this allegedly violates the law against advertisement for abortions. Right-wing parties, like the AfD (Alternative für Deutschland), want to amplify these sexist policies by trying to rescind women's rights and promote traditional gender roles. At the same time, they are spewing racist tropes by blaming refugees and recent migrants for violence against women.
These issues, among others, were put forth during the countrywide International Women's Day demonstrations on March 8th. Eight thousand people took to the streets of Berlin, largely supported by different trade unions and the Left Party which held a large contingent during protests. Around 2,000 joined the demonstration on March 10th in Düsseldorf. SAV members mobilized for these demonstrations and held rallies in many cities.
In Hamburg and Berlin, SAV supported health workers who brought their struggle for more hospital staff to the forefront. In both cities, workers are collecting signatures in support for a referendum on hospitals.
Greece
In Athens and Thessaloniki, hundreds of people took part in demonstrations on International Women's Day. Members of 'Combative and free', the feminist group established by Xekinima (the Greek section of CWI), distributed thousands of leaflets against sexist violence and the women's right to self-defense, as the Greek judicial system usually convicts women who fight back against the men who abuse them. The international women's day demonstrations grow bigger every year.
The days before March 8th, Combative and free organized open meetings in Athens and Thessaloniki, in which around 50 and 60 people took part. At those meetings, that mostly attracted young women, we discussed about the need to organize and fight against work inequality, sexism and violence.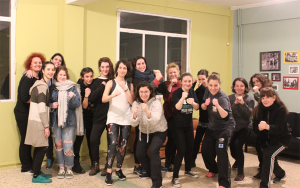 In Athens, Combative and free have also organized the first of a series of lessons on women's self-defence. The first lesson was very successful, filling the young women who took part with enthusiasm!
Italy
Hundreds of thousands of women and men participated in a general strike called by the feminist movement, "Non Una di Meno", which was set up in 2016 and inspired by the Argentinian "Ni Una Menos" movement, started in 2015, against violence against women.
This movement which spread on a national scale was built from below by local and national assemblies, in which many left organizations and feminist associations are involved. The general strike was supported by workers' unions, such as Unione Sindacale di Base, Cobas and CUB trasporti.
The main streets of cities like Rome, Milan, Naples, Turin, Bologna, Genoa, Florence and Palermo were filled by female and male workers and students protesting against huge discrimination against women which still exists in Italy, for equal pay, equal access to work, equal opportunities and rights, total access to abortion and to a public national health care system, against sexism, domestic violence and violence against women in general. The demonstrations saw the participation of the new left movement, Potere al Popolo (Power to the People), which support the Non Una di Meno movement and the fight against sexism and gender violence and inequalities.
Even though Italy is the seventh richest capitalist country in world, in terms of GDP, essential rights, such as access to work, salary equality, efficient public services are not guaranteed for the majority of the population, especially for women. Women earn 10.9 % less the men and only 48.5 % of women are workers (moreover a lot of them are part-time workers). Female workers are exploited as workers and as women, they face every day the violence of a capitalist state that doesn't permit them to be economically independent. Economic and material independence is essential to allow women to live in dignity and to fight against domestic violence. In Italy, every year more than one hundred women are killed by a man, most of the time a member of the family. Seven million women have experienced physical or psychological violence at least once in their lives.
Because of the huge influence of the Vatican State and the Catholic Church on Italian society, the right to abortion, which is officially admitted by the law, is in reality oftern denied because of the presence of 'conscientious objectors' in public hospitals (70% of doctors). They claim the right to not practice abortion because is against their "ethical positions". In addition, because of the austerity policies, cuts and privatizations, implemented by right and left governments in the last thirty years, the access to public health care system and public school for children is more and more difficult.
Resistenze Internazionali (CWI in Italy) supports and is present in the Non Una di Meno movement. We took part in the demonstrations on this important day of struggle in several cities, such as Bologna and Genoa. We sold several copies of our paper Resistenze and of our book about socialist feminism. We distributed pamphlets calling for equal rights in job places, equal pay and opportunities, free access to public services, an end to cuts and privatizations, more investment in women's crisis centers, free access to abortion and health care.
We stand for a united struggle against the double oppression which women suffer as workers and as women. The capitalist system is not able to guarantee the complete liberation of women, because is based on the exploitation of male and female workers, and because of its inner contradictions feed gender discrimination and inequalities, sexism and gender violence. We stand for a united struggle of women and men against sexism and capitalism!
Sweden
Stockholm
http://www.facebook.com/RattvisepartietSocialisterna/videos/1064577430347150/
Göteborg:
http://www.facebook.com/kristofer.lundberg.7/videos/10155483915967894/
Hong Kong
Socialist Action (CWI in Hong Kong) organised an IWD demo together with migrant workers' organisations, including KOBUMI (Indonesia) and FADWU (Philippines). The main slogans were, "#Metoo – fight for real change!" and "Down with sexism, racism and discrimination". This was our largest IWD demo, so far, with over 100 marching.
In Hong Kong, for many years we have been forced to initiate our own IWD demonstrations because 'traditional' feminist organisations do not go to the streets.
The demo was very international, with speeches in English, Chinese and Indonesian, and women from other nationalities also joining. There were several media reports also in Indonesian, English and Chinese media.
Socialist Action has had many joint activities and meetings with KOBUMI. Fighting the slave-like exploitation of 300,000 migrant domestic workers in Hong Kong, who work 16-hour days, six days per week, for very low pay, is a key issue for socialists on IWD and every day of the year.
A very colourful, short video by an Indonesian journalist of the Hong Kong demo: http://netcj.co.id/embed/225739/Peringatan-Hari-Perempuan-Internasional-di-Hong-Kong
Taiwan
International Socialist Forward (CWI in Taiwan) joined with other feminist organisations in a small but lively solidarity demonstration with the global women's movement. Our banner had the slogans, "#Metoo – fight for real change!" and "Down with patriarchy and capitalism!" Two ISF comrades addressed the demo and we gained three new women supporters.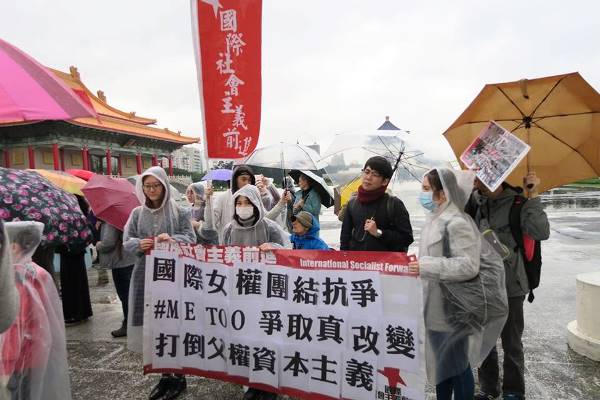 Quebec
Chantal
Every year in Montreal on IWD many groups organise many different actions around the city. CWI comrades participated in three of these actions.
The first was organized by FFQ (Fédération des femmes du Québec) to protest cuts in healthcare and social services. The participants (about 100) then moved in front of a temping agency to protest against the poor work conditions of many women working for them. This was mostly a union attended.
The second action we participated in was organised by CUTE, a student activist group who protest against unpaid internships. In Québec, internships in nursing and social work are unpaid, compared to medical or engineering interships that are paid. IWD's protest was focused against sexual violence and exploitation.
The third action was the 'traditional' IWD demo. It was organised by a community group called 'Women of Diverse Origins 'and endorsed by the '8th of March Collective'. Many different groups, such as unions or social groups participated in the different events. The march started at 'Place du 6 décembre 1989', a small park that was created to honour 14 women who were murdered during the Polytechnic school shooting of 1989. Regardless of the snowfall, about 300 joined the march. Community groups and unions organized and participated in the march. The only political party that was noticeable was Québec Solidaire (new left party).
At every event, there were talks about the #meToo movement, often asking what could done next, but without any real solutions.
The official slogan for the day was 'feminists until things change!' or 'féministes tant qu'il le faudra!'. One of the good things about the 'official' demands is that they decided to continue the fight for 15$. They also demanded more money into health care and social programmes. Demands to protect women from violence and protect against racism and discriminations were also made.
Nigeria
H.T Soweto
Just like previous years, International Women's Day in Nigeria was celebrated by the trade unions with low-key activities. Compared with efforts that go into preparation for May Day, how the trade unions mark women's day is one way to understand the status of working women in the unions – a reflection of their overall status in a deeply patriarchal and neo-colonial capitalist society that Nigeria is.
The Nigeria Labour Congress (NLC) appears to have done nothing at the national level to mark the women's day. Efforts by comrades in Abuja to know what plans were for the occasion bore no fruit. Instead comrades had to join a mass protest called by striking university education workers (SSANU, NASU and NAAT) which was fixed for March 8 in Abuja to demand payment of owed allowances, better funding of education etc.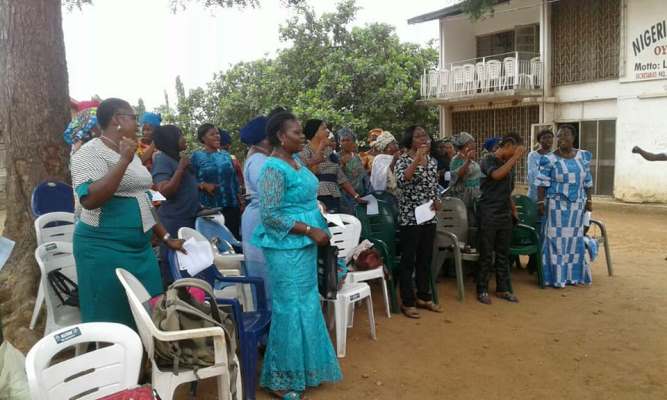 But in a few other states, a number of activities were organized by the labour unions. Also some activities were organized by Non-Governmental Organizations (NGOs) to mark the day. The Socialist Party of Nigeria organized a public meeting in Ibadan Oyo State. The Democratic Socialist Movement (DSM) – CWI Nigeria – produced 2000 copies of leaflet (http://www.socialistnigeria.org/page.php?article=3554) which was circulated in all the activities of the women's day celebration we organized or participated in from 8 to 10 March 2018. In the leaflet, we called for an urgent campaign to be launched by the trade unions and student movement against sexism, gender discrimination and oppression of women in the home, school and workplace.
March 8
Members of the Democratic Socialist Movement (DSM) participated in two events organized by the trade unions in two cities on March 8. One was organized by the United Labour Congress (ULC) – a new labour centre formed from one of the factions that emerged in the NLC after controversy arising from its 2015 delegate conference. The event attracted about 150 working women who gathered at the secretariat of the Nigeria Railway Workers Union to celebrate the women's day. It also served as an occasion to inaugurate the leadership of the women commission of the trade union federation.
After this, there was a lecture delivered by Prof. Dixton Bolajoko on the challenges women face in the trade union movement. This was a very inspiring discussion in which Prof. Dixton tried to use her own experience as an ASUU (university teachers' union) activist to motivate the women workers to get active in union activities and struggles.
The event ended on a high note with the women workers committing themselves to play more active roles in the union. Members of the DSM attended this event and circulated leaflets.
On the same day, DSM members participated at a public lecture organized by the Nigeria Labour Congress (NLC) Oyo state chapter in Ibadan Oyo state. We also circulated leaflets and displayed political materials including copies of the Socialist Democracy (SD) – the organ of the DSM.
Apart from the two trade union events, members of the DSM branch at the Obafemi Awolowo University (OAU) organized a stall in the centre of the town where they displayed Socialist Democracy and also handed out leaflet.
March 9
We also participated in a public symposium organized by the teachers' union in Ajegunle, Lagos on Friday March 9 to discuss women's struggle. The program was organized by the Nigeria Union Teachers (NUT) Ajeromi Ifelodun chapter led by comrade Dagga Tolar (acting general secretary of the DSM) in conjunction with PEN Nigeria. About 93 female teachers were in attendance.
March 10
Also, the Socialist Party of Nigeria (SPN) organized a public symposium in Ibadan, Oyo state on Saturday March 10 to discuss inequality and women oppression in the home and workplace. The SPN is a newly registered political party formed by the DSM in collaboration with workers and youth activists. The party won official recognition in January of this year after fighting for nearly for years to be allowed to stand candidates in elections.
The public symposium which held at the NLC office in Ibadan attracted over 50 people, mainly women, from the 33 Local Government Areas in the city. The symposium was addressed by founding member of the DSM, Ayo Arogundade, Mrs. Olanrewaju O.A, Comrade Adekoya Shewa (Member of DSM women committee) and Rasheedat (a member of the CWA). At the end of the program, about 25 people agreed to join the party.
Similarly, student members of the DSM in Adeyemi College of Education (ACE) Ondo state organized a public symposium on the platform of the Education Rights Campaign (ERC) to discuss the struggle against education attacks as well as 'the importance of women in the society". About 35 students were in attendance. The symposium was addressed by Osun State Secretary of DSM, comrade Kola Ibrahim, ERC National Secretary Omole Ibukun and Mr. Akingbola (Chair of the institution's branch of Non Academic Staff Union). At the end of the day 8 students signed up to join the ERC in ACE Ondo.
Pakistan – Sind