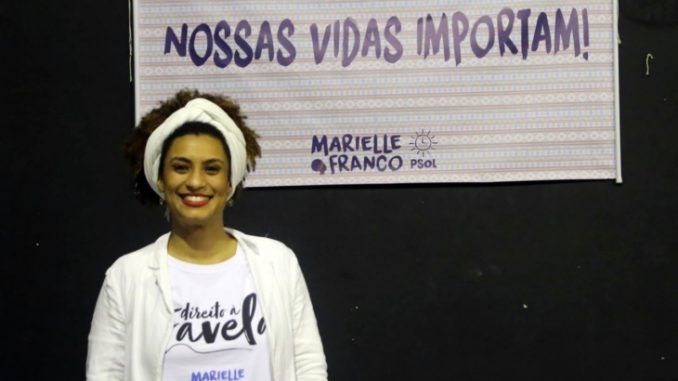 En la noche del 14 de marzo, Marielle Franco, concejal del PSOL en Río de Janeiro, fue brutalmente ejecutada a tiros cerca del centro de la ciudad. Junto con ella, también fue asesinado Anderson Pedro Gomes, el conductor del vehículo en que se encontraban.
La policía militar identificó nueve tiros directos dirigidos al asiento trasero del vehículo, evidenciando que el blanco de los asesinos era Marielle y sabían dónde estaba sentada a pesar de los cristales oscuros del coche.
Marielle tenía 38 años de edad y deja una hija de 20 años. Mujer, negra, bisexual, nació y vivió en el complejo de favelas de Maré, en Río de Janeiro, donde comenzó su activismo en defensa de las mujeres negras y de los derechos humanos. Siempre fue militante de las causas justas del pueblo pobre y trabajador de Río de Janeiro.
En 2016 logró ser la quinta concejala mejor votada de Río como militante del PSOL (Partido Socialismo y Libertad). Como concejal, asumió con fuerza la lucha en defensa de los derechos humanos y contra los sistemáticos y bárbaros abusos policiales en las favelas de Río contra el pueblo pobre y negro.
En Brasil, un joven negro es asesinado cada 21 minutos. De cada 100 personas asesinadas en Brasil, 71 son negros. Los asesinatos de mujeres negras crecieron un 22% entre 2005 y 2015. Esto sucede al mismo tiempo que la mortalidad de las personas no negras cayó un 7,4%.
A principios de febrero, el gobierno de Michel Temer decretó una intervención Federal en el Estado de Río de Janeiro relacionada con la seguridad pública. Impuso a un general del ejército como responsable de la seguridad en el Estado y promovió una intervención militar sobre favelas y comunidades.
Con eso, están reproduciendo en Río la misma práctica represiva y abusiva, volcada contra los pobres, negros y favelados, que las tropas brasileñas y de otros países implementaron en Haití en nombre de las Naciones Unidas.
Marielle Franco se convirtió en una figura central de la oposición a esa intervención militar en el estado de Río. Hace dos semanas asumió la función de ponente de la comisión creada por el Ayuntamiento para acompañar las acciones del ejército.
Tres días antes de ser ejecutada, Marielle denunció vehemente la acción arbitraria y abusiva de la policía militar en la favela de Acari, donde fueron asesinados algunos residentes y la población amenazada por el 41º Batallón de la Policía Militar, conocido como el "Batallón de la muerte".
En Río de Janeiro, las acciones corruptas, violentas y racistas de la policía militar y sus vínculos con grupos de exterminio son evidentes. No cabe duda de que el asesinato de Marielle tiene relación con su lucha contra esta situación.
En los últimos años, principalmente tras el golpe parlamentario que llevó a Michel Temer al poder, Brasil ha vivido un aumento cualitativo de las acciones represivas institucionales y extra-institucionales contra los movimientos sociales.
La política de criminalización de dirigentes y movimientos permite utilizar las nuevas leyes y estructuras institucionales creadas durante los gobiernos del PT (Partido de los Trabajadores), principalmente durante la Copa del Mundo y las Olimpiadas.
Hemos visto a líderes y activistas siendo sistemáticamente amenazados, atacados y asesinados. Dos días antes del asesinato de Marielle, un líder de los pueblos amazónicos, Paulo Sérgio Almeida Nascimento, de 47 años, fue asesinado con cuatro tiros en el municipio de Barcarena (estado de Pará). Pablo encabezaba la lucha contra la empresa minera noruega Hydro que pretende construir una cuenca de desechos en la región afectando dramáticamente el medio ambiente y las vidas de las poblaciones locales.
Como consecuencia de la grave crisis que vive el país y de los ataques sobre los trabajadores y la población, se ha desarrollado una resistencia en todos los niveles de la sociedad, pero aún sin la coordinación y la estrategia adecuadas para la victoria. Es fundamental unir las luchas en defensa de la vida y de los derechos. Es crucial la construcción de una alternativa de izquierda y socialista para la clase obrera y todos los oprimidos y explotados.
Por Marielle Franco, por Paulo Sérgio y por todos los negros y negras, indígenas, sindicalistas, sin tierra y sin techo, activistas de los movimientos sociales, nuestra lucha debe continuar con mucha más fuerza, unidad y organización.
La LSR (CIT en Brasil) es parte de esa lucha.
¡No nos van a callar, no nos impedirán luchar por nuestras vidas!
¡Marielle presente! ¡Hoy y siempre!
Special financial appeal to all readers of socialistworld.net

Support building alternative socialist media

---

Socialistworld.net provides a unique analysis and perspective of world events. Socialistworld.net also plays a crucial role in building the struggle for socialism across all continents. Capitalism has failed! Assist us to build the fight-back and prepare for the stormy period of class struggles ahead. Please make a donation to help us reach more readers and to widen our socialist campaigning work across the world.

Donate via Paypal

CWI- Please inform us if you are reproducing any material from this site.