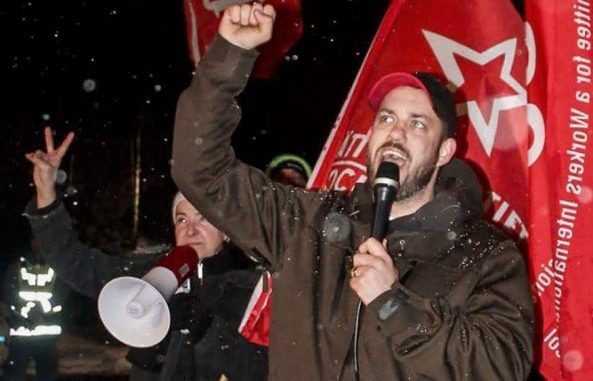 Kristofer Lundberg, a leading member of Rättvisepartiet Socialisterna (Socialist Justice), was recently elected as leader of the Tenants' Union in West Sweden. The union has 77,000 members, organised in 13 districts, in six cities, including seven districts in Gothenburg with 200 local tenants' branches and 130 estate branches. One hundred and fifty people attended the regional council, with 86 delegates. Kristofer was elected as regional president, winning 60 percent of the vote.
Never before has a regional election in the tenants' union received such attention, both before the election and after.
Also, never before has a candidate for regional president received so many nominations and such broad support within the movement. Kristofer Lundberg had got more than 30 nominations – 18 individual nominations, 8 branch nominations (including several from their Annual General Meetings) and four from District Committees.
The chair of the nomination committee opened the discussion at the meeting with a very supportive speech. "Kristofer Lundberg has shown great leadership in his housing policy work for the tenants' union and has managed to involve a new generation in the union. Kristofer has locally – in Hammarkullen and Angered – shown what the tenants' union can do as we become more representative and more active in the community. Policies like the municipal take-over of private housing, stopping privatisations and renovations with no rent increase – these are examples that can be used throughout the region. Above all, he has shown he wants a collective leadership".
Kristofer received 53 votes. The closest opponent of the other four candidates got just 18 votes.
A "controversial" Trotskyist
The election results were reported by the state broadcaster, Swedish Television: "Kristofer Lundberg's candidacy has been seen as controversial because of his involvement in Rättvisepartiet Socialisterna. The discussion about his political sympathies, however, did not prevent him from taking over as president". Before this, they had reported that Kristofer calls himself a 'revolutionary socialist'.
"Rättvisepartiet Socialisterna is a party inspired by Trotskyism"
The tenants' union magazine that goes out to 540,000 members commented after the election: "Kristofer Lundberg's candidacy has been questioned because he is active in Rättvisepartiet Socialisterna, a small party, far out on the left that professes Marxism…The vote spoke for itself. Kristofer Lundberg received an overwhelming 60 percent of the vote. The announcement was met with cheers at the annual meeting".
The newspaper, Göteborg Direkt, that reaches all of the city's households, with a circulation of 1.2 million, wrote that Kristofer: "…wants to make the tenants' union an organisation of struggle and mobilise members. This weekend Kristofer Lundberg was elected as the new chairman of West Sweden – despite opposition from the union tops".
The liberal daily, Expressen/GT, reported the city council leader, from the Moderat [Conservatives] Party, criticising the election, putting a link to a far right website's text about Kristofer.

Historic left turn
What is happening in the Tenants' Union of West Sweden is the biggest left turn in the movement since Otto Grimlund led the organisation from 1924 to 1936. Otto Grimlund was the Swedish representative in the Communist International and a leader of the Swedish Communist Party. He left the Communist Party because of his criticism of Stalinism.
Big efforts were made to try and stop Kristofer from being elected. The people who nominated him were contacted and canvassed and an attempt at a political smear campaign was begun with them, warning about his links with RS. But Kristofer's involvement in our party has never been a secret. He has replied to what has been said on social media and in Offensiv, the weekly paper of Rättvisepartiet Socialisterna (CWI Sweden).
"Socialists have always built up and strengthened mass organisations for the defence of the working class. Attempts to make people suspicious of me have failed. There is a broad consensus within the movement and it is important that the regional council has confirmed this," Kristofer says.
Local struggles
The platform on which Kristofer stood for election was, "Rebuild the Tenants' Union into a fighting organisation". He published material about the type of organisation he believes the tenants' union should be. He did a speaking tour of the districts and published videos on social media about housing policy and the future regional committee he wanted to lead.
In the Sandeslätt area, Kristofer built up an active branch and succeeded in turning it outwards to become a prominent organisation of struggle for tenants' power and influence locally. They won some of the most important housing policy victories of any area in the country.
After 30 years of privatisations around Sweden, the Gothenburg city council was forced to take back more than 900 private apartments in Hammarkullen after a three year fight. A planned privatisation of 450 apartments was also stopped and the city-owned housing company, Bostadsbolaget, was forced to offer renovations without a rent increase and guarantee that everyone could stay. The Sandeslätt tenants' branch has some of the region's largest meeting attendances, with up to 100 participating.

Socialist programme and methods
"I think leadership means leading from the front and supporting members who are in struggle", Kristofer says. "It is a healthy sign that there have been debates and an election with several candidates with different views and backgrounds in the tenants' union.

"As a socialist, I don't hide the fact that I am convinced the movement would be helped and strengthened by the adoption of a clear socialist struggle programme like that which the pioneers fought for 100 years back in time. I have been in Rättvisepartiet Socialisterna since I was 15 years old. The way I do things now is because of the political and organisational training RS has given me over the years.
"Real improvement for the majority of the people doesn't come as a gift from above; it's the result of struggle and organising. Homes at a reasonable cost, regulated working hours, pensions, holidays, etc. have been the result of strikes and mass demonstrations. It is the class struggle that has created and built up the democratic rights we have today. But few talk about this today.
"For many in the social and labour movement, politics has become a path to a career rather than a mission to change society. Many have tried to resist this right wing turn and I have been criticising it for a long time. So, of course, to defend their own power, the right-wingers have been against me.
"The social power in our neighbourhoods and in our workplaces is the real power in society, if only people come to realise the strength that they have".
Special financial appeal to all readers of socialistworld.net

Support building alternative socialist media

---

Socialistworld.net provides a unique analysis and perspective of world events. Socialistworld.net also plays a crucial role in building the struggle for socialism across all continents. Capitalism has failed! Assist us to build the fight-back and prepare for the stormy period of class struggles ahead. Please make a donation to help us reach more readers and to widen our socialist campaigning work across the world.

Donate via Paypal

CWI- Please inform us if you are reproducing any material from this site.