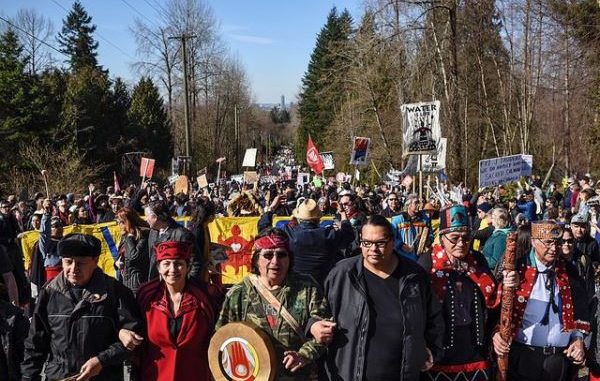 The battle over Kinder Morgan's pipeline to Vancouver is getting nasty. Texas-based Kinder Morgan want to expand a pipeline by an extra 1,000km, from Alberta's oil sands to the Pacific coast. But Kinder Morgan suspended all "non-essential spending" on the pipeline due to the "extraordinary political risks." It set a deadline of May 31st for the federal government to provide guaranteed "clarity on the path forward," or it may cancel the project.
What are these risks? British Colombia's government has a legal case seeking to block any increase in diluted bitumen shipments through BC waters, due to safety concerns.
More significant are several First Nations' court cases objecting to the lack of consultation in the flawed approval process. The Supreme Court of Canada stated that "the Crown is obliged to consult with the group asserting Aboriginal title and, if appropriate, accommodate the Aboriginal right." The pipeline would pass through the traditional territories of First Nations, many of which are staunchly opposed and planning to block construction.
There is widespread public resistance. In one month, 200 people, including two Members of Parliament, were arrested for contempt of court during peaceful protests. Many more will do the same.
The Alberta and Canadian governments, in response to Kinder Morgan, are discussing using billions of taxpayers' dollars to support the project. Alberta's Premier, Notley, is considering "purchasing the pipeline outright." So taxpayers would carry the risks. Alberta's government threatens to restrict gasoline supplies to BC. There are suggestions that the Federal government could withhold transfer payments to BC.
The main target of the pressure is the BC government. However, even if it backed down the "risks" would remain; the court cases cannot be resolved by May 31st and people's resistance will continue. Some politicians have called for army intervention. Others have suggested using the War Measures Act. Is Prime Minister Trudeau willing to unleash the violence seen at Standing Rock?
Trudeau and Notley claim that the pipeline will provide jobs. Yet, Kinder Morgan says, after construction, there will be only 90 full-time jobs. It would export jobs, with the bitumen refined elsewhere. The pipeline would not bring back $100 per barrel of oil or lots of jobs in Alberta. The inevitable leak or spill will destroy thousands of jobs in BC.
The tar sands are Canada's biggest source of CO2 emissions, yet Trudeau claims that the pipeline will help reduce CO2 emissions. It will boost climate change, costing billions of dollars due to fires, floods and other disasters. The jobs it would create are firefighters, emergency responders, dyke builders, etc.
Trudeau
Trudeau claims that BC is obstructing the "national interest." The pipeline threatens more jobs than it provides. It will damage the environment of Canada and the world. It infringes Indigenous rights. Since when is the national interest a few oil companies and overseas refineries?
This battle is heading to the courts and a constitutional crisis. The growing unease in Québec, ever sensitive to federal over-reach, further undermines the claimed "national interest." Québec's Premier warned the federal government to be "very careful," viewing its desire to overrule BC's concerns as "not a good sign for federalism."
Trudeau's image on the environment and First Nations is ruined. But as Canada's economy depends on extracting and exporting raw materials, he has to show global capitalism that Canada is open for exploitation.
Kinder Morgan may be playing a double game. It could cancel the project and use NAFTA to sue to recover its losses.
Now is the time to step up resistance. As an oil spill in Vancouver harbour would threaten thousands of jobs and close the port for weeks, Socialist Alternative supports a one-day shutdown of Vancouver to stop Kinder Morgan.
Canada's fossil fuel industry receives $3 billion of annual subsidies and governments are willing to use billions more to support this dodgy project. If this money was used to replace fossil fuels with clean energy and upgrade buildings there would be far more good jobs, while respecting Indigenous rights and protecting the environment.